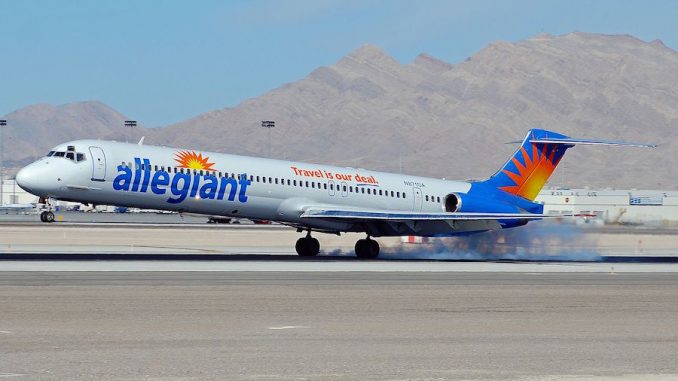 Last year AirlineGeeks published a story detailing the findings of an FAA investigation into Allegiant Airlines. The investigation into the airline found no major issues or flaws which resulted in Allegiant not being fined. The audit of the airline was prompted after 42 of Allegiant's 86 aircraft broke down in mid-air at least once in 2015, 15 of which involved an emergency landing due to engine failure.
Since January 2017, the airline has already experienced three incidents involving the McDonnell Douglas MD-82 and MD-83 aircraft. On March 4, flight 890 from St. Petersburg rejected its takeoff due to a maintenance issue. The crew believed that the tires had been damaged, however, emergency services confirmed that this was not the case. Debris was later found on the runway that may have been related to an internal failure of the JT8D powerplant.
Just two weeks later on March 19, a 28-year-old MD-83 operating flight 636 was descending to Daytona when the flight crew received indications of another engine fire. After completing required checklists, the crew proceeded with shutting down the engine and activating the fire suppression system. About 10 minutes after the initial indications, the aircraft arrived in Daytona with only one engine operating.
One month later on April 22, Allegiant flight 736, operated by an MD-82, was departing Orlando Sanford when the crew declared an emergency after passing through 16,000 feet. The emergency was due to vibrations and the crew worried that there may be a problem with the elevator controls.
These incidents are just the latest that the airline has experienced in recent years. The most frequent aircraft in Allegiant's fleet with mechanical issues is the MD-80s, however, in the past, the carrier's younger Airbus aircraft have also seen problems.
Allegiant flights have experienced a variety of different issues such as compressor stalls, smoke inside the cabin, pressurization issues, tires bursting, hydraulic leaks and failures, and engine failures.
More notably, on June 25, 2015, five Allegiant flights made unscheduled landings within a period of four hours due to different mechanical failures. While the FAA did collect records on all of the flights, no order was made for the airline to correct any of its actions.
Though the FAA has yet to impose any penalties on the carrier, what's troubling is that Allegiant is able to review its own maintenance incidents with very little oversight from the organization.
For every 10,000 flights on an airline, about three unexpected landings due to mechanical problems occur in the U.S., though in 2015 Allegiant had 12.
Over the years, FAA inspectors have found Allegiant's maintenance programs to be deficient but they have been relaxed when it comes to enforcing change. Many times when Allegiant has an aircraft incident, the FAA allows the airline and their maintenance contractor, AAR Air Services Inc., to conduct its own investigations.
The airline has acknowledged the issue and is working to lower the number of unscheduled landings. One of the biggest issues is that Allegiant operates a fleet with an aircraft average age of 19.8-years-old. The McDonnell Douglas MD-80s, which make up 51% of the fleet have an average age of 27.5 years old. This is the highest in the U.S. and can be attributed to Allegiant's low-cost structure.
To save money and in order to keep fares low, Allegiant purchases used aircraft that sometimes sell for less than half of what a new aircraft costs.
However, in an effort to renew their fleet and fix its safety issues, Allegiant took delivery of its first new aircraft earlier this month. The Airbus A320 is one of twelve the company has on order.
As the carrier transitions to an all Airbus fleet, it will also take delivery of more used A319 aircraft. With newer airplanes entering Allegiant's fleet, and a new FAA investigation on the April 22 incident involving flight 736, the airline seems to be making some progress in resolving its safety and maintenance concerns.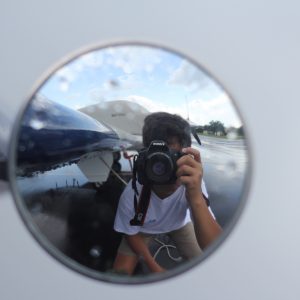 Mateen has been interested in aviation from a very young age. He got his first model airplane at six and has been airplane spotting since he was nine years old. He has always had a passion for aviation and loves learning about different aspects within the industry. In addition to writing for AirlineGeeks, Mateen is also an editor for his high school's newspaper. You can also find him on Instagram (@Plane.Photos) where he enjoys sharing his aviation photography with thousands of people everyday.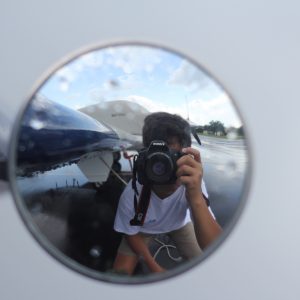 Latest posts by Mateen Kontoravdis (see all)