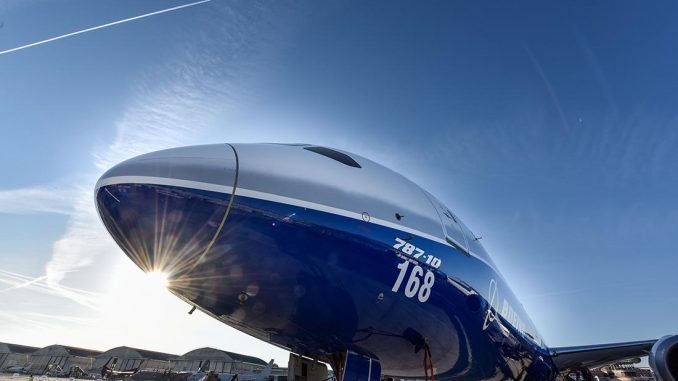 As day three of the Paris Air Show comes to a close, it has been a rather quiet in terms of orders. While Airbus is still falling behind, Boeing continues to see 737 MAX 10 orders.
Boeing
Boeing started the day with a Memorandum of Understanding from Air Lease Corporation for 12 737MAX aircraft, including five 737 MAX 7s and seven 737 MAX 8s, bringing ALC's total 737MAX order book to 130. El Al then confirmed a deal for three more 787 Dreamliners, two of them being the 787-8 variant and one being the 787-9 at list prices of $729 million. This deal originally emerged in 2015, with these orders being firmed up at the airshow on Wednesday.
AerCap also announced that two of the 100 737 MAXs that they currently have on order will go on lease to Italian carrier Neos. The aircraft are expected to be delivered by 2019 and will make Neos the first Italian carrier to operate the aircraft type. The aircraft will be based at Milan Malpensa Airport. Mauritania Airlines also added one 737 MAX aircraft to their order book, valued at $112.4 million. This will join their fleet of two 737-800 Next Generation aircraft, one 737-700, and two 737-500 aircraft.
Under Ray Conner's last order as Vice Chairman before retirement was with Donghai Airlines who has converted 10 737 MAX orders to the 737 MAX 10 variant, valued at $1.2 billion at list prices. Donghai is looking to expand their fleet rapidly by growing to the current 15 in their fleet to at least 100 by 2025. The order was a conversion believed to be originally 10 737 MAX 8s.
Copa Airlines then unveiled plans to convert 15 of their 737 MAX aircraft orders to the MAX 10 variant. This means that Copa will be the first airline in Latin America to receive the 737 MAX 10. Malaysia Airlines also followed suit and converted 10 to the extended variant, which brought the total aircraft count sold for the day to 51. The deal with Malaysia Airlines Berhad is valued at $1.25 billion.
After the stream of conversion orders that followed, Xiamen Airlines and Boeing signed a Memorandum of Understanding for 10 737 MAX 10 aircraft at a list price of $1.2 billion. Xiamen Airlines is an existing 737 MAX customer and plans to use the new airplanes with their subsidiaries, including Hebei Airlines and Jiangxi Airlines. Also, Xiamen will be one of the launch customers for the 737 MAX 10 program.
Airbus
Airbus started the day quite slowly with HiFly placing their first direct order for two Airbus A330ceos.nAfter that first order, Airbus unveiled their new cockpit recording technology in partnership with Leonardo, which is supposed to record for 24 hours per day and have an extended life of 90 days. This technology will be put onboard the Airbus A350 XWB aircraft over the course of the next few years and on existing aircraft already in service and future deliveries.
Airbus also delivered WOW Air's first A321neo, which makes the Icelandic carrier the first A321neo operator in Europe. The aircraft, TF-SKY was the aircraft handed over to WOW Air at the airshow, which marked a milestone for the carrier, especially with their rapid growth over recent months.
Airbus then signed a deal with Wizz Air for 10 Airbus A321ceo aircraft to accompany the 110 A321neo aircraft that the carrier currently has on order. This is in line with Wizz Air's fleet renewal program, which has a current average age of 4.4 years.
Bombardier
The only order recorded by Bombardier today was a Letter of Intent with Cern Air for two Dash 8 Q400s. The deal, listed at $65 million, will help kickstart domestic operations for the carrier around South Africa.
"We are proud of the Q Series turboprops' continued success in Africa. Our operators appreciate their outstanding economics and performance, and we are delighted that CemAir intends to add new Q400 aircraft to its current fleet of Bombardier aircraft," said Jean-Paul Boutibou, Vice President, Sales, Middle East and Africa. "With its unmatched capabilities, the Q400 is uniquely suitable for the region and we are thrilled with this additional recognition for our modern and versatile turboprop."
"With their impressive short-runway performance and the flexibility it brings to our operations, the Q Series turboprops have allowed us to build our network and fly passengers from more airports," noted Miles van der Molen, Chief Executive Officer, CemAir. "We are looking forward to the addition of these brand new Q400 aircraft which will help us support our growth and increase connectivity in South Africa."
These two new aircraft on order for the carrier will join Cern Air's extensive Bombardier fleet, featuring five Q400 aircraft as well as 12 CRJ aircraft. And that concluded day three and the entire airshow in terms of trading as the manufacturer announced earlier tonight that their Q400 and C-Series CS300 in the AirBaltic colors would be leaving Paris.
Embraer, Antonov, and Mitsubishi
There have been no orders that have been recorded for the airshow's third day from Embraer, Antonov or Mitsubishi. Antonov has remained vocal regarding the air display of the AN-132D but other than that, the four smaller manufacturers have not bagged any orders today.
Embraer did sign a co-operation agreement with German aeronautical firm DLR for research on the aeronautical sector as a whole. The partners will work together on a wide range of topics, including reducing noise and emissions, improving the aerodynamic and aeroelastic performance of aircraft, and many aspects of lightweight aircraft construction using fiber-reinforced polymers and integrated systems.
ATR
We're ready to offer the #ATR42-600S to our current and potential customers!????✈️???? https://t.co/DYRHjhbR39 #ATRLeads #PAS17 #avgeeks @aerodub pic.twitter.com/2tNJFXeQwF

— ATR (@ATRaircraft) June 21, 2017
ATR started the day with the unveiling of their ATR 42-600S which has a STOL capability enabling the aircraft type to rotate off the ground with only 800 meters of Runway length. This is still in an evaluation stage and could be a possibility for commercial deliveries in the near future.
Commenting on the potential for this new version of the ATR 42-600, Christian Scherer, Chief Executive Officer of ATR, added, "Facilitating the emergence of future traffic as well as maintaining the connectivity of communities is at the heart of ATR's role. This is why we have decided to further address the challenges of airfield accessibility, allowing growth in air services for remote areas as well. We are now proposing the ATR 42-600S to our operators and we look forward to positive feedback from the market".
Other than that piece of news from ATR, no orders were recorded for day three at Le Bourget.
Overall
The past three days have shown that Airbus' performance has not been what has been expected, especially with the attempted revival of the A380 with the A380plus. The A350 program has seemed to have struggled this week as well, with most of Airbus' orders being for the A320 family. Boeing continues to see success at the airshow, particularly with the manufacturer's newly unveiled 737 MAX 10.
Editor's Note: AirlineGeeks will be attending the Paris Air Show later this week. Make sure to follow our Twitter, Instagram, Facebook and website for updates. Also, check out the day two analysis.
James is a passionate AvGeek who has been actively spotting for years. James has been an Aviation Enthusiast for 7 years and has a fond likening to Concorde! James hopes to grow in the aviation industry with journalism being his primary focus.
Latest posts by James Field (see all)