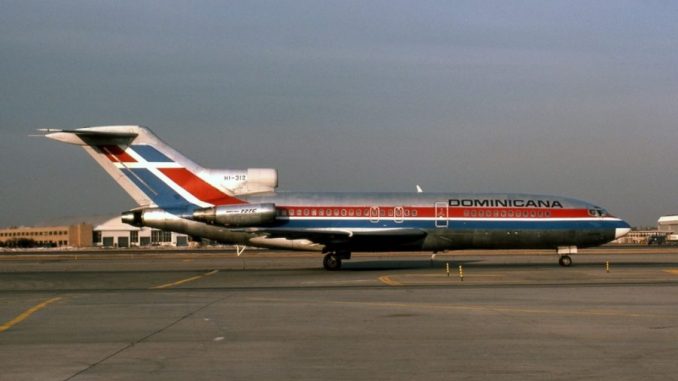 Founded in 1944, Compania Dominicana de Aviacion, also known as Dominica, was launched with a fleet of DC-3s and, later, DC-6s at its headquarters in Santa Domingo, Dominican Republic. The ultimate goal for forming the airline was to create a true national airline to handle a growing amount of passengers.
Over the course of their history, the airline operated a vast variety of aircraft, including the DC-3, DC-4, DC-6, DC-8, DC-9, DC-10, Boeing 757, 747-100, 737, 727-100, 737-200, 720, 707, the BAC One-Eleven, ATL-98A, and the A300.
The company had a fairly limited yet effective route network when evaluated in 1984. Their destinations included Oranjestad, Aruba; Puerto Plata and Santa Domingo, Dominican Republic; Port-au-Prince, Haiti; Curacao, Netherlands Antilles; San Juan, Puerto Rico; Miami and New York in the US; and Caracas, Venezuela. Earlier on, Dominicana had also operated flights to European destinations, such as Paris, Madrid, and London.
Problems arose towards the end of the 1980s, as the financial weight of maintaining an aging fleet began to take its toll and poor management led the airline astray. Ultimately, the airline reduced their route network to include only a few original destinations and began to lease aircraft in an attempt to reduce their expensive maintenance costs. Unfortunately, a financial crisis was paired with a negative reputation from their customers, who frequently complained about lost luggage and an unreliable schedule.
The final blow to the airline came in 1994, when Dominicana faced Cat1 restrictions from the US, and during the Christmas season when passengers became stranded after they were unable to fly passengers back home due to overbooked flights. In early 1995, Dominicana planned to close temporarily in order to reorganize, however, the company ended up shutting down indefinitely.
Ashley is currently a senior in high school and plans on pursuing a career in aviation or journalism. Her favorite airplanes include the Boeing 777, 737MAX, and Airbus A350. She enjoys taking flights on various airlines to different airports and planespotting at her local airports.
Latest posts by Ashley Magoon (see all)