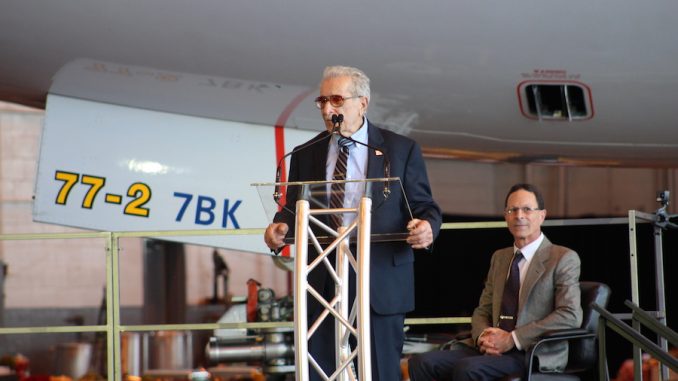 Seniority plays a major role throughout the airline industry, and Azreil "Al" Blackman certainly tops the charts. At 16-years-old, Mr. Blackman graduated from Aviation High School in New York City before taking on a role as an apprentice in a sheet metal shop. In this role, he was working for American Export Airlines, which was eventually absorbed to become American Airlines, and was paid only $0.50 an hour.
Blackman has worked in several different roles throughout his tenure at American. With this, he's also been able to work on some of history's most iconic aircraft, including various seaplanes. At 92-years-old, Blackman continues to do some work on sheet metal, but mostly coordinates maintenance operations at JFK.
Even though his normal shift starts around 5 a.m., Blackman is known to arrive at the airline's maintenance hangar around 3 a.m. on most days.
"I'm just honored to be here, I'm proud to be a mechanic. I'm proud to be part of the American Airlines team," commented Blackman to a standing ovation at the JFK line maintenance facility.
Blackman also holds a Guinness World Record for having the longest career as an aircraft mechanic beating his own previously held record.
"I'm honored to present Al Blackman with the GUINNESS WORLD RECORDS title of Longest career as an airline mechanic. This achievement, which speaks to his vast knowledge in the subject and his dedication to the aviation industry, has helped him to become OFFICIALLY AMAZING™," said Andrew Glass, official adjudicator for Guinness World Records.
American Airlines CEO Doug Parker was also on hand to give Blackman a 75 year anniversary pin — the first of its kind at the company, featuring black diamonds due to his nickname being 'Blackie.'
"On behalf of Al's more than 100,000 team members, we are honored to celebrate him and his milestone 75 years of service today," said American's Chairman and CEO, Doug Parker. "Al has worked on nearly every aircraft American has flown since the flying boats of the 1940s to the Boeing 777s of today. His hard work and dedication to train and mentor others and safely maintain our aircraft has made us a better airline."
Blackman also received commemorative DC-3 and Sikorsky S-42 model aircraft during the ceremony at New York's John F. Kennedy International Airport.
This isn't the first time that Mr. Blackman has received recognition in the aviation world. Nearly 25 years ago, Blackman was given the FAA's Charles E. Taylor Master Mechanic Award, which is only awarded to those with 50 years of experience in aviation maintenance as an accredited mechanic by the FAA for at least 30 years.
"When you like what you do, it's not work," commented Blackman. His humility and work ethic is revered among his co-workers at JFK.
"The interesting thing about Blackie and myself, is everybody has a crew chief. We all had that first crew chief. It just so happens, Al's first crew chief was my father, Charlie Hanna, when he started over at LaGuardia working on flying boats," said Wayne Hanna, a JFK-based Aviation Maintenance Technician (AMT). "When I first started here, Blackie told me he tries to be like my dad every day, which was a great compliment to me."
To celebrate this occasion, American has dedicated a 777-200, registered as N751AN, to Blackman. The aircraft features a large decal on the captain's side along with a plaque on the inside that reads, "This aircraft is dedicated to Azriel "Al" Blackman for 75 years of devoted service to American Airlines, the largest career in aviation history as an Aviation Maintenance Technician."
The 777-200 took off from JFK Tuesday afternoon for a sightseeing flight over New York City, which included views of the Statue of Liberty, Freedom Tower, and Long Island. Mr. Blackman was onboard along with American Airlines executives and employees.
Ryan founded AirlineGeeks.com back in February 2013 (actually, it was called Aviation Official, but we've changed a bit since then). From being on the yoke of a Piper Navajo, to visiting about Delta's operations center in Atlanta, Ryan has done it all. in 2016, along with American Airlines, Ryan masterminded AAviationDay at more than 10 locations around the world. The smell of jet fumes in the morning along with the countless number of passionate airline employees keep him enthralled in the industry, always seeking more. You can find him helping out travelers at Reagan National Airport near Washington, D.C. when he's not doing something for AirlineGeeks.
Latest posts by Ryan Ewing (see all)