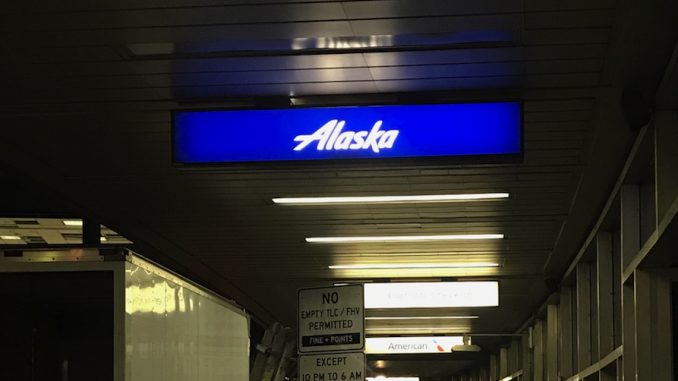 The Virgin America and Alaska Airlines acquisition is well underway, and it is beginning to resonate around the combined airline's system. Perhaps one of the most noticeable changes occurred Saturday night at New York's LaGuardia airport where crews could be seen converting Virgin America branding into Alaska signage.
Virgin's counter in Terminal B now resembles Alaska branding along with curbside signage.
New York-LaGuardia served as one of the initial cities for Virgin America when the airline kicked off service from Dallas Love Field in 2015. In April, Alaska Airlines, who acquired Virgin America in 2016, announced that they'd keep the two gates at Love Field.
Due to the Wright Amendment, Love Field is capped at 20 gate spaces, with Dallas-based Southwest Airlines operating from 18 of them, making the two gates some of the most valuable real-estate in the U.S. aviation industry. Starting this month, Alaska will start service from Love Field to Seattle, San Diego, Portland, and San Jose.
The combined airline will be replacing most of the Airbus A320s and A319s used by Virgin America with the smaller 76-seat Embraer 175 operated by SkyWest Airlines.
The Embraer 175 will be used for flights to Portland, San Diego, San Jose, Seattle, New York-LaGuardia, and Washington-National. However, there will be one flight to Seattle which will be operated by a Virgin America Airbus A320-series aircraft.
"Optimizing the fleet and matching the right plane to the right market to is one of the key benefits of our merger with Virgin America," said John Kirby, Alaska's Vice President of Capacity Planning. "Prior to merger, Virgin America lacked a regional aircraft to take advantage of mid-sized routes. The fuel-efficient E175 jet has the same amenities and features of a mainline jet and is perfectly suited for Love Field."
Skywest currently operates 20 E175 aircraft for Alaska Airlines.
With the addition of the E175 on flights between Dallas Love Field and LaGuardia, the Virgin America livery and branding will no longer be seen around the airport. Instead, passengers will see Alaska Airlines-branded Embraer aircraft along with new signage throughout LaGuardia.
Beginning Sunday, Alaska's E175 aircraft will operate the four hour-long flights between LaGuardia and Love Field.
AirlineGeeks has reached out to Alaska Airlines for clarification on whether more of these customer facing changes are occurring systemwide. On Twitter, some people say that similar changes are taking place, most notably at Dallas Love Field.
I thought it started tomorrow…but either way, they are switching VX to AS here at DAL

— Parker (@dallasfwspotter) August 27, 2017
For Virgin America lovers, this is another sign of a dwindling brand as Alaska announced they'd be phasing out the carrier's beloved cabin design and livery by 2019.
In a little more than 24 hours, Alaska has started service to LaGuardia while the Virgin America brand disappeared.
Ryan founded AirlineGeeks.com back in February 2013 (actually, it was called Aviation Official, but we've changed a bit since then). From being on the yoke of a Piper Navajo, to visiting about Delta's operations center in Atlanta, Ryan has done it all. in 2016, along with American Airlines, Ryan masterminded AAviationDay at more than 10 locations around the world. The smell of jet fumes in the morning along with the countless number of passionate airline employees keep him enthralled in the industry, always seeking more. You can find him helping out travelers at Reagan National Airport near Washington, D.C. when he's not doing something for AirlineGeeks.
Latest posts by Ryan Ewing (see all)