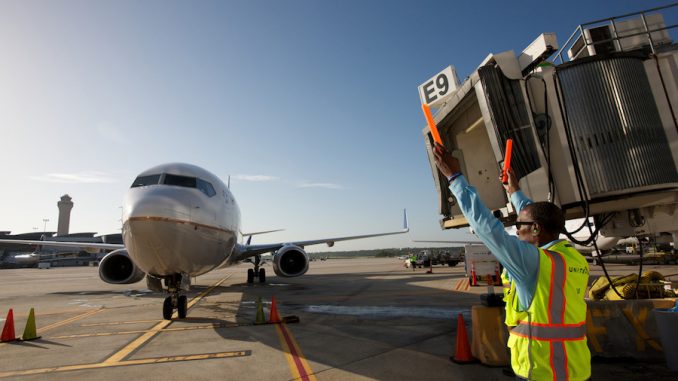 Hurricane Harvey made landfall in southeast Texas over the weekend causing widespread destruction and disruption, along with disrupting thousands of flights across the country. The storm made landfall as a category four storm, with winds up to 130 mph being reported, southwest of Houston.
With the city being a major hub for two national carriers, United and Southwest, the hurricane has rippled across both airlines' route maps.
On Thursday, 160 flights had been cancelled at airports on the gulf coast, primarily at Houston Intercontinental and Houston Hobby. At the same time, 220 flights had been preemptively cancelled in the region with 40 cancelled on Sunday. Corpus Christi announced on Thursday that all flights would be cancelled for the foreseeable future. Southwest cancelled all of their flights out of the airport after 12:30 p.m. Friday.
Cancellations All Weekend
By the end of the day Saturday, nearly 2,700 flights had been cancelled nationwide due to the storm. United cancelled 725 flights at Houston Intercontinental, about two-thirds of their flight schedule at the airport. Southwest, the main carrier at Hobby cancelled about 130 flights by the end of the day Saturday, about 40% of their schedule.
United grounded all of their United Express flights on Saturday, with most of the mainline flying being done to other hubs and international destinations. The airline also preemptively cancelled 800 flights for Sunday, about 70% of their flight schedule at the major hub.
The preemptive cancellations are designed to prevent delays and cancellations of flights across the system, as it prevents aircraft and flight crews from being stuck and unable to fly.
Flood and Storms Continue
The storm also affected flights further inland in Texas. Both Austin and San Antonio had about a quarter of their scheduled flights cancelled due to effects from the storm. On Sunday, the storm grounded flights at both Houston airports, with the runways at Hobby being reported as flooded.
United cancelled about 90% of their schedule by midday Sunday, with the decision to cancel all flights coming at midday. A very small number of flights were expected to resume at Intercontinental by noon Monday, however, the airport authority is now saying that operations will be halted until further notice. It is unclear when Hobby will reopen, with the FAA suggesting sometime mid-week.
All commercial flight operations have been stopped until further notice. IB/OB roads are closed due to flooding.

— Houston Bush Airport (@iah) August 27, 2017
Since Friday, over 4,000 flights have been cancelled due to the storm and the effects are expected to last for some time. With the gulf coast of Texas needing to recover from the storm, the aviation industry will also need to recover. 
Update: 
Spirit Airlines has sent rescue relief flights to George Bush Intercontinental Airport in Houston to help evacuate 180 stranded passengers. The evacuees were flown to Detroit or Chicago to be rebooked.
Envoy Air, one of American Airlines' regional operator, is also supporting those affected by Hurricane Harvey. Envoy sent an Embraer 175, full of supplies, to Corpus Christi, TX, a city hit hard by the initial storm.
American Airlines is also sending a Boeing 757 to George Bush Airport to assist American Airlines Group employees in Houston. American has also stated that employees impacted by the storm can submit an expedited application to the Family Fund, a nonprofit organization designed to help employees affected by a disaster.
United Airlines released a statement at 2:00 p.m. CT stating that their hub at Houston-IAH has suspended all operations until August 31 at noon. Travel waivers are also being extended to allow passengers to rebook their flights through September 20 with the change fee and any fare differences waived. Since the disaster, United has sent three widebody aircraft to Houston between August 27 and August 28 to help in the relief efforts.
CNN is also reporting that Southwest Airlines has 10 aircraft still stranded at Houston's Hobby airport. The company flew five aircraft full of stranded passengers out of the devastated city. 500 customers were airlifted to Dallas due to these efforts.
All commercial operations at both Houston's Hobby and George Bush airports are still suspended until further notice.
Update:
Houston's George Bush Intercontinental Airport announced that limited domestic airline service began at 4 p.m. today. The airport is planning to slowly phase in service and expects to be in full operational standings by this weekend.
Houston Hobby also resumed operations beginning at 4 p.m. this afternoon. Hobby is also expecting to be fully opened by the weekend. Southwest Airlines has cancelled flights until noon on Saturday.
United Airlines has resumed limited flights to IAH from other hub airports. The company also extended the travel waiver until September 12.
FedEx has also joined the hurricane relief efforts. The cargo company donated $1 million cash to Hurricane Harvey victims and is also providing transportation services to send crucial supplies to Houston. A MD-11 flew supplies from Alliance Fort Worth this evening.
Delta Air Lines has plans to resume operations at IAH this evening and is expected to be operating at near full strength at George Bush and Hobby by Thursday.
The Federal Aviation Administration has advised all drone operators that multiple TFRs in the Beaumont and Houston areas include the restriction of drone operations. The FAA also warned that flying an unauthorized drone could interfere with recovery missions. Operators that cause interference with relief efforts are subject to large fines.
Editor's Note: This story will update as more information about airline operations in the Houston area becomes available. Follow AirlineGeeks on Twitter for the most up-to-date information. 
To donate to help the victims of Hurricane Harvey, visit the Red Cross at https://www.redcross.org/donate/hurricane-harvey. Also, when you purchase one of AirlineGeeks' original gray t-shirts, half of the proceeds will be donated to the Red Cross. 
AirlineGeeks.com began in February, 2013 as a one-man (er… teenager, rather) show. Since then, we've grown to have 20 active team members, and yes, we're still growing. Some of us are looking to work in the aviation industry as professionals when we grow older. Some of us are still trying to decide what we want to do. That's okay though, because we're all here for the same reason: we love the airlines. We're the youngest team of airline industry journalists out there.
Latest posts by AirlineGeeks.com Staff (see all)