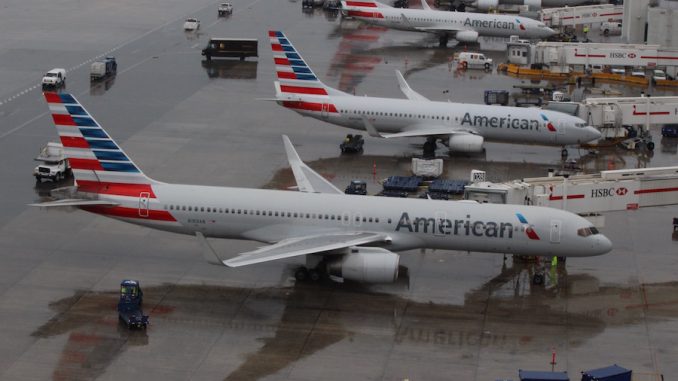 As Hurricane Irma approaches South Florida and the Caribbean, airlines are reworking their operations in order to account for the monstrous storm. Irma, being one of the largest in recorded history, is anticipated to create winds reaching 185 mph winds along with massive storm surges.
Airlines that operate into and out of the affected region are already working to issue travel waivers and ease back on operations. Fort Worth-based American Airlines is looking towards a full shut down of its Miami hub beginning Friday evening through the weekend.
On average, the airline's hub in Miami sees 341 daily departures to 131 destinations around the world. American is also winding down operations at other nearby stations, including Fort Lauderdale, Sarasota, Ft. Myers, and West Palm Beach.
We're prepping for #HurricaneIrma. Stay safe and check travel and rebooking options here: https://t.co/kNkPUilgez

— American Airlines (@AmericanAir) September 6, 2017
"The latest forecast projects Hurricane Irma to make landfall in South Florida this weekend as a major hurricane. Due to the track of the storm, we will wind down operations on Friday afternoon at our Miami hub, as well as Fort Lauderdale, Fort Myers, Sarasota and West Palm Beach. Operations will be canceled throughout the weekend," the carrier added in an update.
American also noted operational changes to its sizable South American operation, "Additionally, flights that were scheduled to arrive in Miami Friday from Europe and South America have also been canceled. We continue to evaluate operations at other Florida airports, and will make adjustments as necessary."
In addition to South Florida, the airline has cancelled dozens of flights from Key West, Antigua, St Kitts, St. Maarten,  St. Thomas Island, St. Croix Island, San Juan, and Providenciales. A Boeing 757-200 was dispatched to San Juan and a 737-800 to Providenciales on Wednesday to assist in evacuating the last remaining travelers.
In light of the storm, American has issued a travel waiver for more than 30 airports within their route network.
American Airlines isn't the only carrier winding down weekend operations at a major South Florida hub. Beginning Friday night, Southwest is anticipating the cancellation of all flights to and from Fort Lauderdale, Ft. Myers, and West Palm Beach through Saturday.
In addition, the airline has extended cancellations for flights to San Juan, and Punta Cana through Friday. Flights to Nassau and Havana are canceled for Friday and Saturday, according to Southwest.
Fort Lauderdale is one of Southwest's largest stations with up to 63 departures a day to 31 cities. This storm follows Hurricane Harvey, which shut down operations at the airline's Houston-Hobby hub for nearly a week.
"Operational Planners are monitoring Irma's path and will resume service only when it's safe to do so," the airline said in an update.
Southwest will also allow customers to change flights when traveling between September 5 and September 17.
With an extensive Caribbean operation and a sizable base in Fort Lauderdale, New York-based jetBlue has also cancelled approximately 150 flights as of Wednesday at 4 p.m. ET. The airline is also supporting local evacuation efforts with a capped fare of around $99 on flights from select markets.
"For those looking to evacuate areas in the hurricane's path, we are offering any remaining seats in select markets at a reduced fare of $99 – $159 including government taxes," the airline said on their website. Due to high demand, however, these seats were quickly sold out.
jetBlue is waiving change fees, cancellations fees, and ticket price differentiations for most Caribbean and Florida destinations.
Several other airlines are issuing travel advisories and experiencing flight cancellations at destinations in Irma's path. Turkish Airlines has added an additional flight to Miami on Thursday to reduce Irma disruptions, while Air Canada plans to operate additional flights with larger aircraft, including a Boeing 777. The airline previously operated evacuation flights to Antigua and Providenciales.
An additional flight to Miami is scheduled for September 7, 2017 to avoid travel delays due to the Hurricane Irma: https://t.co/MwPpAOdQ1n

— Turkish Airlines (@TurkishAirlines) September 6, 2017
"Air Canada is reviewing capacity requirements and working with Air Canada Vacations to ensure we have sufficient capacity to bring our customers home safely," the airline added.
According to the airline, customers can change their flight free of charge to affected airports in Florida and the Caribbean.
Working closely with the airlines, airports are closely monitoring the Irma's track, deciding if or when the airport will cease operations. Per Miami International Airport on Twitter, the FAA will no longer operate within their respective facilities if sustained winds exceed 55 mph.
9/7/17 at 4 p.m. ET update:
Earlier this afternoon, American announced that they'd be operating 16 flights from Miami on Thursday to remove stranded passengers from the airport. With several of these flights on widebody aircraft, the airline will fill about 3,600 seats, while also noting the flights as extremely limited.
MIA-DFW – Boeing 737-800 (160 seats)
MIA-DFW – Boeing 767-300 (209 seats)
MIA-DFW– Airbus A319 (128 seats)
MIA-DFW – Boeing 777-200 (289 seats)
MIA-DFW – Boeing 777-200 (289 seats)
MIA-DFW – Boeing 777-300ER (310 seats)
MIA-DFW – Boeing 767-300 (209 seats)
MIA-DFW – Boeing 777-200 (289 seats)
MIA-DFW – Boeing 777-200 (289 seats)
MIA-DFW – Boeing 767-300 (209 seats)
MIA-DFW – Boeing 737-800 (160 seats)
MIA-DFW – Boeing 737-800 (160 seats)
MIA-PHL – Airbus A330-200 (258 seats)
MIA-JFK – Boeing 777-200 (289 seats)
MIA-JFK – Boeing 737-800 (160 seats)
MIA-JFK – Boeing 767-300 (209 seats)
The company says they'll continue to add extra flights if equipment is available. On Friday, American's last departure from Miami is slated to be flight 2213, departing at 3:49 p.m. ET for Dallas/Fort Worth. The airline has cancelled approximately 2,400 flights through Monday as Irma approaches.
Delta is also working to evacuate passengers in preparation for the storm. The carrier said earlier that they added 2,000 more seats on flights from Florida, the Bahamas, and Punta Cana. The carrier is also keeping one-way fares to $399 for flights to and from southern Florida through September 13.
"Miami (MIA), Ft. Lauderdale (FLL) and West Palm Beach (PBI) are expected to close Friday night. Delta will cancel its operation Saturday and likely Sunday, pending updates from the airport authority," the airline said in a statement. The airline's travel waiver has been extended to reflect airports in Georgia and South Carolina.
9/8/17 at 9:32 p.m. update:
On Friday afternoon, Delta brought in a Boeing 747-400 from Detroit into Orlando to ease the number of stranded passengers. The airline also plans to fly the aircraft back to Orlando on Saturday morning. Orland International Airport will cease commercial operations on Saturday at 5:00 p.m. ET.
As of around 6:40 p.m. ET on Friday, American officially ceased operations in South Florida with more flights cancelled in other areas, including Orlando.
New York-based jetBlue has added more than 24 extra flights to regions affected by Irma to evacuate any stranded passengers.
After more than 2 dozen extra flights to evacuate customers and crewmembers, the last @JetBlue flight has pushed from @FLLFlyer before #Irma pic.twitter.com/T7GY0yFwz4

— HelloJetBlue (@HelloJetBlue) September 9, 2017
As Hurricane Irma's track continues, this story will be updated with additional information
AirlineGeeks.com began in February, 2013 as a one-man (er… teenager, rather) show. Since then, we've grown to have 20 active team members, and yes, we're still growing. Some of us are looking to work in the aviation industry as professionals when we grow older. Some of us are still trying to decide what we want to do. That's okay though, because we're all here for the same reason: we love the airlines. We're the youngest team of airline industry journalists out there.
Latest posts by AirlineGeeks.com Staff (see all)