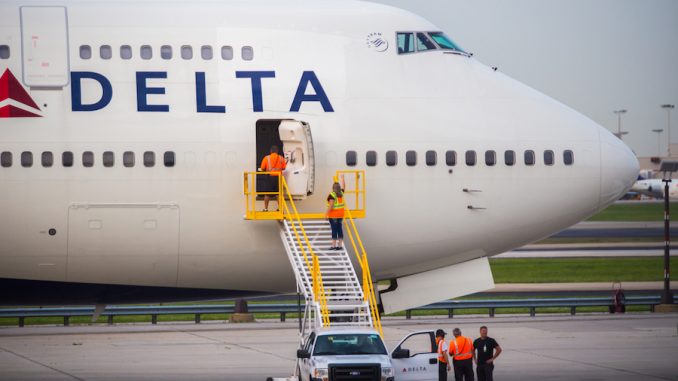 With its iconic Boeing 747 fleet due for retirement by the end of the year, Delta has started its farewells to the Queen of the Skies with a series of touching tributes as the aircraft made its way back to Detroit from its last scheduled service between Tokyo-Narita and Honolulu.
Both Delta customers and employees were given the chance to pay their respects and say their goodbyes at tributes in both Honolulu and Los Angeles before the aircraft returned to Detroit.
The services between Honolulu and Los Angeles along with Los Angeles and Detroit were also expected to be the final domestic flights of any Boeing 747 by a U.S. carrier. This changed last week after two 747s were sent from Detroit to Orlando to assist with the evacuation efforts as a result of Hurricane Irma.
United will also operate a special retro-themed 747 flight between San Francisco and Honolulu on Nov. 7, 2017.
In Los Angeles, employees lined the ramp at LAX and waved orange wands as the aircraft got under way for its late night departure to Detroit.
While in Hawaii, the aircraft received a Hawaiian tribute in the form of a traditional 'maile lei' which employees had fashioned to fit over the aircraft as a sign of respect.
Further celebrations also took place at the gate, with several employees holding back tears as "Aloha Oe" was sung as the aircraft departed Honolulu for the last time.
.@Delta customers, employees begin saying 'goodbye' to iconic Boeing 747https://t.co/ECFKjIc5Oj pic.twitter.com/baWLbcTfim

— Delta News Hub (@DeltaNewsHub) September 18, 2017
Employees were not the only ones eager to say farewell to the iconic aircraft. A group of 50 Delta Diamond Medallion customers took the opportunity for one last flight on the iconic bird after a member of the Diamond Medallion Facebook group noticed the aircraft would be flying two domestic legs.
The opportunity was shared within the group and as a result, nearly the entire Delta One cabin and some of the main cabin was booked as members flocked to see the aircraft off on one of its final flights.
Members of the group were greeted by a reception in Los Angeles, hosted by employees in the Delta Sky Club. Each member of the group received a 747 model aircraft as a gesture by the airline while customers onboard the flight received commemorative ear buds in celebration of the final scheduled domestic flights.
Delta highlighted its retirement plans for the remaining 747s in its fleet earlier this year, with the airline expecting to fully retire the aircraft from service by the end of 2017. The airline will be replacing the aircraft with the Airbus A350, the first of which was received back in August of this year. The airline has 25 of the aircraft on order, equipped with the carrier's new Delta One Suites and premium economy cabin layout.
The airlines first scheduled commercial service of the aircraft is due to take place on October 30, with the aircraft set to depart from Detroit bound for Tokyo-Narita, a route previously flown by the beloved 747-400. The carrier has indicated how it intends to utilize the aircraft to help grow its Pacific network, operating on multiple routes from a variety of its U.S. hubs.
Josh is a long-term aviation enthusiast and aspiring commercial airline pilot. From a young age, he has immersed himself in all things aviation. From plane spotting at local airports and airfield to racking up frequent flier miles on trips abroad, Josh is a huge AvGeek at heart. He graduated from university in September 2017 with a first class Bachelor of Science degree in Air transport. He completed his pilot training, gaining his Frozen ATPL in November 2017 upon completion of his Multi-Engine Instrument rating and Multi-crew/Jet orientation course. He currently has around 230 hours of flying experience in various aircraft. He hopes to join an airline as a first officer by the end of 2017.

He frequently flies on one of his favorite airlines, British Airways, and is an avid Avios collector and British Airways Executive Club member.
In his spare time, while not studying, flying or immersing himself in aviation he enjoys spending his time volunteering in a variety of roles and running a blog to help other aspiring pilots pursue their dream.
Latest posts by Joshua Drabble (see all)