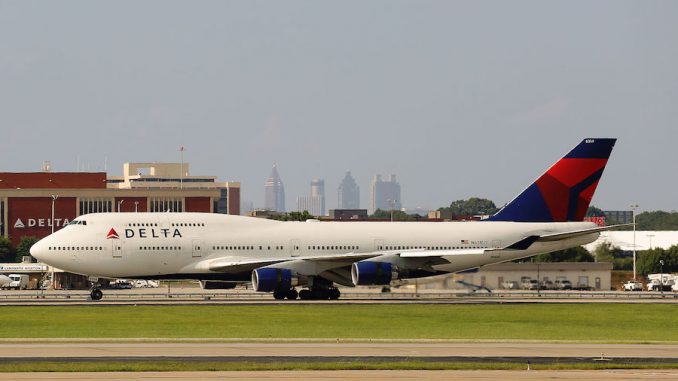 Delta Air Lines is giving customers and employees a chance to fly on the Boeing 747 before the carrier retires the fleet.
Delta is the last U.S. passenger airline to fly the jumbo jet dubbed the "Queen of the Skies." The 747 fleet is set to be retired by the end of 2017.
To honor the 747, Delta is providing passengers with a few chances to fly on the Queen. 
Delta is operating the Boeing 747-400 on daily scheduled service between its Detroit hub and Seoul-Incheon. The airline's final 747 U.S. departure is slated to be flight 159 from Detroit to Seoul-Incheon at 12:31 p.m. on Dec. 15, arriving in Seoul-Incheon from Detroit at 4:30 p.m. on Dec. 16.
The fleet type's last Asia Pacific departure is scheduled as flight 158 from Seoul-Incheon to Detroit at 11:15 a.m. on Dec. 17. The flight arrives in Detroit from Seoul at 10:14 a.m. on Dec. 17.
The carrier will then take the 747 on an employee farewell tour from Detroit to Seattle on Dec. 18, Seattle to Atlanta on Dec. 19, and Atlanta to Minneapolis-St. Paul on Dec. 20. For these flights, customers can bid on a spot using SkyMiles.
Delta employees and retirees will be able to purchase a seat on these flights beginning at 12:00 p.m. ET on Nov. 20 at a discounted rate. Proceeds from this flight will go to the Airloom Project, the organization which created the 747 Experience exhibit at the Delta Flight Museum in Atlanta, according to the carrier.
Ahead of its retirement, the airline says that the 747 will continue to operate charter flights. The retirement ferry flight will take place in January, likely to Pinal Airpark in Arizona.
Delta joins United Airlines as the 747 disappears from U.S. passenger carrier fleets. The Chicago-based airline operated their last 747 flight on Tuesday, Nov. 7, 2017 from San Francisco to Honolulu as United flight 747.
Matthew Garcia became interested in aviation at the age of 12 when he installed Microsoft Flight Simulator X on his computer. He was instantly "bitten by the bug" and has been in love with aviation ever since. Matthew took his first introductory flight in 2013 and began normal flight training in February of 2015. Over the years, Matthew's love and knowledge for aviation has grown tremendously, mainly due to FSX. Garcia flies highly advanced aircraft in a professional manner on a highly complex virtual air traffic network simulating real world flying. In 2016 Matthew achieved his private pilot certificate from the FAA. Now he studies journalism at the University of Nebraska at Omaha.
Latest posts by Matthew Garcia (see all)