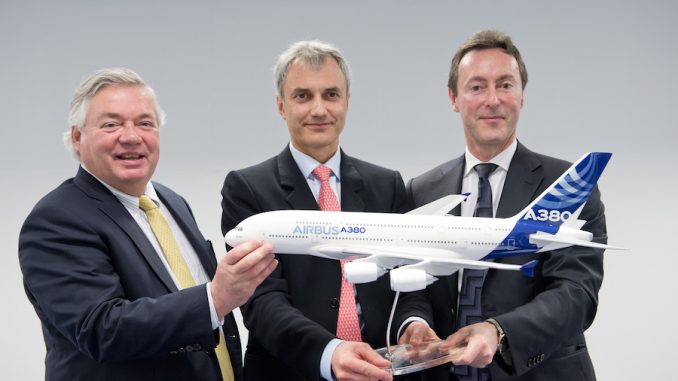 Leasing company Amedeo is planning to set up its own airline after the company has been unable to find new lessors for its 18 Airbus A 380 aircraft. According to a press release issued this week, Amedeo is looking to build up a fleet of A380 aircraft only and to sell the other types.
CEO Mark Lapidus confirmed to the Financial Times that the Irish-based company had applied for an AOC. This follows months of unsuccessful attempts to renew most leases for its A380s. Amedeo also has an additional 20 A380s on order from Airbus that it has yet to find customers for.
So rather than continuing with the existing business model, Amedeo had decided to develop "a new model for air travel," since the best way to make use of the company's fleet and capital no longer consisted of leasing out aircraft, according to Lapidus.
Instead, Amedeo would operate its own airline and sell seat capacities to other carriers under the "operated by" model, which many air travelers are used to in the age of codeshares and joint ventures.
Renewing leases for aircraft had become especially difficult for the A380, which many of Amedeo's clients had been avoiding to be more flexible. Airbus has been struggling for years to find customers for the world's largest passenger airplane.
The first A380 to ever enter commercial operations was just returned from Singapore Airlines to German leasing group Dr. Peters, who has yet to find a new customer for the aircraft. Airbus is pinning its hopes on the revamped A380plus, which is more fuel efficient.
Amedeo, however, will try to work with the original A380 for the time being. The airline is set to launch in 2022 and aims to cooperate with airbnb. According to Mr. Lapidus, airbnb has been looking for opportunities to enter the air travel market for years without having to adhere to the regulatory strings attached to operating its own fleet.
Meanwhile, Amedeo has been moving forward with its consolidation focused on the A380. Lapidus noted that it had already found a potential buyer for its remaining fleet. Besides the A380s, Amedeo owns six Boeing 777s, two Airbus A340s, and three Airbus A320s that are currently leased out to Cathay Pacific, Virgin Atlantic, Emirates, and Air Asia.
Adrian joined AirlineGeeks as a writer in 2017. He had always wanted to become a pilot and while he chose a different career path for now, his interest in aviation continues to grow every day. Adrian was fortunate to travel extensively for business in the past five years. As a result, he focuses his research and writing on passenger services and experiences on a variety of airlines. His favorite aircraft include the Airbus A350, A380, and the Embraer passenger jets.
Latest posts by Adrian Vannahme (see all)