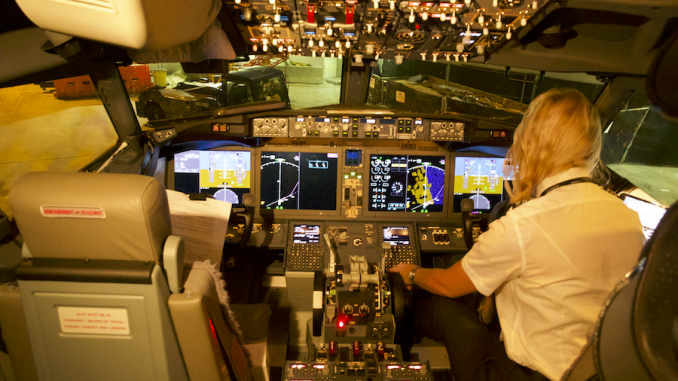 When American Airlines announced that their inaugural flight for the Boeing 737 MAX was going to be from Miami to New York, I knew I had to get a ticket. So with some good timing, I managed to book a Main Cabin ticket on the flight for the very reasonable price of $69. I also paid an extra $19 to book a window seat in the front half of the cabin.
Arriving at the Airport
With a 7:05 a.m. scheduled departure time, I began my journey to Miami International Airport in the early hours of the morning. Arriving at the airport at 5:15, the terminal was mostly empty and with TSA PreCheck I was quickly through security. After a long walk to gate D36, I stopped for a rather expensive airport breakfast.
Boarding
At the gate, balloons had been set up around the podium and the boarding aisle to help celebrate the occasion. Preboarding to get some good photographs of the new airplane, my first impression was how clean and new the cabin was. The cabin itself still had that distinct new plane smell, a smell that should be available for car air fresheners.
After taking a couple of shots of the new aircraft, I took my seat in 14F for the 2-hour and 58-minute journey to LaGuardia.
During the boarding process, announcements were made commemorating this as the inaugural flight for the 737 MAX with American. The cabin crew seemed to be excited too, ready to show off their new aircraft. The seats are slimline, with limited recline. However, they do come with an adjustable headrest and USB power ports at every seat.
American chose not to install seatback entertainment for the 737 MAX, a choice noted by some of the passengers onboard. Instead, American does offer inflight entertainment through streaming on Wi-Fi enabled devices.
The seats were actually quite comfortable for a slimline design, despite strong disapproval from industry critics. Compared to flying on Spirit, I felt more comfortable on the  737 MAX than Spirit's A321s. 
Departure 
At 7:01 a.m. local time, we pushed back off the stand in Miami. My first impression of the new LEAP-1B engines was just how quiet they were. It was hard to tell when the engines had started until we began taxiing. As we made our way to runway 8R, a small contingent of American Airlines staff waved us off from the gate we had just occupied.
Being on an inaugural flight gets no benefits with air traffic control in Miami though, as our captain came over the PA and announced we were currently seventh in line for takeoff. After sitting in line for about 15 minutes, we lined up on runway 8R and the flight crew immediately applied power.
Again I was in shock with just how quiet the engines were on takeoff. I was sat right next to the engine and it wasn't much louder than it had been during taxi.
As we climbed out, the right side of the aircraft was given some beautiful views of the Magic City with the sun creeping up from behind the clouds. We began a left turn towards the northeast and continued our climb to our cruising altitude of 37,000 feet. Aside from a few bumps the flight was relatively smooth as we made our way to cruise.
Cruise
Once we reached our cruising altitude the flight crew turned off the fasten seatbelt sign. The cabin crew in first began their service, offering hot towels, and taking breakfast orders. Passengers in the main cabin settled in for the journey to New York. The cabin was quiet and the mood lightening was set, allowing many passengers who arose early for this flight to nod off back to sleep.
Main Cabin service began approximately 45 minutes into cruise. Drinks were offered first, with a Biscoff cookie, and snacks were available for purchase.
Compared to the roar of other aircraft, even at cruising altitude, the LEAP engines were operating at a whisper.
While enjoying an apple juice and Biscoff I tried out the Wi-Fi inflight entertainment. Using my Chromebook, an ample selection of movies and TV shows were available. A variety of movies were available ranging from classics to more recent releases. TV shows included hits from HBO and Disney, as well as American's own programming.
Although Wifi did cut out during the flight, due to us being routed offshore, the inflight entertainment will still function. However, I found that the video player only works on Mac OS or Windows, leaving Chromebook users out of the loop. However, the same options are available on mobile devices, via an app.
When the Wi-Fi was available I was able to stream videos on YouTube. For me I was able to stream videos at 480p on this flight. I didn't find any issues with buffering while watching videos through the aircraft's ViaSat inflight Wi-Fi network. On a speed test I was able to get 2.3 mbps download speed, very reasonable from 37,000 feet.
Although the restrooms onboard do feel narrow, I felt comfortable inside with my 6' 1" frame. The restrooms were clean however the doors open outwards rather than inwards. I found this awkward with the cabin crew often standing just in front of the door while working in the galley. I also took extra caution opening the door from the inside.
Arriving in New York
With about 40 minutes to go till touchdown, we began our descent into the New York area. The weather outside was gorgeous providing excellent views as we made our way down. We made our way down with excellent views of Brooklyn and Queens, turning to final over Flushing Bay.
We touched down on runway 22, after 2 hours and 53 minutes in the air. We exited near the end of the runway and taxied to the ramp. Surprisingly our gate was available and we were able to pull in within five minutes of landing. A similar crowd of American employees greeted us at the gate as we pulled in five minutes early.
Final Thoughts
The Boeing 737 MAX 8 provides an excellent journey for passengers on medium-haul flights. The seats are comfortable, and although some people did complain about the decrease in leg room, I did not feel cramped in my Main Cabin seat. The most noticeable aspect of the flight was just how quiet it was. The engines did not seem to make a noise until the thrust reversers came on during landing.
American has managed to match the economic benefits of the MAX with passenger comfort. Passengers should expect an enjoyable ride, and the ability to sleep with little disturbance.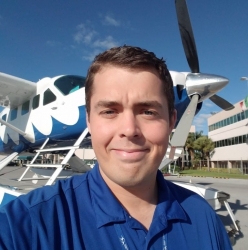 Daniel has always had aviation in his life; from moving to the United States when he was two, to family vacations across the U.S., and back to his native England. He currently resides in South Florida and attends Nova Southeastern University, studying Human Factors in Aviation. Daniel has his Commercial Certificate for both land and sea, and hopes to one day join the major airlines.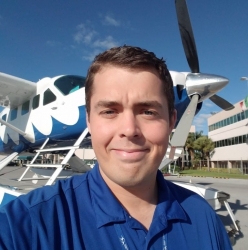 Latest posts by Daniel Morley (see all)