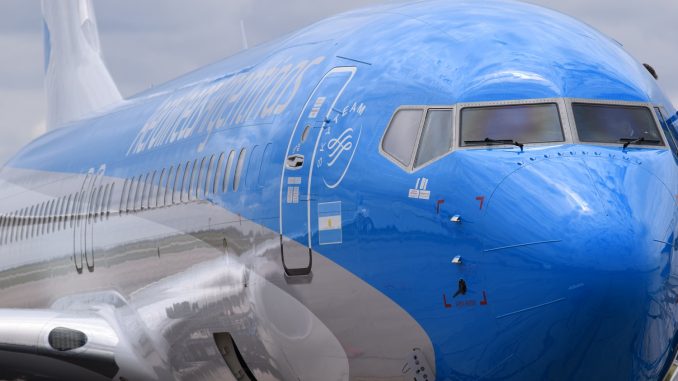 As a symbolic inauguration of the recently acquired Boeing 737 MAX, Aerolíneas Argentinas (AR) completed the aircraft's first "federal flight" on Tuesday linking Argentina's capital city, Buenos Aires, with the country's north, its center, and the most southern city in the whole continent, just a few miles from Antarctica.
The inaugural flight, a four-leg trip that covered 4,400 miles in total, started at 5:35 am, when the brand new Boeing 737 MAX 8, with registration LV-GVD, took off from Aeroparque Jorge Newbery, Buenos Aires' domestic terminal, heading for San Salvador de Jujuy.
The delegation, which included AR's CEO Mario Dell' Acqua and Commercial Director Diego García, as well as members of the press and revenue passengers, was received by Gerardo Morales, Jujuy Province Governor, and a military band playing music following the aircraft's christening.
Once inside the terminal, a brief event was held in which Governor Morales thanked Aerolíneas Argentinas for the constant support the airline provides for tourism and local passengers. Reciprocally, Dell' Acqua stressed the importance of Jujuy on the planning of this route, as it is a gateway for regional flights and receives foreign travelers that subsequently use AR's service.
After a short while, our journey continued with the second leg, from Jujuy to Cordoba City, on Cordoba Province. A new press event was held, in which Dell' Acqua presented results for the recently created Cordoba Hub, indicating that traffic among passengers that avoid its old Buenos Aires hub grew a remarkable 80 percent. In addition, AR's CEO anticipated that MAX incorporation will allow Cordoba to have direct routes to the Caribbean, skipping the previous leg through Ezeiza.
Moments later, at 12:45 p.m., the trip continued from Cordoba to Ushuaia city, the capital of Tierra del Fuego Province.
The delegation was received warmly by Rosana Bertone, Tierra del Fuego's Governor, who was escorted by Mario Dell' Acqua to take a tour of the new aircraft. She has confessed before to being an aviation guru herself.
Additional commentary was provided at a press event in the VIP area of the terminal, with a surprising note added that the government has received a request for Petrel runway, which is located in Antarctica, to be repaired and expanded to allow the operation of commercial flights. For the time being it is under evaluation, but the Argentinian Air Force will have a say given that they are currently responsible for maintaining it.
After a tiring day, the last leg of the trip took off heading for Aeroparque, where our aircraft arrived at 9:40 p.m. Three provinces and 4400 miles later, I can say that the Boeing 737 MAX is a fun airplane to be on, much quieter than the regular 737-800 series. The lack of IFE equipment is compensated by the USB ports in each seat and a streaming solution called Bravo Aerolíneas, which is yet to be expanded but does the trick for now.
The lighting system works well to set moods in different stages of the flight and the crews (we had two during the day: the first one was under Captain Villar and the second was under Captain Bacini) was both professional and courteous.
Before offboarding, I asked Captain Bacini to take some pictures of the instrument panel, to see the full glass cockpit in all its glory. Not only did he agreed, but he turned on all the panels.
It was a great experience to circle the country and be back in the same day. Exhausted, but with a wonderful history to tell, I got home at 23:15 local time, almost 22 hours later. In the middle, a great airplane, a great crew, for a great and challenging operation.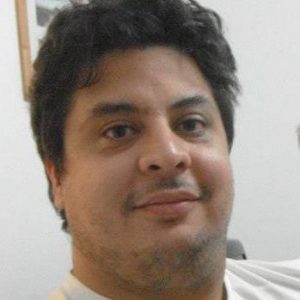 Since a little kid, Pablo set his passions in order: aviation, soccer, and everything else. He has traveled to various destinations throughout South America, Asia, and Europe.

Technology and systems expert, occasional spotter, not-so-dynamic midfielder, blogger, husband, father of three cats; he believes that Latin America's aviation industry past, present, and future offer a lot of stories to be told.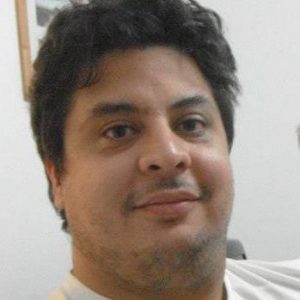 Latest posts by Pablo Diaz (see all)