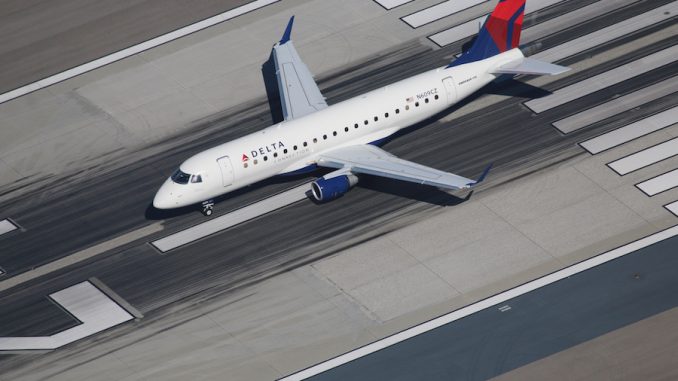 On Wednesday, Atlanta-based Delta Air Lines has announced that it will be ending shuttle service for its West Coast flights from its Los Angeles and Seattle hubs.
"Shuttle" service within the airline industry often refers to the additional service airlines provide on highly competitive routes. These routes, which are often used by business travelers, receive extra perks on top of the regularly scheduled routes.
Oftentimes, these shuttle flights will also include additional benefits in order to make the experience more fluid for the travelers. These additional benefits include dedicated check-in counters, late check-in, the ability to purchase last-minute tickets at the check-in kiosk, gates which are located closer to security and complimentary food and beverages.
The goal for these flights is to get passengers to between two nearby destinations as quickly and efficiently as possible to discourage passengers from using other means of transportation. However, when two city pairs are in close proximity, such as San Francisco and Los Angeles, often times other traffic will take priority, causing delays for the flights.
Shuttle flights on both sides of the country suffer from these delays. Besides operating in cities with high levels of traffic, the short duration of the flights often plays a role when delays strike. The reasoning behind some of the delays is that because the flights are so short, it's more logical to delay them than other, longer flights with fuel and passenger comfort considerations.
Currently, Delta operates shuttle service on both the eastern and western coasts of the United States. The East Coast shuttle service operates flights between New York-LaGuardia, Boston, Chicago, and Washington-Reagan. These flights primary use Delta Connection's Embraer 175 aircraft. On the West Coast, Delta's shuttle service operates between Los Angeles-San Francisco, Los Angeles-Seattle, and Seattle-San Francisco.
Delta first announced the creation of its West Coast shuttle in May 2016 with the aim of the product being catered for frequent business travelers. The service was added to the eight peak-day flights between Seattle, Los Angeles, and San Francisco and are operated using a mix of Boeing 737-800, 717, and Embraer 175 aircraft.
"Since the launch of Delta Shuttle service between Los Angeles and San Francisco in 2013, we've defined what 'shuttle' means with a consistent schedule, investments in the product with local West Coast brands, and making it easier, more enjoyable and more productive to do business for customers on the West Coast," said Ranjan Goswami, Delta's Vice President of West Coast Sales. "Adding Seattle to our Delta Shuttle portfolio is a major milestone and makes it clear that Delta is focused on West Coast travelers like no other airline."
Effective January 4, 2018, Delta has announced that the shuttle service flights will be rebranded to regular domestic service. In Delta's case, the termination of the shuttle service does not mean that any of the schedules are changing, rather, the in-flight service and amenities will no longer be offered.
An "AvGeek" for most of his life, Akhil has always been drawn to aviation. If there is an opportunity to read about an airline, fly on a new airplane, or talk to anyone about aviation, he is on it. Akhil has been on over 20 different kinds of aircraft, his favorite being the MD-80. Additionally, he has visited 5 continents and plans to knock out the remaining two (Africa and Antarctica) soon. Based in Dallas, Akhil graduated from Texas A&M University with a degree in Management Information Systems and currently works in consulting. His dream is to become an airline executive.
Latest posts by Akhil Dewan (see all)