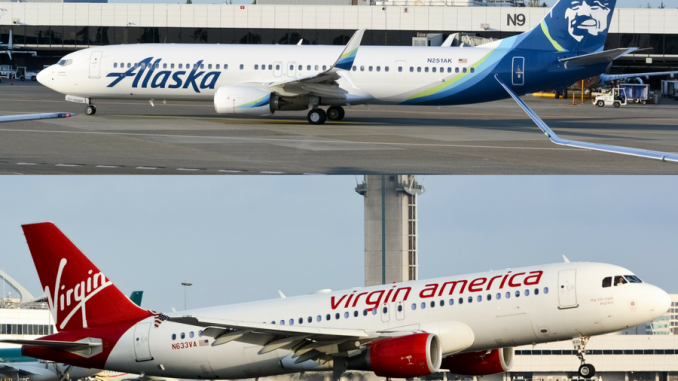 According to two sources familiar with Alaska Airlines' acquisition of Virgin America, the airlines will fly under one single operating certificate as early as  Jan. 11, 2018. This move will officially close out the Virgin America callsign, "Redwood," and the carrier will be seen as Alaska Airlines in the eyes of the Federal Aviation Administration (FAA).
Other changes are coming to the Virgin America operation in the near future, too. N848VA, an Airbus A320, is currently in Greensboro, NC where it'll be fitted with the Alaska livery. Also, the carrier's next three Airbus A321neo deliveries will feature special paint schemes.
N925VA left the factory in Hamburg with a plain white coat of paint. After arriving in Miami for post-delivery configuration on Dec. 2, the aircraft was fitted with decals titled "Most West Coast." The airline wants to pay tribute to its growing West Coast presence, an internal memo read.
.@AlaskaAir / @VirginAmerica are showing off their latest special livery on N925VA, an Airbus A321neo: "Most West Coast." The aircraft is in Miami now and will arrive in San Francisco this weekend. (????: Alaska Air Group) pic.twitter.com/rYhbShquML

— AirlineGeeks.com (@AirlineGeeks) December 16, 2017
N924VA, also an A321neo, is expected to wear the SF Giants livery. Sources also expect that N926VA will likely wear the "More to Love" special livery, which can also be seen on an Alaska Airlines 737-900ER registered as N493AS.
One of the aforementioned sources expects N923VA, an A321neo, to be the last delivery in the Virgin America paint scheme. This aircraft went into operation on Nov. 16, per Flightradar24 data.
Alaska Airlines is also planning to refit Virgin America jets with a new interior design, removing many of the beloved creature comforts that the airline offers on its Airbus jets, such as inflight entertainment and full mood-lighting. Cabin refits are expected to begin in January.
An Alaska Airlines representative was not available to comment on these changes.
New uniforms are also expected to join the Alaska brand, debuting in January, and then being distributed to Alaska Airlines team members before Virgin America staff in 2019.
Alaska has remained fairly tight-lipped on its plans for the Virgin America brand, though one of the sources said to expect a big event to take place next month celebrating the combined airlines.
Update on Jan. 4, 2018
N848VA was seen operating a flight from Greensboro, but the aircraft did not appear to have an updated paint scheme. AirlineGeeks is working to follow up with the sources to gain information on the livery painting process. The aircraft can be seen by an Instagram user below:
Ryan founded AirlineGeeks.com back in February 2013 (actually, it was called Aviation Official, but we've changed a bit since then). From being on the yoke of a Piper Navajo, to visiting about Delta's operations center in Atlanta, Ryan has done it all. in 2016, along with American Airlines, Ryan masterminded AAviationDay at more than 10 locations around the world. The smell of jet fumes in the morning along with the countless number of passionate airline employees keep him enthralled in the industry, always seeking more. You can find him helping out travelers at Reagan National Airport near Washington, D.C. when he's not doing something for AirlineGeeks.
Latest posts by Ryan Ewing (see all)