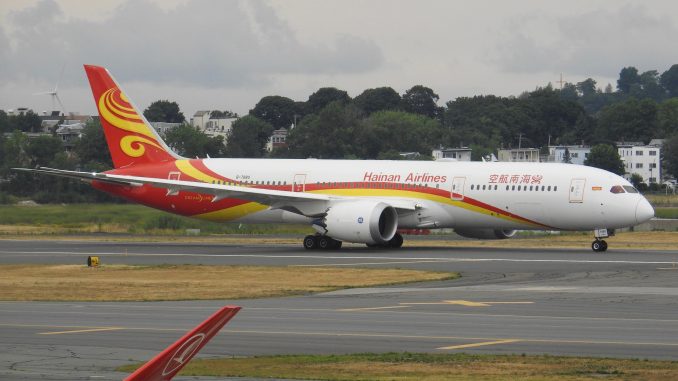 China's Hainan Airlines has announced flights from Beijing to Mexico City, with a technical stop in Tijuana, beginning on March 21, 2018.
The flight will operate three times weekly and be serviced by the Boeing 787 Dreamliner aircraft, the airline's aircraft of choice for long ranges flights to North America due to its low operating costs and fuel efficiency.  The airline sought service to Mexico in 2016 but plans never come to fruition. The airline reapplied to the Civil Aviation Authority of China (CAAC) for authorization to Mexico in 2017, along with Tehran, Zurich and Sydney.
According to Forbes Mexico, up to 120,000 Chinese tourists visited Mexico in 2017, an increase of 14 percent from 2016. Jose Luis Bernal, Mexico's ambassador to China, said, "We are sure that the attraction that Mexico City has for its connectivity to different points in Mexico and other places in Latin America, and even North America and Europe, will have a very important effect on the growth of tourism."
Tijuana is considered to be a classic stopover point for flights to Asia from Mexico as it located at sea-level and is nearly 1,400 miles closer to Asia than Mexico's capital, allowing for more reasonable "non-stop" flight to inland locations in Asia.
The route is similar to the Mexico City-Tijuana-Tokyo flight that AeroMexico served historically until recently. The technical stop in Tijuana is necessary in part due to the elevation of Mexico City, reducing the capability of aircraft and requiring a fuel stop in the Mexican border town. Located within feet of the United States/Mexico international border, the airport is farthest north the Mexican airline can fly within Mexico to refuel.
After 2014, AeroMexico's Tokyo flight started making stopovers in Monterey instead of Tijuana as Tijuana International Airport improved their runways. The flight never returned to Tijuana, as AeroMexico's Dreamliner was able to make the trip without the stop. However, AeroMexico does maintain a Mexico City-Tijuana-Shanghai with its Dreamliner.
It is currently unknown whether Hainan will be able to sell seats between Tijuana and Mexico City or Tijuana and Beijing. However, if the airline is allowed to sell tickets to Tijuana, it can be an additional option for travelers to and from San Diego and the U.S. side of the border region, using the new Cross Border Xpress at Tijuana Airport.
The Cross Border Xpress takes advantage of Tijuana Airport's location just feet away from the international border. Upon landing in Mexico, international passengers clear Mexican customs, then walk across the bridge into the United States, without leaving the terminal, where they will clear U.S. customs and immigration.
For those departing from Tijuana, you can walk across the bridge from the U.S., clear Mexican customs and board any flight. Most airlines maintain check-in desks on the U.S. side of the terminal but checked baggage, however, will be dropped off on the Mexican side of the border after clearing Mexican customs. Wait times are limited as the bridge is only open to airport customers and crossing is subject to a fee.
Since San Diego International Airport only has one nonstop flight to Asia with Japan Airlines' flight to Tokyo, the Cross Border Xpress is a way for Americans to have access to more international flights from Tijuana, without having to step foot in Mexico, for all intents and purposes, outside of Tijuana Airport. While passengers will have to add an extra trip to customs on both ends of their journies, it will save time as they can fly nonstop to their destinations.
If Hainan Airlines is able to sell tickets to Tijuana, they can market San Diego/Southern California as a destination, in addition to Tijuana, as the Cross Border Express and other border crossings near the airport make the United States easily accessible from the airport without restrictions on the airline as the plane itself will not be entering the U.S. , and Mexico City. With two flights, Hainan has the potential to serve three markets.
This story was corrected on Feb. 3, 2018 at 8:40 p.m. ET to remove an error stating that Hainan is the first Chinese airline to connect China and Mexico. This is not true as China Southern operates a route between the two nations.
Jace has been working at AirlineGeeks for nearly three years. Born in Seattle, Boeing and aviation quickly took over his life and he never stopped looking up. Jace enjoys plane spotting and taking trips just so he can fly. He is currently studying at Embry-Riddle Aeronautical University while earning his Bachelors of Science in Air Traffic Management.
Latest posts by Jace Moseley (see all)