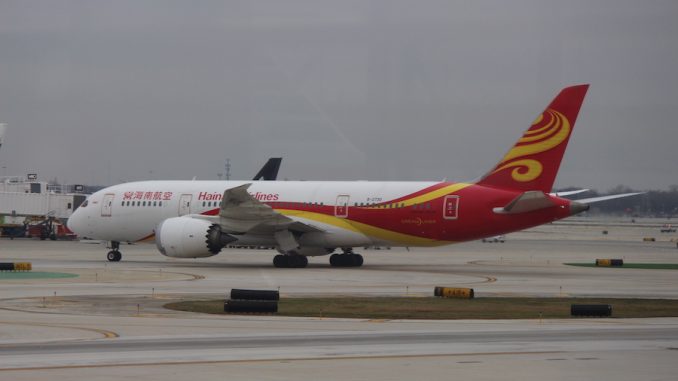 China's HNA Group, owner of Hainan Airlines, has been granted a lifeline by the Chinese government amid recent financial troubles, mainly surrounding a large amount of debt accrued due to numerous acquisitions.
One of HNA's largest and most well-known entities is HNA Aviation which holds a majority stakes in 13 airlines in China and Hong Kong, including Hainan Airlines, Beijing Capital Airlines, Hong Kong Airlines, and HK Express. The group also has minority stakes in airlines outside of China that include Azul Brazilian Airlines and TAP Air Portugal.
A large part of the debt that has built up is with China National Aviation Fuel Group Ltd. (CNAF). The fuel group holds a near-monopoly on aviation fuel in the country, and although unlisted, the amount of debt HNA Group has grown significantly over the past six calendar months.
Effects of these debts can also seen across some of the airlines in the group, leading to delayed payments on leased aircraft. According to Reuters, these delayed payments have caused concern to multiple leasing units from Bank of China, China Minsheng Banking Corp., and Bank of Communications Co. Top executives from these companies have been in talks regarding recovery talks.
In order to maintain liquidity, HNA has been looking into restructuring operations alongside raising cash by selling equity and real estate assets. Some assets that have been sold include a Sydney office tower and two plots of Hong Kong real estate.
Future Outlook
While the exact details about how the airlines owned by HNA Group are doing is not completely known, there may be some complications that could start coming to the foreground.
CNAF, a state-run group, supplies fuel at over 200 airports in China and another 46 across the globe. Even with the ever rising debts, CNAF has continued supplying fuel for airlines associated with HNA Group, much in part due to concerns about what may happen if fuel sales are suspended to such a large group of airlines.
An executive with CNAF, in a quote to Reuters, said, "It's now CNAF's social responsibility to keep its flights running, because if fuel is suspended, passengers will be hurt and then it becomes a social problem."
Another proposed solution that has been offered up by the fuel supplier included the swapping of an airport. This swap deal would include the transferring of a stake of HNA controlled, Meilan Haikou Airport, located in Haikou, Hainan Province, for the debt.
Besides fuel issues, the delayed and deferred payments for leased aircraft could become a much larger issue for the airlines. Missed payments can lead to recovery of aircraft by the leasing companies. For the airlines that heavily rely on leased aircraft this can lead to disastrous results, not limited to canceled flights and suspended routes, but also the complete failure of the airline if the situation becomes too serious.
While the situation surrounding the HNA Group is in very complicated, only time will tell what the full effects will be. However, at this point expecting the worst case scenario of a shutdown seems to be the last thing on the mind of many top executives.
Jace has been working at AirlineGeeks for nearly three years. Born in Seattle, Boeing and aviation quickly took over his life and he never stopped looking up. Jace enjoys plane spotting and taking trips just so he can fly. He is currently studying at Embry-Riddle Aeronautical University while earning his Bachelors of Science in Air Traffic Management.
Latest posts by Jace Moseley (see all)