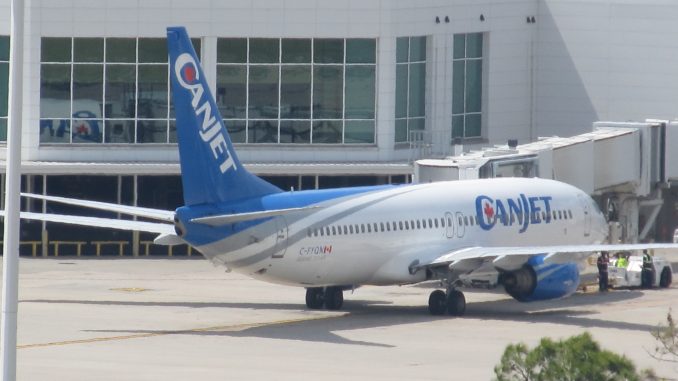 With the Canadian leisure market being dominated by carriers like Cananda 3000, SkyService and Sunwing in the start of the 2000s, the ability to get another low-cost leisure airline to provide any sort of substance proved to be a challenge. However, IMP Group, with help from Canada 3000, started a new carrier by the name of CanJet.
Unfortunately, the original CanJet suffered a short fate as the carrier would be forced to be grounded following the collapse of Canada 3000 in November 2001. As a result, IMP Group had to restructure their financial costs and fully separate the startup airline from the larger failing brand before relaunching under the same name on June 20, 2002.
The airline restarted with a fleet of five 120-seat Boeing 737-200s, the same five that were used when under control of Canada 3000, as the airline took advantage of the hole in the Canadian market left by its comrade's collapse.
CanJet would not rush expansion, instead opting to wait for gaps to open up and take advantage of other carriers pulling out. The airline would apply this strategy with cities such as Hamilton and Halifax, who were hurt by the loss of other leisure carriers who failure or ventured to larger markets.
Through the first half of the 2000s, CanJet was succeeding. The airline had looked to make the most of the collapse of JetsGo with potential westward expansion while also replacing the aging Boeing 737-200s with used Boeing 737-500s.
However, the airline's "wait for a gap to fill" strategy was flawed, with airlines like Air Canada and WestJet undercutting the carrier and expanding quicker than CanJet could. This would lead to overlapping services on routes like Hamilton, where CanJet would eventually give up and flee to the much larger Toronto Pearson International Airport instead.
In a last-ditch effort, CanJet signed a marketing deal with Harmony Airlines to allow for passengers on either carrier to transfer airlines without leaving security. This would allow the carriers to take advantage of each others route maps and potentially have a better chance of fighting off the much larger Canadian carriers. Around the same time, CanJet was still expanding south with more flights to Florida and the Caribbean opening up.
But the commercial market wasn't working and CanJet knew that and with Harmony Airlines in the final stages of its operating life, CanJet decided to suspend all commercial operations in late 2006. The airline would instead focus on charter and leasing aircraft, with a deal with travel operator Sunquest already in the works.
As a result of the decrease in demand, CanJet would slash over 1,000 jobs at the company and park four of their nine Boeing 737-500s. However, once finances were settled, CanJet would rehire about 100 of the fired employees.
Fully committed to the charter market, CanJet made moves to improve service and provide the best product possible to compete with airlines like Sunwing. The fleet of Boeing 737-500s would be replaced with Boeing 737-800s and charter flights would offer free onboard meals when flying between Canada and Central America.
On the surface, CanJet looked to be more secure than they actually were. The airline operated their fleet of Boeing 737-800s for two different travel providers, with both Sunquest and Air Transat using the aircraft to fly to the Caribbean, Florida and Central America.
But the long-range charter flights left a toll on the carrier, with the monetary picture at CanJet getting bleaker and bleaker every quarter. The carrier would launch and quickly fold a travel arm titled CanJet Vacations and would eventually lay off over half of the CanJet staff in 2015. Slowly the Boeing 737-800s were removed from the fleet or sold off the Air Transat as it appeared that the airline was struggling to survive the tough Canadian leisure market.
Those tolls would finally come to a head in September 1, 2015 when IMP Group announced they would cease all operations and the CanJet brand would be removed from the company's portfolio. At the time CanJet was down to just one plane working flights for Air Transat with no positive cash flow for the past few years.
The slow collapse of CanJet left little change to the Canadian market, with Air Transat already having replaced CanJet's Boeing 737-800s with their own Boeing 737-700s and 737-800s on most routes and Sunquest already operating with different carriers.

Ian has been an avgeek since 2004 when he started spotting US Airways Express planes at Johnstown Airport in Johnstown, Pennsylvania. He now lives in Wichita and enjoys spotting planes in Kansas City and Wichita as well as those flying at high altitudes over his home. He is a pilot with more than 40 hours of experience behind a Cessna 172, Diamond DA-20, and Piper PA-28. He flies Southwest Airlines on most of his domestic flights and Icelandair when flying to Europe. Ian's route map spans from Iceland and Alaska in the north to St. Maarten in the south. He is a student at Wichita State University, where he will study aerospace and mechanical engineering.

Latest posts by Ian McMurtry (see all)