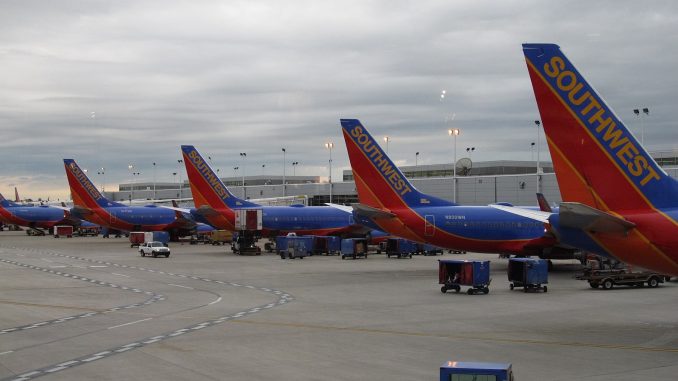 With American Airlines and United fighting for control of Chicago O'Hare in the 1980s and 1990s, it made sense for carriers to look for other locations to start operations knowing that O'Hare operations were limited. However, Chicago Midway was a hub of its own with Midway Airlines operating at a majority of the gates. Despite the competition from various carriers, it would be Southwest's story of survival that would land them their largest focus city to date.
Southwest's Chicago roots can be traced back to the 1980s with their slow expansion through the Midwest. The carrier had already operated flights as close as St. Louis and in 1985 decided to make the jump to Chicago Midway, launching flights from Midway to St. Louis, Kansas City, and Nashville.
At the time Midway was a hub for the airline that wore the same name, with the carrier operating flights from 17 of Chicago's 27 gates with operations between both Midway and Midway Connection totaling 40 destinations across the United States. Due to Midway's overarching presence at Chicago's secondary airport, Southwest was restricted to just three gates through the 1980s and early 1990s with the airline only adding service to Detroit in the first four years of service to the Windy City.
But the gateway for expansion for Southwest would open as Midway Airlines would collapse in 1991 as a result of the increase in fuel prices and the competitive disadvantage that Midway had over O'Hare in terms of popularity.
With the airport lacking a main airline, Southwest started a very slow expansion through the 1990s allowing the airline to grow to be the largest airline at Chicago-Midway. Service to the original four routes would be accompanied by expansion to Indianapolis, Columbus, Cleveland, Baltimore, Louisville, Little Rock, Birmingham (AL), Omaha, Providence, Houston-Hobby and Manchester (NH).
Midway's collapse was also the start of various carriers calling it quits at Midway, with low-cost brands such as Vanguard Airlines, Western Pacific, KIWI Airlines, and Air South disappearing and clearing space for Southwest to continue their expansion.
Southwest also benefited from being in the right place at the right time with Chicago Midway striving to become more efficient through various infrastructure projects in the 1990s. Midway's first major breakthrough came in 1993 when the city connected the airport to the Chicago Transit Authority's Orange Line. The addition of a train line allowed for passengers to travel from downtown to the airport using mass transit and avoid paying for a taxi or sitting in traffic. The airport would also expand to overhaul its image including its first covered parking garage being opened in 1999 and an expanded terminal that would officially open in 2001.
However, an expanded terminal brought forward more competition for Southwest as Indianapolis-based American Trans Air moved in during the late 1990s and attempted to win over the Windy City crowd.
For Southwest, American Trans Air would be a much more winnable battle than their previous fight against Midway Airlines. Southwest had expanded to include over 30 destinations from Midway by 2002 while ATA was coming to Chicago as a last-ditch effort to save an airline that was struggling to pull in passengers. ATA would enter the market using both their mainline fleet and a newly established ATA Connection brand that would serve over 40 destinations across both branches.
The dispute with ATA would last over five years, with the airline finally suffering its first bankruptcy in 2004 and filing for Chapter 11 to allow the airline to restructure. During its restructuring period, Southwest became a huge lifeline for its competitor, taking hold of 20 of ATA's Chicago gates and establishing a codeshare with the Indianapolis-based airline as a way to gain access to ATA's Chicago Midway routes that Southwest did not have landing slots for, including Washington-National, New York-LaGuardia, and Dallas-Ft. Worth.
ATA would also make significant cuts to their service, reducing their presence at Indianapolis and shuttering ATA Connection.
Despite seeing some success through the codeshare, ATA's collapse continued for the next four years as they would receive cash from Southwest for transferring Chicago-Midway routes and gates to the growing carrier. The airline would officially end service on April 3, 2008 with Southwest buying the remains of ATA in order to establish service to New York-LGA and Washington-National and continue to grow at Midway.
While Southwest and ATA were settling their battle, the shifting post-9/11 skies had made a huge impact in Chicago. The bankruptcy and restructuring of United in 2002 along with the cuts made by American had freed up space at Chicago O'Hare, which, for the longest time, had restrictions due to high demand. As a result, newer players would seek to land at Chicago O'Hare over Midway, including carriers like Virgin America, jetBlue, and Alaska Airlines.
However, the end of ATA didn't mean the end of Southwest's struggle for control of Midway, with AirTran finally getting a chance to land at Midway. The Orlando-based airline had attempted to expand in Chicago since 2004, but was always unable to outbid Southwest whenever ATA's gates were auctioned off. Although once ATA was in bankruptcy court, the airline won over a handful of gates and launched a rapid expansion that would peak at 32 daily flights to 10 destinations.
While this demand showed promise originally, AirTran was overwhelmed by Southwest and retracted most of their operations in the following years, instead of moving operations to Milwaukee where Southwest was less prevalent. That hub in Milwaukee would last till Southwest would outright buy AirTran in 2010.
By 2013, the post-AirTran merger Southwest was much larger than the carrier that had launched flights to Chicago in the 1980s. The airline had grown to include 66 destinations from Chicago and operated at 32 of the airport's 43 gates. The airline's overbearing presence at Midway had also forced other airlines to seek operations elsewhere, with Frontier moving to Chicago O'Hare to expand and American, Continental, and United all cutting Chicago Midway service altogether.
Despite the success, Southwest has continued to tweak routes between their focus cities of Chicago Midway and St. Louis. Most of these tweaks have come as a result of the implementation of AirTran's Atlanta routes at Chicago. Some cities that have disappeared include Branson, Greenville, and Akron while Wichita, Grand Rapids, and Des Moines would switch between Chicago and St. Louis in hopes of seeing an increase in demand.
Under Southwest's growth, Chicago Midway has seen a massive increase in demand. The airport had just 15.6 million passengers at the beginning of the century. But under Southwest's expansion, the passenger count has increased with the airport welcoming over 22.4 million passengers last year.
Currently, Southwest is still the largest carrier with 242 flights daily to 67 destinations although the airport still sees some variety with carriers like Delta, Porter, and Volaris providing some competition inside Midway while all these carriers also have to compete with American, United, Frontier, and Spirit at Chicago O'Hare. However, the competition Southwest sees at Chicago Midway is nothing like the airport has provided in the past, and as a result, the Windy City is now Southwest's largest focus city.
Although Ian McMurtry was never originally an avgeek, he did enjoy watching US Airways aircraft across western Pennsylvania in the early 2000s. He lived along the Pennsylvania Railroad and took a liking to trains but a change of scenery in the mid-2000s saw him shift more of an interest into aviation. He would eventually express this passion by taking flying lessons in mid-Missouri and joining AirlineGeeks in 2013. Now living in Wichita, Kansas, Ian is in college majoring in aerospace engineering and minoring in business administration at Wichita State University.
Latest posts by Ian McMurtry (see all)