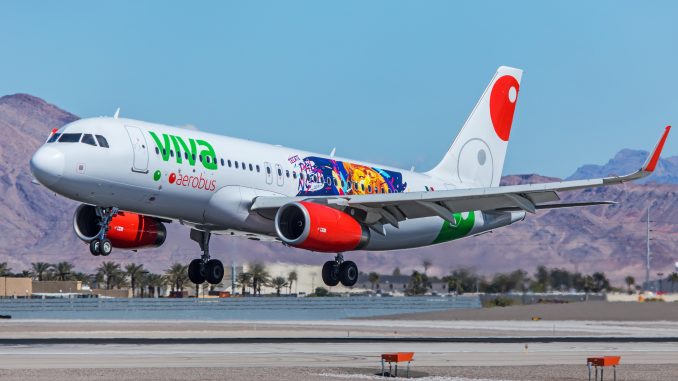 VivaAerobus, a low-cost Mexican carrier, has announced plans to launch service between Mexico City and New York-JFK. The route is scheduled to start on Oct. 18, 2018 utilizing the airline's 180-seat Airbus A320s. The flight is scheduled to depart Mexico City at 7:15 a.m. CST arriving at 12:40 p.m. EST with the return departing New York at 2:35 p.m. and arriving back in Mexico at 5:35 p.m. CST.
Although the price will be offered lower than VivaAerobus' competition, early fare discounts currently allow passengers to buy tickets for as cheap as $99.
The airline joins the long list of carriers who service the New York to Mexico City market. Delta, AeroMexico, and Volaris already service the city daily while jetBlue has plans to start flights between the two cities starting the week after VivaAerobus.
Despite the heavy competition, VivaAerobus' CEO Juan Carlos Zuazua has high hopes for the route saying, "Today, passengers who fly to New York to enjoy its entertainment and cultural offer, to visit family and friends or for business reasons, and all those who dreamed of knowing this destination, will find the best value offer in VivaAerobus: lowest prices, direct flights and a service completely focused on the client."
For VivaAerobus, New York becomes the carrier's sixth active U.S. destination joining Los Angeles, Chicago O'Hare, Las Vegas, Newark, and Houston-IAH. However, the airline has had rough times in the U.S. market with routes to cities like San Antonio, Austin, Dallas-Fort Worth, Miami, and Orlando being suspended.
October is also a huge expansion for VivaAerobus with the airline adding three new Mexican destinations in the fall. The airline will resume flights to Durango and Morelia from Monterrey starting in early October while service between Zacatecas and Mexico City comes eight days after the New York route's launch.
Although Ian McMurtry was never originally an avgeek, he did enjoy watching US Airways aircraft across western Pennsylvania in the early 2000s. He lived along the Pennsylvania Railroad and took a liking to trains but a change of scenery in the mid-2000s saw him shift more of an interest into aviation. He would eventually express this passion by taking flying lessons in mid-Missouri and joining AirlineGeeks in 2013. Now living in Wichita, Kansas, Ian is in college majoring in aerospace engineering and minoring in business administration at Wichita State University.
Latest posts by Ian McMurtry (see all)