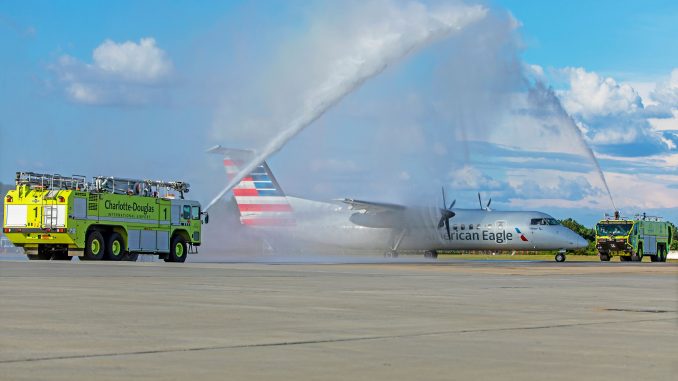 Piedmont Airlines officially retired the Bombardier Dash 8. The final service will mark the end of a 33-year tenure of the type for the airline.
This final flight will operate to Salisbury-Ocean City-Wicomico Regional Airport (SBY) from Charlotte (CLT) as flight number 4927. The aircraft will depart from CLT at about 6:33 p.m. eastern time and will signal the end of revenue service after it touches down in Maryland. 
Fittingly the final flight will touch down in the same place where it was first delivered to the airline. The airline's first Dash 8 was delivered to the company's headquarters on April 4, 1985, 33 years and three months before the final flight will arrive. The first Dash 8 flight operated for the airline less than a month later servicing Baltimore (BWI) on May 2, 1985.
Over the years, Piedmont has operated 109 Dash 8s, in three different variants, under many different names over the past quarter-century plus. The aircraft was first operated under "Henson, The Piedmont Regional Airline"  from delivery until 1989 when the airline was purchased by the USAir Group. Following the rebranding of Henson into Piedmont in 1993, the airline has been operating as a regional carrier for US Airways and American Airlines.
Although the Dash 8 will not be completely gone from the airspace in the United States, the retirement will be the end of schedule propeller service for, what many people consider to be, the big 3 U.S. airlines (Delta, American, and United). Alaska Airlines and their regional carrier Horizon Air still operate over 40 of the Dash 8-400, mostly on the West Coast of the United States.
Most travelers will not miss the flights on the Dash 8, but from an AvGeek perspective, there will be something missing from the smaller cities on the East Coast. The Dash 8 allowed for greater regional expansion into smaller cities that had, sometimes, not seen service previous to the introduction of the type.
The Dash 8 was much faster, as well as more fuel efficient compared to its predecessor, the Dash 7. The "hub and spoke" system we largely see today exists, in part, due to the Dash 8 and its capabilities.
Jace has been working at AirlineGeeks for nearly three years. Born in Seattle, Boeing and aviation quickly took over his life and he never stopped looking up. Jace enjoys plane spotting and taking trips just so he can fly. He is currently studying at Embry-Riddle Aeronautical University while earning his Bachelors of Science in Air Traffic Management.
Latest posts by Jace Moseley (see all)