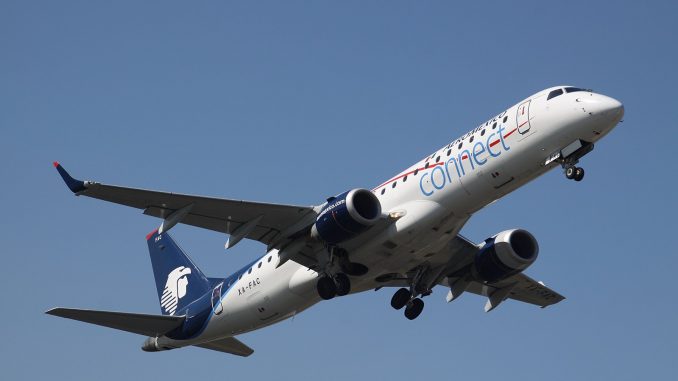 On Tuesday at roughly 6:00 p.m. ET, an AeroMexico Embraer E190 operating as AeroMexico Flight 2431 crashed at General Guadalupe Victoria International Airport in Durango, Mexico. The aircraft was originally scheduled to fly between Durango and Mexico City. The Embraer ERJ-190s for AeroMexico are equipped to fly 99 passengers, with AM2431 flying at near capacity with 97 passengers and 4 crew onboard.
The scheduled one hour and twenty-minute flight would be interrupted early on as the aircraft would exit the runway on takeoff roll, slide across the ground until coming to rest in a field off of General Guadalupe Victoria International Airport's runway 03. The Embraer caught fire once stopped, resulting in large portions of the fuselage and wings being burned. A successful evacuation by passengers and crew would mean that there were no fatalities, according to Durango's Governor José Aispuro.
The airline is well aware of the situation, tweeting soon after the incident,  "Aeromexico has been aware of an accident in Durango and we are working to verify the information and get details. Follow our official communication channels for more information."
Further details involving the reason the aircraft vacated the runway and the events that led up to the passengers evacuating onto the dry Durango ground will be published once the Mexican government's Ministry of Communications and Transportation investigates the incident.
The Embraer E190 has become a workhorse for the AeroMexico Connect brand since joining the fleet in 2008. AeroMexico Connect currently uses 48 E190s to fly to the smaller Mexican cities and less popular U.S. and Central American routes where their Boeing 737s would not produce profitability. The airline would also use the aircraft to end operations with the McDonnell-Douglas MD-80 and Embraer ERJ-135.
Asi Las labores de sofocar el incendio en El avión de @Aeromexico en #DURANGO pic.twitter.com/Xdjrm7Jix8

— RAMIRO ESCOTO (@Ramiro_Escoto) July 31, 2018
The specific aircraft involved, with registration XA-GAL, was originally delivered to Republic Airlines in 2008 where it would be operated for US Airways and Midwest Airlines until 2013 with the registrations N960UW and N167HQ . XA-GAL would spend a year in storage before being delivered to AeroMexico in 2014 under the AeroMexico Connect brand name.
The loss of XA-GAL means that this is just the sixth hull accident for the aircraft type in 14 years of operation. The previous major incident occurred in 2013, when a LAM Mozambique Airlines flight was hijacked and intentionally driven into the ground, killing 33.
For AeroMexico this is their first hull loss accident since 2000, when an AeroMexico branded Douglas DC-9 overshot a wet runway in Reynosa, Mexico, killing four on the ground and resulting in the airplane being damaged beyond repair. However, with all members of AM2431 surviving the incident, AeroMexico keeps their trend of avoiding any in cabin fatalities going which dates back to AeroMexico Flight 498's crash in Cerritos, California in 1986.
Although Ian McMurtry was never originally an avgeek, he did enjoy watching US Airways aircraft across western Pennsylvania in the early 2000s. He lived along the Pennsylvania Railroad and took a liking to trains but a change of scenery in the mid-2000s saw him shift more of an interest into aviation. He would eventually express this passion by taking flying lessons in mid-Missouri and joining AirlineGeeks in 2013. Now living in Wichita, Kansas, Ian is in college majoring in aerospace engineering and minoring in business administration at Wichita State University.
Latest posts by Ian McMurtry (see all)