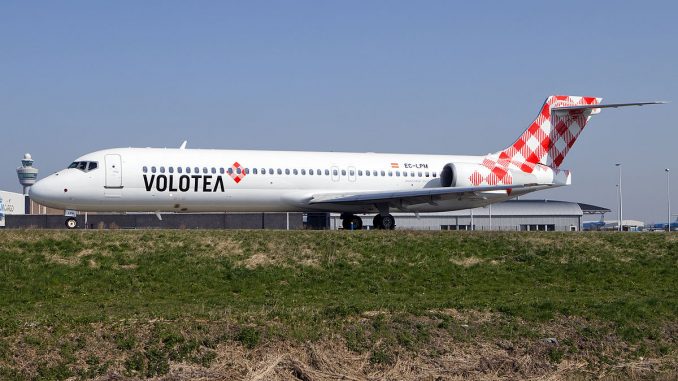 Spanish low-cost carrier Volotea has been told by the Italian civil aviation authority that it could be blocked from operating within Italy if its flight schedules are continuously delayed.
Italy's National Agency for Civil Aviation, or ENAC, has accused the Barcelona-based carrier of "numerous critical issues" this past summer, some of which have included flight cancellations, overbooking, and frequent delays.
Those issues have caused numerous disruptions at Italian airports and ENAC has insisted that Volotea take "immediate corrective action."
On top of that, ENAC is also investigating reports that carrier has failed to comply with an EU regulation regarding compensating passengers who have been affected by denied boardings, cancellations, or long delays of flights.
Volotea has responded by saying that it has maintained above-average punctuality and one of the lowest cancellation rates in the industry, despite frequent ATC delays across Europe.
The ATC delays are partly caused by staffing and capacity shortages.
"As for all airlines, it is not always possible to avoid disruptions when ATC and other external factors affect network capacity and scheduled operations. Volotea co-ordinates client assistance with subsequent flights, agreements with associated airlines, alternative transportation means and hospitality when needed. Volotea always does its best to ensure that passengers are properly assisted and informed at all times," said Volotea in a statement.
Volotea is not the only airline being targeted by ENAC as the agency is also investigating Blue Panorama, Ryanair, and Vueling for disruptions that have occurred during this summer.
If Volotea fails to resolve the issues brought by ENAC, the carrier's permission to operate in Italy could be revoked effective September 2018.
An "AvGeek" for most of his life, Akhil has always been drawn to aviation. If there is an opportunity to read about an airline, fly on a new airplane, or talk to anyone about aviation, he is on it. Akhil has been on over 20 different kinds of aircraft, his favorite being the MD-80. Additionally, he has visited 5 continents and plans to knock out the remaining two (Africa and Antarctica) soon. Based in Dallas, Akhil graduated from Texas A&M University with a degree in Management Information Systems and currently works in consulting. His dream is to become an airline executive.
Latest posts by Akhil Dewan (see all)