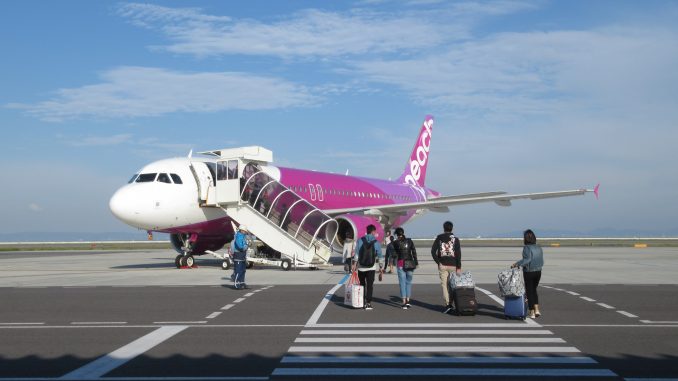 The airline world may be an ever-changing industry with airlines coming and going, but nothing has affected the Japanese aviation market more than the development of low-cost carriers. While incredibly prevalent today, many forget is how recent of a phenomenon the low-cost carrier was.
To begin, the 21st century saw little change for the airlines of Japan with the big three carriers of SkyMarks, All Nippon and Japan Airlines dominating the market. Low-cost carriers were few and far between with airlines like Skymark, Air Do, and StarFlyer marketing themselves as "hybrid airlines" instead of outright low-cost carriers in order to attract more customers.
But a change in economic strategies and international influences has resulted in the rise of the low-cost carrier in Japan.
The Perfect Storm
In 2009, Japanese Prime Minister Shinzo Abe instituted what he called "Abenomics," a rapid shift in Japanese economic policies in hopes of kick-starting a declining economy and avoiding a depression. In the years that followed, the Japanese currency and GDP would see changes. While the Japanese Yen would tank from $1USD being worth ¥89 in 2009 to roughly ¥110 today, the GDP of Japan would see over a one percent increase in value year-over-year.
In the years following, Japan became more active in promoting travel as foreign tourists could make an affordable trip to Japan thanks to the cheaper currency. But while more people were employed, the country's average income per household fell, forcing people to budget their travel options differently.
All of this would add to what would become a perfect storm for the introduction of low-cost carriers into Japan's aviation market. The big start years for Japan's low-cost carriers would begin in the early 2010s, with five new brands or rebrandings appearing in the skies above Nihon.
A Rough Start
All Nippon would be a key in launching two of these brands, with the airline taking a partial stake in Peach Aviation in 2012 and a full stake in a brand-new airline called Vanilla Air in 2013. Japan Airlines would follow suit alongside Australia's Qantas in launching their own carrier called Jetstar Japan, with both carriers taking a 33.3 percent stake each.
Spring Airlines of China would enter the market in 2014 with their own spin-off brand called Spring Airlines Japan. Finally, SkyNet Asia would rebrand themselves into what is currently known as Solaseed Air in 2011, with the airline going through a fleet overhaul in the same timeframe.
However, the start for a lot of these carriers was rough, with brands needing numerous cash injections from parent companies to remain afloat. This was caused by the Japanese economy slowly adopting the Abenomics way and the drop in the yen value that hurt the Japanese people. The first major failure would be Skymark, which was struggling in the late 2000s as the carrier had made the move towards more leisure amenities onboard. A slowing Japanese economy coupled with rising capital expenditures like Airbus A330s and A380s would lead Skymark to seek Corporate Rehabilitation Law in 2015.
Meanwhile, JetStar Japan was struggling to achieve flight, with the airline needing three large cash infusions by Qantas and Japan Airlines to remain afloat. The airline would take four years until it finally achieved its first positive cash flow. Despite the cash injections, both Qantas and Japan Airlines would inject the same amount into the airline to make sure the 50/50 split in ownership between the airlines would not be broken.
All Nippon would also have to add cash injections into both Peach Aviation and Vanilla Air in their first few years following the market shock caused by the rapid Abenomics changes. Both airlines would record negative cash flows their opening calendar year before finding profits in the following years. All Nippon would take a conservative expansion track with both brands to make sure they didn't overstep their ability to a profit should the market shift.
StarFlyer also took a step backward during the launch of Abenomics with the brand recording losses of over ¥200 million per year. As a result, the airline would momentarily downsize its domestic services and slash all flights to South Korea as the carrier sought profitability. StarFlyer managed to stay afloat thanks to a range outside investments from companies who use the carrier or saw the importance of StarFlyer's market, including TOTO, Nissan and All Nippon Airways.
A Niche for Everyone
After some growing pains, most of these airlines have achieved their own portion of the Japanese market share and have begun efforts to consolidate. ANA's two brands, Vanilla Air and Peach Aviation, have taken the first steps toward merging themselves into one carrier. The combined carrier will hold onto 35 aircraft that will service 39 routes, with further expansion plans calling for 50 aircraft flying on 50 routes across Japan, China, South Korea and Southeast Asia. It has not been announced, however, if the merged carrier will hold onto Vanilla Air's membership in the Value Alliance, whose other members include Nok, Scoot, Jeju Air and Cebu Pacific.
After stabilizing, JetStar Japan is starting its own expansion plans as well. The airline currently has 21 Airbus A320s servicing 16 destinations across Japan, Hong Kong, China, the Philippines and Taiwan. The airline plans to expand the fleet to 28 Airbus A320s within the next three years as well as expand the route map to compete with the Peach-Vanilla expansion. The airline takes advantage of being owned by two Oneworld Alliance members, holding onto codeshare agreements with Japan Airlines, Qantas and American Airlines.
Spring Airlines has slowed expansion for the moment as the airline is holding onto five Boeing 737-800s that operate to nine cities, five in Japan and four in China. The airline has attempted their ability to show themselves as being Chinese, hiring as many Japanese people as possible for their Tokyo-Narita based carrier. The last route the airline added was in 2017 when the airline launched Harbin-Tokyo service.
For the old guard of "low-cost carriers," things have improved as well. StarFlyer made a deal with Lufthansa in 2016 to implement the German carrier's ProfitLine protocol with the Japanese hybrid carrier. The ProfitLine management system allows the StarFlyer management notice trends in the market and allow the airline to maximize their operating revenue.
Confident in Lufthansa's system as well as receiving financial backing from All Nippon, StarFlyer is starting its first expansion since the start of Abenomics. Flights to Taiwan are starting in 2018 and the airline hopes to expand its fleet of Airbus A320s from 10 to 15 in the next three years.
Skymarks has also seen strong potential for its future. The airline exited Corporate Rehabilitation Law in 2016 with a gutted fleet that removed all aircraft besides the Boeing 737-800 from service. The airline had also canceled service to 12 less-than-profitable destinations and slashed service at their Tokyo-Haneda hub.
The plan, so far. has proven successful, with the post-bankrupt Skymarks recording a ¥6.7 billion profit in 2016. For the moment the airline will remain off the stock market, with plans to relaunch the carrier on the Tokyo Stock Market in 2020 after proving the new airline can expand and remain profitable.
After originally abandoning All Nippon on creating what would later be called Vanilla Air, AirAsia joined the Japanese market in 2017. The airline launched with assistance from a few large Japanese investors including Rakuten, Noevir and Alpen. AirAsia Japan has started with two Airbus A320s and one route between Nagoya-Chūbu and Sapporo-New Chitose.
For the remaining carriers, it has been business as usual, with Solaseed Air and Air Do originally decreasing their route maps and fleet size until the mid-2010s when the Japanese economy improved. Air Do would sell their Boeing 737-500s to ANA Wings in 2014 and sell and scrap two Boeing 767-300s. The airline would slowly replace the gap in the Boeing 737-500s with newer Boeing 737-700s that finished delivery in 2016.
The expansion plans, however, do not stop with purely low-cost carriers. Japan Airlines announced in May that they are planning a new long-haul low-cost carrier to allow for cheaper flights to Europe and North America utilizing Boeing 787-8 Dreamliners. Although little is known about the airline, JAL expects to have the LCC airborne in time for the 2020 Summer Olympics.
Looking Ahead
With Abenomics in full effect, low-cost airlines are reaping the rewards of a revitalized market. Prime Minister Shinzo Abe is fully committed to expanding tourism in the country, with goals including 40 million tourists visiting the country in the calendar year 2020 and an expansion to 60 million foreign tourists by 2030. Furthermore, Abe predicts that the country will benefit from the Summer Olympics taking place in Japan in 2020.
However, economists have doubts about the long-term viability of Abenomics, with the Japanese GDP already slowing to just a 0.3% increase this past year. While the long-term effects of Abenomics have yet to show their worth to Japan, low-cost airlines have taken advantage and made use of the country's turnaround to finally land affordable airfare for Japanese travelers.
Although Ian McMurtry was never originally an avgeek, he did enjoy watching US Airways aircraft across western Pennsylvania in the early 2000s. He lived along the Pennsylvania Railroad and took a liking to trains but a change of scenery in the mid-2000s saw him shift more of an interest into aviation. He would eventually express this passion by taking flying lessons in mid-Missouri and joining AirlineGeeks in 2013. Now living in Wichita, Kansas, Ian is in college majoring in aerospace engineering and minoring in business administration at Wichita State University.
Latest posts by Ian McMurtry (see all)