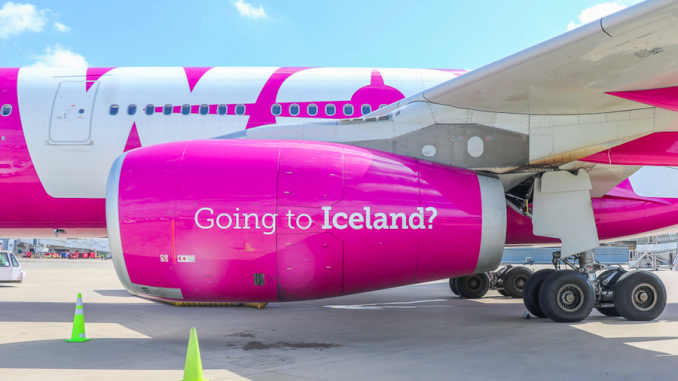 With WOW Air and Icelandair rushing to open up new routes last summer the inevitability of some routes failing would come true and early signs of failure have appeared in WOW's 2019 route map. The airline has decided to remove service to at least three routes before spring 2019 with the cities being St. Louis, Cincinnati, and Cleveland.
The suspension of St. Louis was the first one to be announced with reports surfacing and the airport making a statement talking about a disappointing departure for the Icelandic carrier. St. Louis-Lambert International Airport said, "We're disappointed because the response from customers across the St. Louis region was strong and we were told we were one of the airline's top performing markets in the Midwest that were added last spring."
The carrier contradicted St. Louis, saying that the Midwestern market didn't meet the demand required to maintain service and they would suspend the route on Jan. 7. WOW was originally lured into St. Louis last year using $800,000 in incentives and landing fees being waved for the first few months. WOW had used 200-210 seat Airbus A321s on the route.
The news of St. Louis' suspension was followed by news that the airline would remove routes to the two largest Ohio markets with Cincinnati and Cleveland being cancelled. The routes, which were both originally launched as year-round operations, were reduced to seasonal routes earlier this year before being completely removed this week. Much like St. Louis, the airline was lured into both cities with incentives and both were told by WOW Air that they failed to make the profit margin the carrier had anticipated.
While individual markets may be an issue, WOW Air's financial standing may also play an issue with the airline's reason for closing routes. The airline reported a lost $45.8 million in their previous annual report and are expected to report a loss again this operating year.
The carrier has also taken home the not so honorable award from various sources for being one of the worst customer service airlines currently operating, ranking among other airlines like Ryanair and easyJet. Despite the financial issues, the airline will still go forward with new routes to Orlando, Florida and Delhi, India this December but does plan for further cuts and rearrangements in the future.
Despite the cuts to these three cities two of the three can still boast connections to Europe. WOW Air's competitor Icelandair operates seasonal flights to Keflavik using Boeing 737 MAX 8s, although that route has also gotten attention as Icelandair has downgraded the route from year-round to seasonal. Cincinnati, a former Delta hub, still holds on to their last remaining Delta operated European destination with flights to Paris-Charles de Gaulle being operated seasonally on Boeing 767-300s.
As for St. Louis the city must return to attempting to land an international carrier. Prior to WOW Air, the Gateway to the West hadn't landed a European destination since the former American and Trans World hub was dismantled in the early 2000s. Although losing WOW Air huts, all three airports will continue to push for European carriers to look at their cities for international service.
Although Ian McMurtry was never originally an avgeek, he did enjoy watching US Airways aircraft across western Pennsylvania in the early 2000s. He lived along the Pennsylvania Railroad and took a liking to trains but a change of scenery in the mid-2000s saw him shift more of an interest into aviation. He would eventually express this passion by taking flying lessons in mid-Missouri and joining AirlineGeeks in 2013. Now living in Wichita, Kansas, Ian is in college majoring in aerospace engineering and minoring in business administration at Wichita State University.
Latest posts by Ian McMurtry (see all)