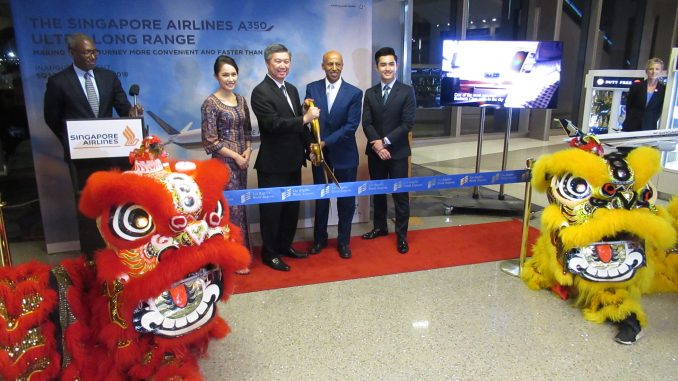 Singapore Airlines has relaunched its non-stop service between Los Angeles and Singapore Friday night with the new Airbus A350-900ULR (Ultra-Long Range) jet making the journey more convenient and faster than ever. 141 lucky passengers were onboard the inaugural flight (SQ37) to Changi Airport and Singapore Airlines held a festive celebration for them and invited guests commemorating the maiden voyage of the Airbus A350ULR from Los Angeles and the resumption of non-stop service to Singapore.
The first non-stop flight utilizing the A350ULR, SQ37, departed LAX at its scheduled departure time of 11:25 p.m., however, it quickly returned back to LAX 40 minutes into the flight after the flight crew detected an issue with one of the aircraft's engines. After inspection by airport engineers at LAX, the aircraft was declared serviceable and the flight departed for Singapore at 4:41 a.m. Saturday.
The flight will be operating three times a week each direction during its first week of service, but it will move to a daily schedule beginning November 9. The flight to Los Angeles, SQ38, departs Singapore at 8:45 p.m. and arrives in Los Angeles at 7:55 p.m. the same day. The flight then returns back as SQ37 at 10:55 p.m, arriving back in Singapore, 2 days later, at 8:50 a.m.
Singapore Airlines has maintained the SQ37 and SQ38 flight numbers it used when they used to operate the non-stop flight with the Airbus A340-500 many years ago.
On December 7 this year, a second flight, operating three times a week on Wednesdays, Fridays, and Sundays, will also be added to the route, thus, increasing the frequency to 10 times weekly. These new flights, SQ36 and SQ35, will depart in the morning hours from their respective cities.
Singapore Airlines operates flights between Los Angeles and Singapore that transit via Tokyo's Narita Airport and Seoul's Incheon Airport, however, the airline has not operated a non-stop link between the two cities since 2013. The non-stop service from Los Angeles clocks in at just under 17 hours and is now the fifth-longest flight in the world.
To celebrate the launch, Singapore Airlines held special festivities at the aircraft's departure gate at the Tom Bradley International Terminal and also held a special reception at the Star Alliance First Class Lounge for invited guests. Passengers departing on the inaugural flight were treated to a loud and celebratory Chinese Lion Dance meant to bring good luck and fortune to a new business (or in this case, the new, non-stop A350ULR service from Los Angeles).
Prior to the customary ribbon-cutting ceremony, key officials from Singapore Airlines and Los Angeles World Airports (LAWA) toasted the new aircraft and service resumption with passengers. James Boyd, Head of Communications for Singapore Airlines in the Americas, Sek Eng Lee, Regional Vice President for Singapore Airlines in the Americas, and Samson Mengistu, Chief Operating Officer for LAWA made congratulatory speeches before the ribbon-cutting ceremony.
Lee commended the A350ULR's ability to advance Singapore Airlines' ambitious long-haul network plan. "This new aircraft enables a new era of growth for us here. (It) strengthens our connectivity beyond Singapore's Changi Airport, and we will bring you more convenient access to more than 70 destinations," Lee said.
After toasts were made and the ribbon-cutting was completed, passengers had their turn to pose and take photos with the iconic Singapore Girl and airline crew, along with festive props commemorating the inaugural flight. The gate area was also set up for passengers to mingle and peruse small bites, refreshments, and celebratory cake moments before boarding. Inaugural flight passengers also received special kebaya-patterned gift bags from the airline, which included a 1:200 scale model A350ULR aircraft, toiletries by Canyon Ranch Spa, and a certificate commemorating their travel on the inaugural flight.
Members of the media who attended the inaugural flight were also invited to board the A350ULR for a brief tour a few minutes before the boarding process began.
Singapore Airlines first made headlines with the return of its record-breaking non-stop service from Singapore to Newark Airport in October a few weeks back. Plans to resume the non-stop flights to Los Angeles and New York were first announced at the end of May this year and the official dates and booking of flights were made available at the beginning of July.
The non-stop LAX-SIN route is one that many fliers have been waiting on for many years, and Singapore Airlines is currently the only operator of the Airbus A350ULR.
"This is a moment five years in the making. It is the fastest way to travel from Los Angeles to our home base in Singapore that saves you up to six hours round-trip. We think it is time to start a new chapter for SIA in the U.S. – a chapter driven by record-breaking, expanding U.S. network, new technology, and a renewed focus on customer service," Lee said.
"Many of our customers have told us 'it's about time' to bring back the convenience and time-savings of one of the world's longest flights."
The new A350ULR jet is the same aircraft also used on the current non-stop service to Newark and has just 161 seats in total, 67 flat-bed business class seats (in a 1-2-1 configuration) and 94 premium economy seats (in a 2-4-2 configuration). Singapore Airlines' non-stop flight to San Francisco is operated with the standard A350-900 featuring a three-class configuration (which includes economy class), but there are already plans to introduce the A350ULR to SFO.
According to the airline, the business class cabin was completely sold out for the inaugural flight to Singapore.
The new A350 business class seat is a comfortable and spacious product with one of the widest lie-flat beds in the industry (78 inches long) when folded down. The seat also features two different seating positions – the Lazy Z, a cradling position, and the Sundeck, a lounging position that extends the base and foot of the seat. It also features direct aisle access, an 18-inch HD enabled personal LCD with noise-canceling headphones, extensive storage space, and power ports.
The premium economy class cabin, located in the rear of the aircraft, takes up a smaller portion of the aircraft. Seats are 19 inches wide and offer travelers extra comfort with 38-inch seat pitch, 8 inches of recline, a leg rest, ample storage space, and a 13.3-inch HD enabled touchscreen monitor with noise-canceling headphones.
To make the ultra-long-haul experience even more relaxing, Singapore Airlines has partnered with leading wellness and lifestyle brand, Canyon Ranch Spa, to enhance the comfort and well-being of travelers through science-based recommendations and strategies. Canyon Ranch Spa is well-known for its luxurious destination resorts, spas and wellness treatments across the U.S. Singapore Airlines has invested their commitment to passenger comfort and care working with Canyon Ranch's experts to help passengers enjoy improved sleep, and create better meal choices and new exercises to stay healthy in-flight.
Passengers on the long-haul journey can also look forward to delicious dining options created by Singapore Airlines' International Culinary Panel, consisting of eight world-renowned chefs from around the world.
Bottomless Champagne is served in both cabins, including fine wines selected by Singapore Airlines' wine experts. For the more adventurous traveler, the airline also mixes an awesome Singapore Sling cocktail on request made from ingredients direct from the famed Raffles Hotel in Singapore.
During the gate celebration, Lee also surprised passengers announcing that Suzanne Goin, a famed LA chef (most known in Los Angeles for her restaurants, A.O.C., Lucques, and Tavern), has specially created an LA-inspired menu, especially for this flight's journey.
Singapore Airlines first operated the non-stop route from 2004 to 2013 flying to Newark and Los Angeles utilizing the Airbus A340-500. The aircraft had exceptional range and capability, however, it also ran on four engines that guzzled lots of fuel. After nine years, the service was canceled due to rising fuel prices.
When the non-stop service first began in 2004, the Airbus A340 (dubbed the "A345LeaderShip") offered a new level of comfort and exclusivity featuring only two exclusive cabins of service, Raffles Class (business class) and Executive Economy (premium economy class). The cabin products were even industry-leading for the time – Raffles Class featured angled, lie-flat "SpaceBeds" originally developed for NASA, and Executive Economy featured leather-trimmed seats with in-seat power supply for laptops. The aircraft even featured stand-up passenger areas for travelers to interact and socialize.
Eventually, the Executive Economy product was discontinued (in addition to the "Raffles Class" name) and the non-stop flights to Singapore became an all-business class deal (with the industry's widest business class seats at the time) until the non-stop service was discontinued in 2013.
Los Angeles is Singapore Airlines' third non-stop link to Singapore, and the airline currently flies to four destinations across the U.S., including San Francisco, Los Angeles, Houston, and New York. Come September 2019, the airline will also debut a non-stop link to Seattle, a considerably shorter flight to Singapore from the U.S.
United Airlines was the first to resume non-stop service to Singapore from Los Angeles last year utilizing the Boeing 787-9 Dreamliner, however, the airline ended the service last week, just a little more than a year after it began, right before Singapore Airlines' launch. United's Network Planning department cited focusing efforts on its SFO hub as a reason for ending the service but critics argue it was because Singapore Airlines would have decimated United's passenger numbers on the route. This leaves the Los Angeles to Singapore route wide open for Singapore Airlines to dominate.
"SIA has flown the world's longest flights for more than a decade. This time we are making it even better with new hardware, service, and upgrades. From tonight, we are making it an even more comfortable and enjoyable flight experience," Lee said.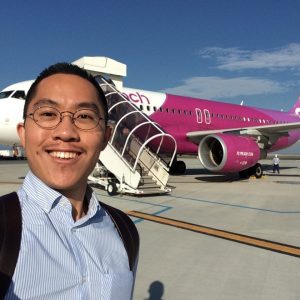 Most people hate long flights or overnight layovers, but Albert loves them. The airport and flying parts of traveling are the biggest highlights of any trip for him – as this avgeek always gets a thrill from sampling different airline cabin products and checking out regional developments happening at local U.S. airports. He's flown on almost every major carrier in the U.S. and Asia Pacific, and he hopes to try out the new A350s soon.

Albert recently completed his undergraduate studies in Business Accounting at USC in Los Angeles and he is currently recruiting for a corporate analyst position at one of the U.S. legacy carriers. During his college years, he interned at LAX for Los Angeles World Airports working behind-the-scenes (and on the ramp) in public relations and accounting. Outside of writing for AirlineGeeks, he enjoys trekking the Hollywood hills, visiting new hotspots throughout SoCal, and doing the occasional weekender on Spirit Airlines.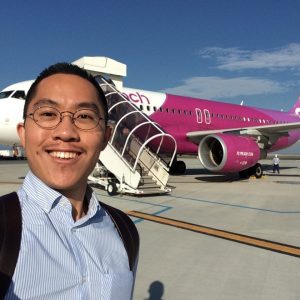 Latest posts by Albert Kuan (see all)