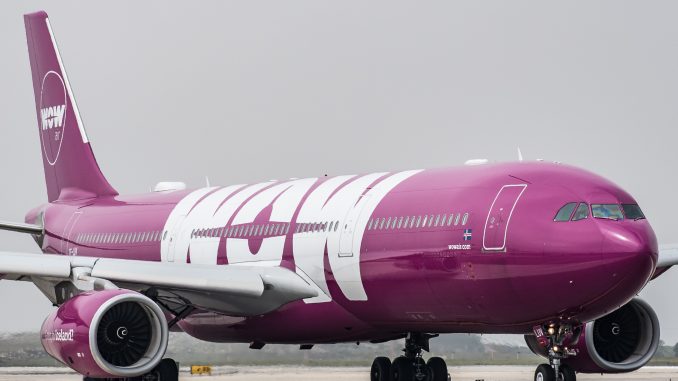 Icelandic low-cost carrier WOW Air is announcing that it will retire nine aircraft and will begin cutting several more of its long-haul routes. The proposed fleet reduction will see the airline's fleet drop from 20 aircraft to just eleven, in which all of the carrier's Airbus A330s will no longer be in service.
Additionally, the carrier plans to sell four of its Airbus A321 aircraft in order to raise roughly $10 million in cash. These changes to free up much-needed capital are in addition to the recent layoffs of 111 employees.  With the elimination of the carrier's wide-body fleet, WOW Air will see the termination of its Reykjavik to Los Angeles and Delhi flights effective on January 14 and January 20, respectively. The Reykjavik to Delhi route had just commenced operations on December 5.
In addition, it has been reported that the carrier has suspended ticket sales from Pittsburgh, Pennsylvania but has not yet cancelled the service.
"After a challenging year, WOW Air is now restructuring and simplifying its operations to return to its roots as a profitable ultra-low cost airline, while discussions with Indigo Partners progress,"  the airline said in a statement.
The decisions to reduce operations come after the airline has struggled financially over the past year. Rising fuel prices, aggressive expansion, and increased competition are all factors in the carrier's decline. WOW Air had reportedly been in merger talks with rival carrier Icelandair, however, the proposed merger fell through in November.
The carrier is currently in talks with Indigo Partners, a global investment fund that supports low-cost carriers such as Frontier, Wizz Air, and Volotea, for a proposed investment in the airline. Issues that are being discussed between Indigo and WOW include aircraft lease contracts, waivers from bondholders, and proposed growth.
"This is the most difficult day in the history of WOW Air," CEO Skuli Mogensen said in a statement. "We have dedicated people who have worked hard to make WOW Air a reality and it breaks my heart to downsize the company. However, in order to ensure our future and preserve WOW Air in the long run, we unfortunately must take these drastic measures."
The airline plans to release a new flight schedule in January and will notify affected passengers once the schedule is finalized.
An "AvGeek" for most of his life, Akhil has always been drawn to aviation. If there is an opportunity to read about an airline, fly on a new airplane, or talk to anyone about aviation, he is on it. Akhil has been on over 20 different kinds of aircraft, his favorite being the MD-80. Additionally, he has visited 5 continents and plans to knock out the remaining two (Africa and Antarctica) soon. Based in Dallas, Akhil graduated from Texas A&M University with a degree in Management Information Systems and currently works in consulting. His dream is to become an airline executive.
Latest posts by Akhil Dewan (see all)