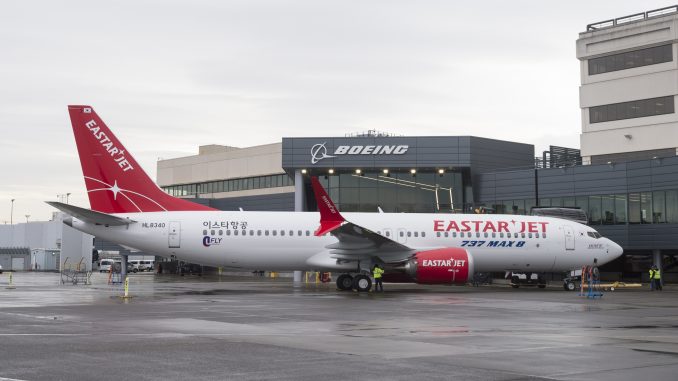 Eastar Jet has become the first carrier in South Korea to take delivery of the Boeing 737 MAX 8 jet. Boeing delivered the fuel-efficient and longer-range jet Thursday and will deliver another one of the aircraft later this month.
The aircraft joins the low-cost carrier's existing fleet of Next-Generation 737s which include 19 737-800s. The airline has leased two of the MAX 8's from Boeing.
"We are excited to take delivery of this brand new 737 MAX airplane," Jong-Gu Choi, president of Eastar Jet said in a press release. "The introduction of the 737 MAX into our fleet reflects the efforts we are making to modernize our product offering and provide a world-class experience to our customers. In addition, the superior economics and longer-range capability of the 737 MAX will enable us to expand our network into new and existing markets more efficiently, which will help us achieve long-term growth."
In addition to modernizing its fleet with the 737 MAX 8, Eastar Jet will also be using Boeing Global Services to enhance its operations. These services will deliver real-time information to aircraft technicians need to quickly resolve emergent airplane maintenance issues and keep airlines on schedule.
Being based in Seoul's Gimpo and Incheon Airports, Eastar Jet operates an all Boeing 737 fleet. Korea's low cost-carrier market has grown significantly over the past five years, almost 30 percent annually, making it one of the largest LCC markets in Northeast Asia. With the new MAX 8, the airline will be able to expand into destinations such as Singapore and Kuala Lumpur.
Currently, the airline flies domestically within South Korea and to regional destinations popular with South Korean tourists such as China, Hong Kong, Japan, Taiwan, Vietnam, and Thailand.
South Korean low-cost carriers, T'way Air and Jeju Air, have also committed to adding 737 MAX 8 jets to their growing fleet. Jeju Air has the largest order, 40 737 MAX 8s, while T'way Air has plans to add four 737 MAX 8s to its fleet next year.
Flag-carrier, Korean Air, will be taking delivery of its first 737 MAX 8 next year in April.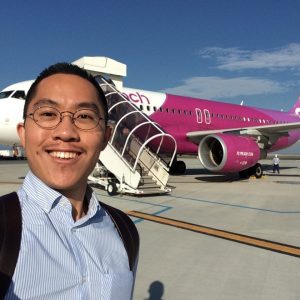 Most people hate long flights or overnight layovers, but Albert loves them. The airport and flying parts of traveling are the biggest highlights of any trip for him – as this avgeek always gets a thrill from sampling different airline cabin products and checking out regional developments happening at local U.S. airports. He's flown on almost every major carrier in the U.S. and Asia Pacific, and he hopes to try out the new A350s soon.

Albert recently completed his undergraduate studies in Business Accounting at USC in Los Angeles and he is currently recruiting for a corporate analyst position at one of the U.S. legacy carriers. During his college years, he interned at LAX for Los Angeles World Airports working behind-the-scenes (and on the ramp) in public relations and accounting. Outside of writing for AirlineGeeks, he enjoys trekking the Hollywood hills, visiting new hotspots throughout SoCal, and doing the occasional weekender on Spirit Airlines.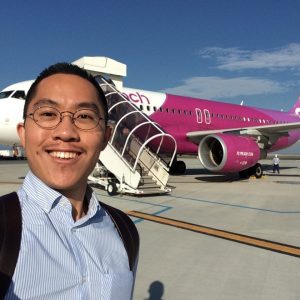 Latest posts by Albert Kuan (see all)