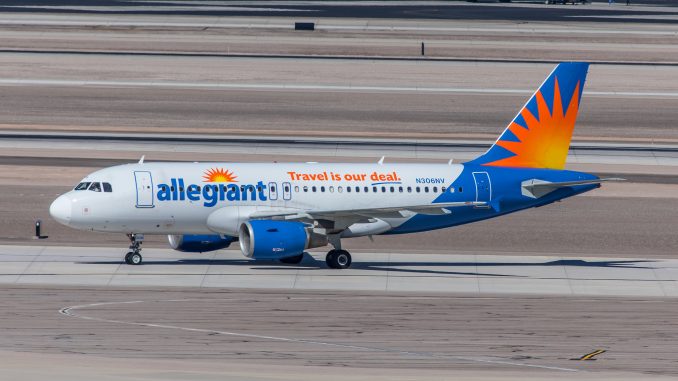 Allegiant Air announced the opening of a new base, as well as 16 new routes throughout its network earlier this week.
Grand Rapids will become the 16th base for Allegiant, beginning June 4, 2019. The base will become home to two aircraft from Allegiant's all-Airbus fleet. To support the needs of base operations the company is investing over $42 million, with at least 66 jobs being immediately created including pilots, cabin crew members, mechanics, and ground agents.
Included in the announcement, two seasonal routes were announced from the soon-to-be-base including Nashville, Tenn., and Savannah, beginning on June 6 and 7, respectively.
Currently, the Las Vegas-based company serves 9 destinations from Grand Rapids, including Las Vegas, Pheonix/Mesa, Ariz., and Orlando/Sanford, Florida, to name a few,
"Grand Rapids has been a great city for Allegiant, with solid demand and steady growth over the years," said Keith Hansen, Allegiant's vice president of government affairs said in a press release. "It's a perfect location for a permanent base, where having locally-based aircraft and crews will open a world of opportunity to expand options for both new service and operational hours.  This will make travel even more convenient and affordable for both residents and visitors to the area, and further establish Allegiant as a hometown airline for Grand Rapids."
In addition to the new base, Allegiant also announced 16 new routes, as well as the carrier's first route to an Alaska destination.
From Bellingham, Washington, Allegiant will serve Anchorage seasonally starting on May 22, 2018. Anchorage is the first Alaskan city for the ultra-low-cost carrier, beating other low-cost carriers Spirit, Frontier, and Southwest,
Matthew Garcia became interested in aviation at the age of 12 when he installed Microsoft Flight Simulator X on his computer. He was instantly "bitten by the bug" and has been in love with aviation ever since. Matthew took his first introductory flight in 2013 and began normal flight training in February of 2015. Over the years, Matthew's love and knowledge for aviation has grown tremendously, mainly due to FSX. Garcia flies highly advanced aircraft in a professional manner on a highly complex virtual air traffic network simulating real world flying. In 2016 Matthew achieved his private pilot certificate from the FAA. Now he studies journalism at the University of Nebraska at Omaha.
Latest posts by Matthew Garcia (see all)