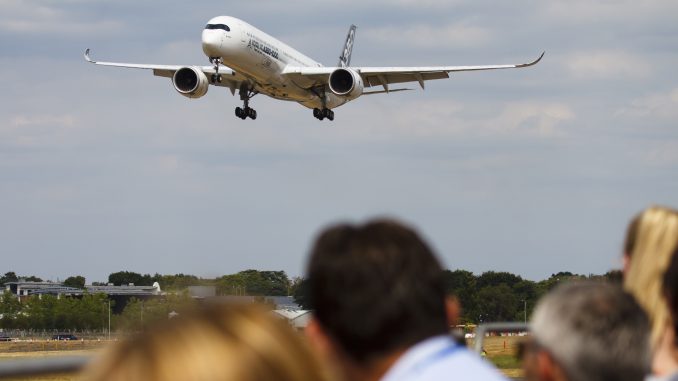 Airbus is starting the year off strong with a new order after losing the aircraft delivery race in 2018 against rival Boeing, delivering 800 aircraft compared to Boeing's 806. Boeing also soared past Airbus in terms of orders placed as well.  However, Airbus seems to be starting 2019 strong. The European aircraft manufacturer announced that it has finalized a large order from Dublin based aircraft leasing company SMBC Aviation Capital on Monday with a list price of $7.47 billion.
Airbus Narrow-body Success
The order is for all narrow-body aircraft in the Airbus A320 family, 50 Airbus A320neo and 15 Airbus A321neo aircraft. This increases the total aircraft SMBC has on order from Airbus to 145 A320neos and 30 A321neos, showing an increasing focus on the fuel-efficient neo family of Airbus aircraft.
SMBC is optimistic about the market positioning and future demand growth of these Airbus narrow-body aircraft. As one of the largest aircraft lessors, it is highly likely that many of us have flown on planes belonging to SMBC that have been leased out to airlines.
Within the U.S., some of SMBC's customers are Alaska Airlines, American Airlines, Spirit Airlines, and United Airlines. Their footprint spreads across the globe as well with major carriers such as British Airways, Japan Airlines, and Air Asia.
It's likely that any number of the aircraft SMBC will acquire this year and into the future will end up at any of these carriers.
The finalized order announced today reflects an overall continued success for Airbus and it's narrow-body and neo programs. This wasn't the only major order announced in January.
Airbus A220 Orders
In the first week of January, Jetblue announced a firm order for 60 Airbus A220-300 aircraft, formerly part of the C Series program from Bombardier. The aircraft is expected to integrate into the existing fleet of 193 A320 and A321ceo aircraft and fill a need for smaller aircraft.
Airline start-up code named Moxy, led by JetBlue founder David Neeleman, also announced an order for 60 A220-300 aircraft.  Neeleman highlighted the aircraft's low-cost operation and spacious cabin as the key reasons behind the order believing that it will allow the start-up to provide passengers with a high quality but low-cost flying experience.
In other Airbus news, the company through its Twitter account posted a picture of Delta's first Airbus A330-900neo rolling out the paint shop. This is the first of 35 A330neo aircraft that the carrier has ordered and it will also be the US launch customer for the airline, the global launch customer was TAP Air Portugal.
All in all, it is a good month for Airbus with several orders announced and the first Delta A330neo aircraft rolling out of the paint shop. However, in the highly competitive industry Boeing isn't very far behind. The Boeing 737 Max family is achieving major sales milestones. It surpassed 5,000 net orders in 2018 and the momentum is expected to continue into 2019.  In addition, the new Boeing 777X aircraft is scheduled to roll out of the shop in February and take its first test flight within the first half of this year.

Hemal took his first flight at four years old and has been an avgeek since then. When he isn't working as an analyst he's frequently found outside watching planes fly overhead or flying in them. His favorite plane is the 747-8i which Lufthansa thankfully flies to EWR allowing for some great spotting. He firmly believes that the best way to fly between JFK and BOS is via DFW and is always willing to go for that extra elite qualifying mile.

Latest posts by Hemal Gosai (see all)