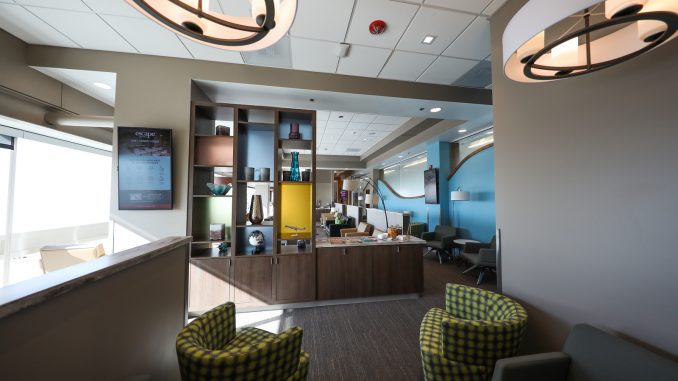 Ontario International Airport (ONT) recently opened a new premium airport lounge this Wednesday for its travelers in Terminal 2. The lounge, Escape Lounge, is accessible to all travelers at the airport and offers premium amenities including hot and cold foods, free beverages, and a full bar.
Under a new 10-year agreement with the airport, Escape Lounge's operator, MAG USA, is investing $4 million into designing, building and operating common-use Escape Lounges at ONT. MAG USA will also be opening its second Escape Lounge at ONT in Terminal 4 later this year. Both lounges measure about 2,800 square feet and are accessible for as low as $40 if pre-booked online. American Express Platinum Card members and their guests can access the lounge for free as part of the American Express Global Lounge Collection.
"We're pleased to welcome Escape Lounges and MAG USA to Ontario. Their arrival adds to the excitement and momentum that has been building at ONT in recent months and reflects our commitment to provide our customers with the best amenities possible," ONT Airport CEO, Mark Thorpe, said in a press release.
The lounge is committed to serving travelers on China Airlines, which began daily service to and from Taipei, Taiwan last March. According to China Airlines, the carrier has brought more than 145,000 travelers to Ontario. Prior to Escape Lounge, China Airlines travelers used a temporary lounge facility with 54 seats informally named, the North Lounge.
At a grand opening ceremony, Thorpe and other dignitaries mentioned that the airline's support was influential in bringing Escape Lounge to ONT. Terminal 2 carriers include Alaska, Delta, Frontier, JetBlue, United, and Volaris.
Escape Lounges currently operate in several airports throughout the U.K. and at U.S. airports such as Minneapolis-St. Paul International Airport, Oakland International Airport, Reno-Tahoe International Airport, Bradley International Airport near Hartford, CT, and Greenville-Spartanburg International Airport in South Carolina. The plan is to open at least six more locations in 2019.
Escape Lounge guests receive a wide variety of amenities that include hot and cold food and beverages, plush seating with power outlets, high-speed Wi-Fi, flight information and access to national and local newspapers. ONT's Escape Lounge also offers a menu using locally-sourced ingredients developed by an award-winning local chef (Henry Gonzalez, Executive Chef of Spaggi's in Upland, CA – located 8 miles from ONT).
The addition of Escape Lounges on ONT follows the multimillion-dollar upgrades of ONT's dining and retail concessions, which were completed in 2018. Since ownership was changed to the City of Ontario from Los Angeles World Airports, ONT Airport has attracted new airlines and services through lowering landing fees and upgrading amenities made available to passengers inside the current terminals. So far, these efforts have attracted China Airlines, Delta, Frontier, and JetBlue to either begin, add or resume service to the Southern California airport.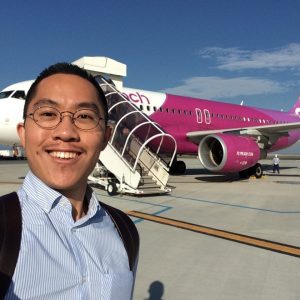 Most people hate long flights or overnight layovers, but Albert loves them. The airport and flying parts of traveling are the biggest highlights of any trip for him – as this avgeek always gets a thrill from sampling different airline cabin products and checking out regional developments happening at local U.S. airports. He's flown on almost every major carrier in the U.S. and Asia Pacific, and he hopes to try out the new A350s soon.

Albert recently completed his undergraduate studies in Business Accounting at USC in Los Angeles and he is currently recruiting for a corporate analyst position at one of the U.S. legacy carriers. During his college years, he interned at LAX for Los Angeles World Airports working behind-the-scenes (and on the ramp) in public relations and accounting. Outside of writing for AirlineGeeks, he enjoys trekking the Hollywood hills, visiting new hotspots throughout SoCal, and doing the occasional weekender on Spirit Airlines.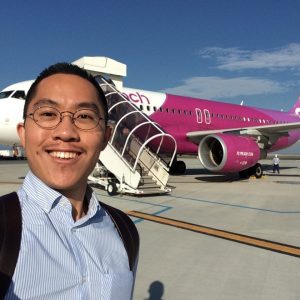 Latest posts by Albert Kuan (see all)