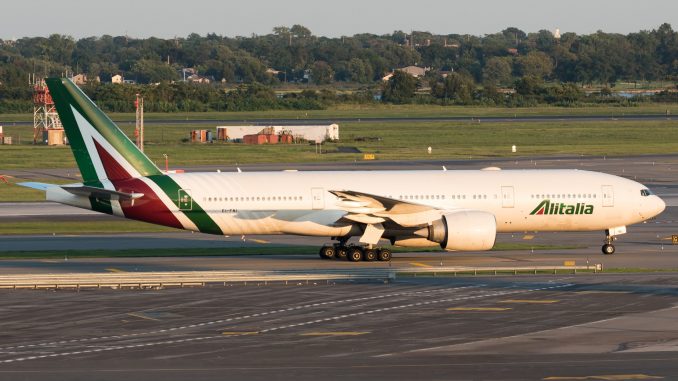 The solution to the never-ending saga of ailing Italian flag carrier Alitalia has been further delayed. The three commissioners now at the helm of the virtually bankrupt airline have officially communicated that the new turnaround plan, due on March 31, is going to be presented on April 30. According to Reuters, Alitalia management requested a two-month extension, but after a consultation with the Italian Ministry for Economic Development, the new deadline was confirmed for the end of April.
Alitalia was declared bankrupt in 2017 and since then, the Italian Government has been heavily invested in its survival as well as the safeguard of the jobs for its almost 11,000 employees. State-owned railway company Ferrovie dello Stato has agreed to become the majority shareholder of the new Alitalia, whose debts and liabilities will be offloaded onto a "bad company" that will be allowed to fail, while all assets and employees will be transferred into a new company that will be owned by Ferrovie dello Stato and another industrial partner yet to be identified.
Delta Air Lines is thought to be willing to take a 20 percent ownership in the new company, in line with European Union rules that prevent non-EU carriers from owning more than 49 percent of EU airlines. British low-cost airline easyJet was also thought to be interested in participating to the venture, publicly stated its unwillingness to take part to Alitalia's rescue plan two weeks ago, therefore leaving the bankruptcy commissioner with the task of finding another interested party.
Several aviation analysts had already doubted easyJet's interest in the venture as it does not appear to fit the strategic direction of the Luton-based carrier. While Delta Air Lines is interested in developing synergies with Alitalia on transatlantic routes, leveraging its membership in the SkyTeam alliance and the strategic position of Alitalia's Rome hub for transits towards Africa and Asia, the only interesting asset that Alitalia could offer easyJet was its slots at Milan's heavily-constrained Linate Airport, where the Italian airline controls over 60 percent of the existing slot pool. EasyJet already has a significant presence at Milan's Malpensa Airport, and leveraging Alitalia's slots at Linate could have established itself as the most important carrier for Italy's business capital.
EasyJet's decision not to pursue a stake ownership in Alitalia is, therefore, leaving an empty seat at the table with the clock still ticking to find a suitable solution. The Italian Government has suggested a possible renationalization of the flag carrier, but this option would be considered state aid and sanctioned by the EU.
At the same time, officials in Brussels are scrutinizing the government's decision to convert into equity part of the €900 million bridge loan that was granted to Alitalia to ensure operational continuity during the restructuring process.  The deadline on the loan repayment has already been extended twice, while a paper published by the Italian Economic Institute's Bruno Leoni suggests that Alitalia has less than €500 million in its account and could finish the summer season with less than €300 million, a sum that may be too small to get Alitalia through another Italian winter.
While politics stubbornly insists to keep Alitalia afloat without any downsizing and layoffs, it is becoming increasingly difficult to envisage which carrier would be ready to take charge of the carrier. Especially, when the prospect, from an operational point of view, is investing a few hundreds million euros into a chronically loss-making carrier for a minority stake that would guarantee no control whatsoever on costs and employment levels.
Vanni fell in love with commercial aviation during his undergraduate studies in Statistics at the University of Bologna, when he prepared his thesis on the effects of deregulation on the U.S. and European aviation markets. Then he pursued his passion further by obtaining a Master's Degree in Air Transport Management at Cranfield University in the U.K. followed by holding several management positions at various start-up carriers in Europe (Jet2, SkyEurope, Silverjet). After moving to Canada, he was Business Development Manager for IATA for nine years before turning to his other passion: sports writing.
Latest posts by Vanni Gibertini (see all)