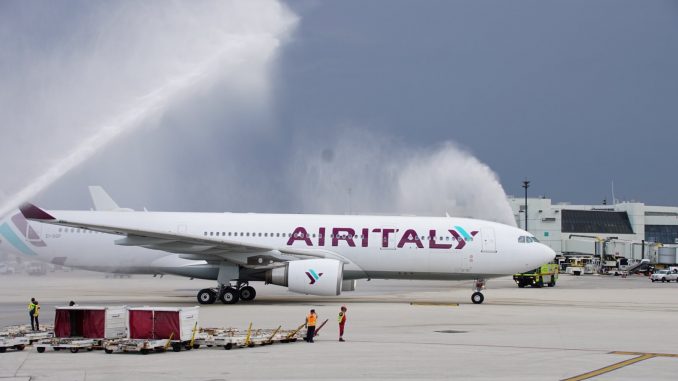 Air Italy has landed on the West Coast, bringing Italian style to Los Angeles from Milan and providing the only nonstop link between the two cities. The inaugural flight from Milan's Malpensa Airport arrived at Los Angeles International Airport late Wednesday afternoon marking the very first West Coast flight for the one-year-old reinvented airline. The airline's new nonstop flight to and from Los Angeles is the only service to Milan from the West Coast of the United States and the second nonstop service to Italy from Los Angeles behind Alitalia's service to Rome.
The new 12-hour, 6,000-mile nonstop service departs from Milan at 1:00 pm as IG943 and arrives in Los Angeles the same day at 4:50 p.m. The return flight, IG944, departs back to Milan at 6:50 p.m. and arrives the next day at 3:55 p.m. Air Italy will operate the route every Monday, Tuesday, Thursday and Saturday.
Although Air Italy is a new name in transatlantic travel, the airline holds more than 50 years of experience flying within Italy and Europe under Meridiana, its previous brand. The airline became Air Italy after being majorly backed by Doha-based Qatar Airways in early 2018.
"Our ambition is very simple," said Rossen Dimitrov, Air Italy's Chief Operating Officer. "We would like to become the number one airline in Italy. We offer a great choice of service, we offer a great network, and we're different."
The airline has prominent plans for expansion, currently operating a fleet of five Airbus A330-200s leased and taken over from Qatar Airways. The A330s are used on its long-haul flights to the U.S., including Los Angeles, but the airline may be acquiring Boeing 787 Dreamliners, also used by Qatar Airways, in the future to fuel its expansion. The A330s currently in service feature new cabin products and cabin illuminations designed specifically for Air Italy. The airline plans to grow its fleet and operate over 50 aircraft by 2022 to serve Los Angeles and its long-haul destinations.
Air Italy celebrated the success of its first inaugural flight to Los Angeles at a private event in Downtown Los Angeles the day after the inaugural flight from Los Angeles. Along with Dimitrov, Los Angeles World Airports COO Samson Mengistu and Los Angeles City Councilman Joe Buscaino were present at the event to toast the new service to Los Angeles.
"Here in Los Angeles, this route means so much for us," said Councilman Buscaino. "Air Italy's newest route marks a growing trend of international investment into Los Angeles' tourism economy. Our dedication to making LA a place where everyone is welcome is only made stronger when our global partners trust our ability to see that plan through."
The post-inaugural flight event celebrated the inauguration of Air Italy's four-times-weekly service between Los Angeles and Milan. For Air Italy, the new service marks another breakthrough in its plans for long-haul expansion after nearly one year in service.
Air Italy is now Italy's second largest airline after Alitalia, but the Milan-based airline has great plans to turn itself from a niche player into the biggest international airline in Italy in the coming years. With the new investment, the airline has its sight set toward competing with struggling Alitalia and establishing a strong hub at Malpensa Airport by growing its long-haul reach from the airport.
Although Milan plays a major part in Italy's economy as an economic center and global fashion hub, the city's airport currently doesn't see itself as a hub due to a lack of long-haul international. Air Italy is seeking to tap into a large market of long-haul Italian business travelers who currently seek out other airlines to fly to Asia and North America. Furthermore, the airline will be feeding passengers from other Italian airports into Malpensa Airport, making the airport a strong hub for international travel from Europe.
"Rome is a very favorite destination. We operate between Milan and Rome…It's a very simple transfer and it's a very quick flight. It's also about an hour to reach from our home in Milan Malpensa to Catania, Naples and Sardinia," Dimitrov added.
The airline offers two classes of service on its A330 aircraft, business class and economy class. Business class offers 24 paired lie-flat seats with enveloping shell design, privacy partitions and lots of open space. Italian brand amenity kits, duvets, plush mattress pads, designer pajamas, Italian ice cream, espresso coffee in the cup and signature drinks are just some of the highlights for business class travelers making the transatlantic journey.
In all cabins, Air Italy also offers free food and drinks – including alcoholic beverages, in-flight WiFi, power outlets, and personal in-flight entertainment systems at each seat. Air Italy's cabins emphasize more space for the traveler and the new economy class seats feature more space than on most European long-haul carriers. Business class seats are configured in 2-2-2 configuration while the 228 seats in economy class seats are configured in a 2-4-2 configuration.
The inaugural flight from Milan to Los Angeles was also the first time Air Italy tested out its dine on-demand dining for business class travelers, based on Qatar Airways' business class offering. Air Italy has redeveloped catering and its menus especially for international flights and business class travelers now have the option to dine anytime from the choices available on the seasonally-changing menus. The selections on the onboard menu are extensive and entirely customizable.
Air Italy's destinations in the U.S. and North America presently include Los Angeles, New York and Miami; though, the airline will be launching three-times-weekly service to San Francisco next week and service to Toronto in early May. Once San Francisco service begins, Air Italy will be serving California daily.
"Our ambition is very simple. We would like to become the number one airline in Italy. We offer a great choice of service, we offer a great network, and we're different," continued Dimitrov.
"We would like to make Italians proud of the services we offer and we finally would like to think the Italians would be able to catch an airline from their own home country providing great service and quality to travel around the world."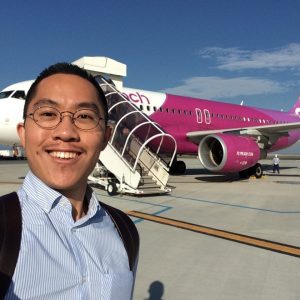 Most people hate long flights or overnight layovers, but Albert loves them. The airport and flying parts of traveling are the biggest highlights of any trip for him – as this avgeek always gets a thrill from sampling different airline cabin products and checking out regional developments happening at local U.S. airports. He's flown on almost every major carrier in the U.S. and Asia Pacific, and he hopes to try out the new A350s soon.

Albert recently completed his undergraduate studies in Business Accounting at USC in Los Angeles and he is currently recruiting for a corporate analyst position at one of the U.S. legacy carriers. During his college years, he interned at LAX for Los Angeles World Airports working behind-the-scenes (and on the ramp) in public relations and accounting. Outside of writing for AirlineGeeks, he enjoys trekking the Hollywood hills, visiting new hotspots throughout SoCal, and doing the occasional weekender on Spirit Airlines.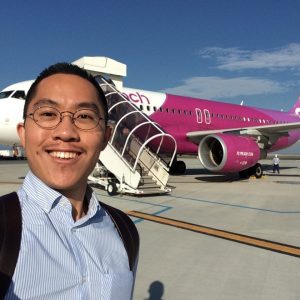 Latest posts by Albert Kuan (see all)