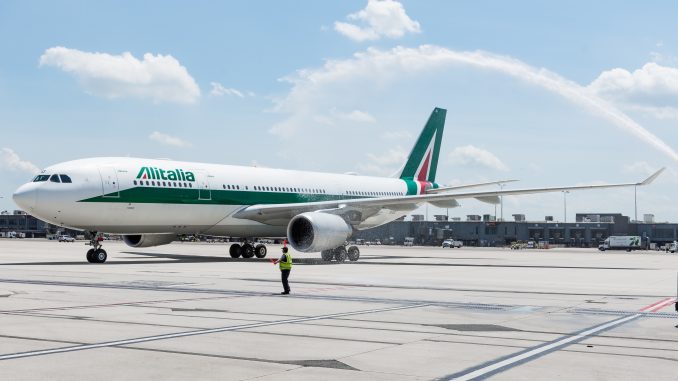 In the midst of its struggles to ensure its survival, Alitalia launched a new transatlantic route on Thursday connecting its hub at Rome's Leonardo da Vinci – Fiumicino Airport to Washington Dulles International Airport. The new route will be operated five times weekly during the peak summer season, dropping to three times weekly during the winter season as determined by the International Air Transport Association (IATA), and be operated with a 256-seat Airbus A330-200 with 20 Magnifica business class, 17 premium economy and 219 economy seats.
Washington represents the sixth destination in the U.S. served by Alitalia which already operates to New York, Boston, Miami, Chicago and Los Angeles. The route will be an essential link between the respective capitals of the United States and Italy, a major draw for the Northern Virginia airport that has long struggled to attract new airlines and routings.
Alitalia's launch represents the first major route inauguration of the summer 2019 season that will see two new international airlines grace Dulles Airport's runways and four new international routes added to the airport's route network. United Airlines will be launching service to Tel Aviv – the only nonstop link between Washington and Israel – later this month while EgyptAir plans to launch service with its new Dreamliner to Cairo, TAP Air Portugal plans to launch service to Lisbon with its new A321neo – though the airline's plans to launch that aircraft may be on hold and Ethiopian Airlines is adding a new route to Abidjan all in June.
While currently part of the SkyTeam alliance, Alitalia is not yet a member of the transatlantic joint venture formed by Air France, KLM, Delta Air Lines and Virgin Atlantic announced in July 2018 and currently under evaluation by the U.S. Department of Transport for antitrust immunity. This new joint venture is replacing the one currently in place that sees Alitalia part of the group with Air France, KLM and Delta, in which the quartet coordinate schedules and share revenues on transatlantic services with the other members. Delta already has a similar immunized partnership with Virgin Atlantic covering U.S.-U.K. routes.
Meanwhile, Alitalia is still engaged in much more important discussions that are supposed to determine its future shape and size. The carrier has been administered by bankruptcy commissioners for almost two years now and yet no clear plan for its rescue has been defined.
Italian state-owned railway company Ferrovie dello Stato has expressed interest in becoming the majority stakeholder for Alitalia, together with the Italian Ministry of Finance and industrial partner Delta. Alitalia, however, still needs to find another stakeholder for this plan to come to fruition and this task has been proving most difficult.
An already postponed April 30 deadline has been pushed back with no other clear deadline set for a solution. The issue is becoming very much a political issue in Italy just a few weeks before the elections for the European Parliament, considered an important test for the current governmental coalition.
The latest indications from representatives of the government are pointing at the Benetton Group-owned consortium Atlantia as a potentially interested party in taking up the remaining stake in the new Alitalia, but the consortium has denied these claims. Atlantia is currently embroiled in a tense negotiation with the Italian Government for the renewal of its concession to manage the Italian highway system, and an intervention to salvage Alitalia could be used as a token to regain the government's goodwill after the collapse of a highway bridge in Genoa last August that killed 43 people.
With the funds of a government-backed 900 million euros bridge loan starting to run low,  European Union competition authorities in Brussels ready to sanction possible state aids and no clear solution in sight, Alitalia's future looks more and more uncertain by the day.
Should the Ferrovie dello Stato-led solution fail to materialize, the only other offer on the table would be the one from Germany's Lufthansa that would shrink the airline from 118 aircraft to approximately 74, laying off almost 5,000 of the currently 11,600 employees.
Vanni fell in love with commercial aviation during his undergraduate studies in Statistics at the University of Bologna, when he prepared his thesis on the effects of deregulation on the U.S. and European aviation markets. Then he pursued his passion further by obtaining a Master's Degree in Air Transport Management at Cranfield University in the U.K. followed by holding several management positions at various start-up carriers in Europe (Jet2, SkyEurope, Silverjet). After moving to Canada, he was Business Development Manager for IATA for nine years before turning to his other passion: sports writing.
Latest posts by Vanni Gibertini (see all)