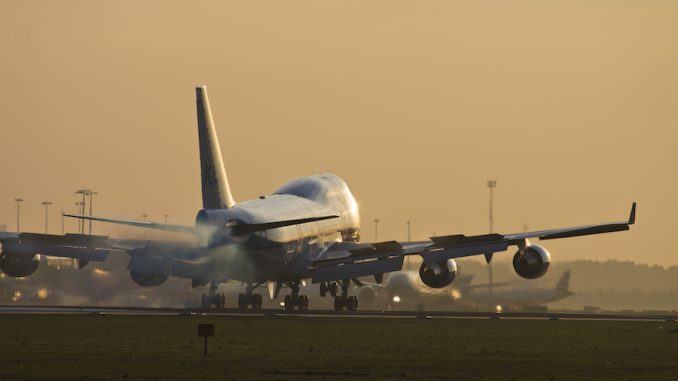 The Dutch government is moving forward with legislation for a new aviation tax on passenger and cargo flights departing from Dutch airports starting in 2021. The country has been lobbying the European Union for this tax for quite some time and while it continues to lobby the bureaucrats in Brussels its own bureaucrats in Holland have gone ahead with getting the process started in their own country.
Tax on Passenger and Cargo Flights
The bill calls for a tax of seven euros per departing passenger for passenger flights, excluding infants and transit passengers. This is a particular sticking point for low-cost carriers such as Ryanair which run massive point to point operations with very few connecting passengers. Airlines such as KLM, which has a hub in Amsterdam, wouldn't be as greatly impacted since it will have significantly more passengers exempt from the tax.
The tax for cargo flights will be based on the maximum takeoff weight of full-freight aircraft indexed to the noise level they create. The noisiest freighters will be taxed at 3.85 euro per ton and 1.925 euro per ton for less noisy aircraft.
However, the overwhelming majority of freighters fall into the noisiest category since many are older aircraft with louder engines.
Ticket Tax: Attempt #2
This isn't the first time that the Dutch have tried to increase aviation taxes. It tried back in 2008 with a tax of 11.25 euro for EU flights and medium-haul flights. However, that was repealed a year later due to a decrease in passengers flying.
The Dutch government says that the drop in passenger traffic was unrelated to the aviation tax and instead was due to the financial crisis. It insists that the situation is different now, there is a healthy economy with plenty of people to tax since demand currently exceeds capacity at many airports across the Netherlands.
Plus, the neighboring country of Germany has a ticket tax too. So it's not like the Dutch citizens would find relief flying through Germany similar to how many Canadians travel to U.S. airports close to the Canadian border to catch flights due to lower taxes on domestic flights.
The Dutch government is willing to ax the national ticket tax if it can get the EU to implement a ticket tax across the entire union. There is some interest from Belgium and France, the rest of the EU has not taken any initiative and the bureaucrats in Brussels will likely take no action until after the European parliamentary elections this summer. Plus, the EU is hesitant to do so since it believes the additional tax would actually reduce the number of annual EU travelers.
Siphoning Aviation Taxes for Non-Aviation Uses
The growing aviation industry is continually seen as a pot of gold for government officials to raid in their never-ending search for other people's money. Just recently in the United States, the state of New Jersey tried to implement a new aviation fuel tax that almost directly targeted United Airlines, the largest carrier at New Jersey's largest airport, Newark Liberty International.
United complained to the FAA that Newark airport was overcharging them and the FAA agreed. While taxes do help maintain some public aviation facilities it is fair to assume that taxes collected from aviation-related activities should go towards aviation-related activities.
The FAA found that that the Port Authority of New York and New Jersey, Newark Airport's operator, "routinely diverted airport revenue to non-airport activities." The Port Authority now has to calculate how much revenue it has diverted from its airports since 2012 and modify accounting practices to make fee collection more fair and transparent.
Blogger Gary Leff says people shouldn't feel too badly for United or any other airline operating under the excessive fee schedule. Airlines are already coming out ahead at slot controlled and gate leased airports where these assets are granted to airlines from by government as perpetual property, effectively keeping new entrants from the market.
At the end of the day though, new taxes and fees are simply passed onto consumers making air travel more expensive.

Hemal took his first flight at four years old and has been an avgeek since then. When he isn't working as an analyst he's frequently found outside watching planes fly overhead or flying in them. His favorite plane is the 747-8i which Lufthansa thankfully flies to EWR allowing for some great spotting. He firmly believes that the best way to fly between JFK and BOS is via DFW and is always willing to go for that extra elite qualifying mile.

Latest posts by Hemal Gosai (see all)