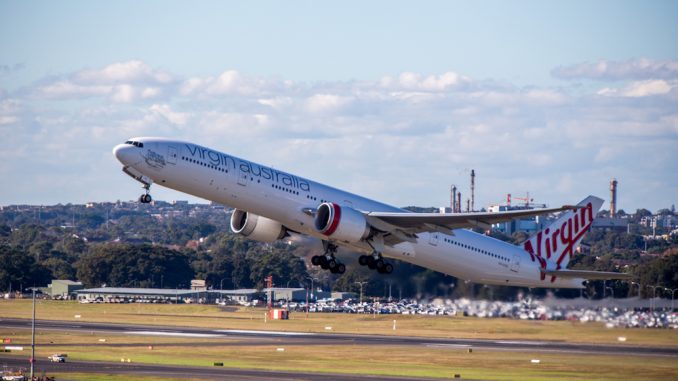 Softening demand in both business and leisure markets is projected to send Virgin Australia's accounts into the red. In an investor update delivered to the markets on May 17, the Australian carrier announced estimated earnings in 2019 at least A$100 million lower (69 million U.S. dollars) than the A$64.4 million reported for the 2018 financial year.
The current weak demand environment is expected to last at least two more months, as uncertainties over the forthcoming Australian political elections will stifle corporate spending. Upward pressures of fuel costs and a sustained weakness of the Australian Dollar in the currency exchange markets will also contribute to higher costs in excess of A$160 million.
The announcement sent Virgin Australia shares down 8 percent to its lowest point since the beginning of the year. This bleak outlook marks a sharp contrast with the profits reported in the half-year results last February, as departing CEO John Borghetti left his post with a word of confidence in the bright future for the airline.
"While we have continued to grow revenue, this announcement shows that our business needs to become more resilient," said CEO Paul Scurrah. "In the meantime, we are focused on short-term improvements including capacity and network reductions."
As Virgin Australia is rethinking its long-term strategy, the carrier has already decided to defer Boeing 737 MAX deliveries, with the first of the 48 aircraft now due to enter service in July 2021 instead of November 2019. Virgin also converted another 15 units of the order to the larger 737 MAX 10 version, for a total of 25 Boeing 737 MAX 10. These will be the first aircraft to be delivered starting July 2021, while the remaining 23 Boeing 737 MAX 8 aircraft will see the beginning of their deliveries postponed to February 2025.
Boeing 737 MAX aircraft are still grounded following the two high profile crashes involving the aircraft between the end of 2018 and the beginning of 2019 in Indonesia and Ethiopia which exposed potential problems to a software introduced to help pilots deal with the specific configuration of the aircraft.
Boeing has already prepared an update to the software fixing the issue, but certification from CAA and other regulators around the world is still pending.
After Paul Scurrah's arrival in March as the new CEO, the airline went through some changes in senior management positions: former Group Executive Rob Sharp left the organization to pursue other opportunities, while the newly created positions of Chief Commercial Officer and Chief Operations Officer were temporarily assigned to internal candidates while a recruitment process was being carried out.
Virgin Australia is an Australian carrier founded in 2000 as Virgin Blue that operates a fleet of 99 long-haul, short-haul and regional aircraft to 57 destinations in Australia, New Zealand, Polynesia, Asia and the United States.
Vanni fell in love with commercial aviation during his undergraduate studies in Statistics at the University of Bologna, when he prepared his thesis on the effects of deregulation on the U.S. and European aviation markets. Then he pursued his passion further by obtaining a Master's Degree in Air Transport Management at Cranfield University in the U.K. followed by holding several management positions at various start-up carriers in Europe (Jet2, SkyEurope, Silverjet). After moving to Canada, he was Business Development Manager for IATA for nine years before turning to his other passion: sports writing.
Latest posts by Vanni Gibertini (see all)