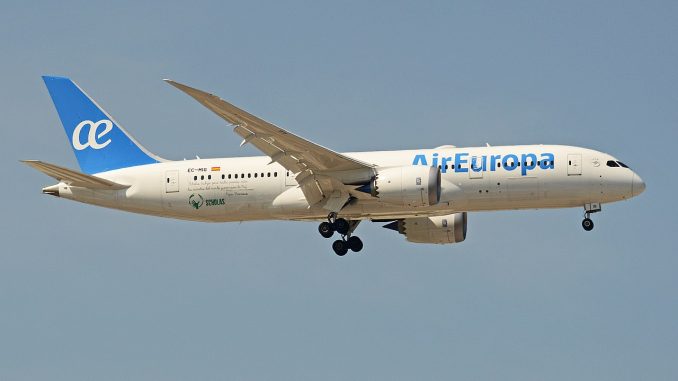 Air Europa applied last Friday to operate domestic flights within Brazil. The move is a direct result of new laws in Brazil allowing foreign airlines 100 percent ownership of Brazilian airlines, whereas foreign ownership was previously limited to 25 percent.
Brazil's congress approved last Wednesday the new law, which included the prohibition for airlines to charge extra for baggage. Brazilian airlines will have to transport one bag up to 23 kilos without charging extra, according to the newly-ratified law. The idea behind the new law is to attract foreign investment and increase competition in the airline industry.
Air Europa is undoubtedly capitalizing on the possibility of Avianca Brazil's bankruptcy leaving a high number of aviation professionals available in the market looking for a new project. Spain's third largest carrier isn't new to South American aviation, already operating codeshare flights with Avianca.
Brazil is also expecting an economic recovery sometime soon, which will aid a potential Air Europa domestic push. The quick action by Air Europa, however, may discourage other airlines from entering the newly-liberalized market not wanting to face tough competition.
Its main hub in Madrid, Air Europa already operates international flights between Brazil and Europe so a network of domestic flights in the country could feed the airline's international routes to Europe, as well as other SkyTeam flights of which Air Europa is a member.
Peter Biondi has a degree in journalism and a master's degree in airline/airport management from Embry-Riddle Aeronautical University. He is a former professor of Airline Management, Airline Marketing, Airport Management, Aviation safety, and Introduction to the Aviation Industry. He is an IATA instructor in airline business foundation. He has worked as an aviation consultant, analyst, researcher, journalist and professor. His professional experience includes Varig – Brazilian Airlines, KLM, and British Airways. Before moving to the US, he lived in Europe and South America. He is fluent in English, Spanish, Portuguese, French and Italian.
Latest posts by Peter Biondi (see all)