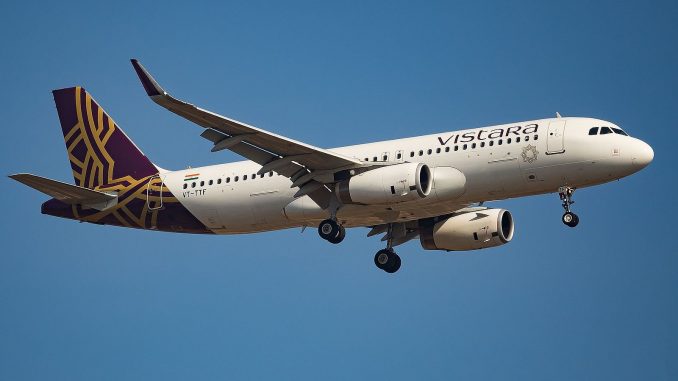 In the continued gutting of Jet Airways, it has now been announced that Indian carrier Vistara will be leasing four Boeing 737-800 aircraft that originally belonged to Jet Airways. This is an attempt to grow the airline which currently has a five percent market share in India and also make up for the sudden drop in capacity after Jet's demise.
These aircraft were delivered to Vistara in May and some are already flying. The airline expects to lease an additional six more 737s that formerly belonged to Jet Airways sometime in the near future as well. This highlights a continued partnership with the aircraft lessor BOC Aviation which Vistara also leases their existing Airbus A320 aircraft from.
Fleet Integration
Vistara's fleet initially was all Airbus aircraft with 22 A320 family airplanes flying to 24 destinations, the addition of the Boeing aircraft may initially create some complications.
Introducing a new aircraft type isn't as easy as it sounds. Airlines need to train flight attendants, pilots, mechanics, and other staff.
In addition, the ex-Jet Airways aircraft may need to have seating reconfigured to offer premium economy, an offering unique to Vistara's A320s in the Indian aviation market.
However, Leslie Thng, CEO of Vistara, is confident with the decision says that it is "both economically and commercially viable, and will eventually help us take the Vistara experience wider and deeper across markets in India."
Vistara also plans on receiving the first of several Boeing 787-9 aircraft next year.
Jet Airways Slots
Aircraft aren't the only thing Vistara has taken from Jet Airways. It is rumored that Vistara has received 110 of Jet Airways' slots. This could potentially catapult the airline into being a bigger international player faster than expected.
The airline received approval to begin international operations this past March and was eyeing Colombo as the first destination using the A320. However, it appears in light of the tragic attacks in Colombo the airline is re-evaluating its decision and may be considering other South Asian countries.
There also was a rumor in circulation that Vistara may be considering the five ex-Jet Airways Boeing 777 aircraft after Air India was unable to acquire them due to their poor financial condition. Nothing has gone past pure speculation since Vistara is really the only other airline in India that could have reasonably taken them in.
This could have potentially helped jump-start Vistara's aspirations to be a long haul premium carrier. In its initial application to the government for international flying rights, it mentioned flights to the Maldives, Thailand, Kuwait, Singapore, and many more.
The airline, like all other airlines in India, has applied for flying rights to Jet Airways' former destinations of Dubai, Qatar, Hong Kong, and London. If Vistara were to receive any of these rights and also acquire some of the former Jet Airways 777s then it is in a prime position to launch long-haul flights much sooner than if it had to wait for the Dreamliners to be delivered.
Airlines in India such as Vistara and SpiceJet that are actually running a largely efficient operation have the opportunity to better use Jet Airways' most valuable assets: their slots. The ability of these airlines to do so depends on how fair the Indian government wants to be instead of leaning towards their perpetual problem child of Air India.

Hemal took his first flight at four years old and has been an avgeek since then. When he isn't working as an analyst he's frequently found outside watching planes fly overhead or flying in them. His favorite plane is the 747-8i which Lufthansa thankfully flies to EWR allowing for some great spotting. He firmly believes that the best way to fly between JFK and BOS is via DFW and is always willing to go for that extra elite qualifying mile.

Latest posts by Hemal Gosai (see all)