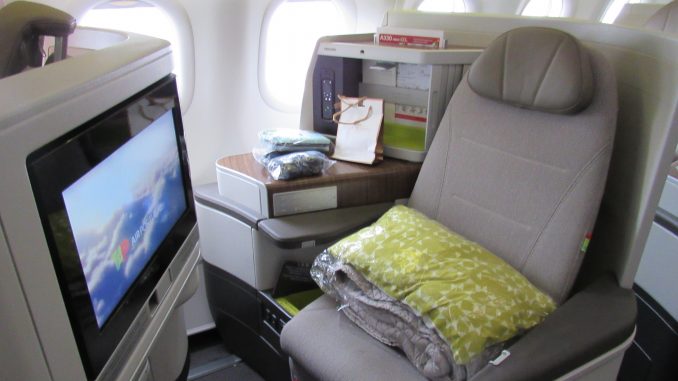 Chicago became the newest North American recipient of TAP Air Portugal service as part of the airline's ongoing efforts to double capacity to and from North America by the end of the year. The new service sees TAP flying to the Windy City five times per week, with flights on Mondays, Wednesdays, Fridays Saturdays and Sundays.
The outbound flight, TP229, departs Lisbon Portela Airport at 1:05 p.m. and arrives at Chicago O'Hare International Airport at 4:05 p.m. The aircraft then spends two hours in Chicago before departing back for Lisbon at 6:05 p.m. as TP228, arriving back in the Portuguese capital at 7:50 a.m. the following morning.
For the inaugural flight, TAP Air Portugal sent its new Airbus A330-900neo, treating passengers to an elevated flying experience onboard its newest flagship widebody aircraft. The route, however, will be regularly be served by the Airbus A330-200s as the airline gradually continues to receive newer aircraft over the next few years. AirlineGeeks was invited onboard the inaugural flight and experience TAPs new business class product.
Check-In
TAP Air Portugal uses Terminal 5 at O'Hare Airport, used for most international departures and arrivals except those of American and United along with a number of select international carriers. The check-in area was filled with decorations to celebrate the new flight, with airline representatives going around offering chocolates to passengers standing in line. Most passengers seemed to be unaware that they were traveling on an inaugural flight, with many giggling reactions of surprise as they were informed about the occasion by the check-in agents.
Check-in is divided between economy and premium passengers with the premium lane accessible to business class passengers and frequent Star Alliance travelers.  I was quickly checked in through the premium lane and given an invitation to head to the gate for pre-departure celebrations. Having monitored our flight online, I was aware that the inbound flight was delayed, inevitably delaying the return, but there was no mention of this by the check-in staff.
Security was quite busy being a peak departure time for European destinations with British Airways, Air France and Finnair having departures within the same block. Business class passengers are able to use a fast track lane which speeds up document verification; however, past that point, both lines merge as there is no security separate security channel for premium passengers. As TAP is a member of the TSA PreCheck program, those having a Known Traveler Number can enjoy a smoother and faster security experience.
The Lounge
Having some time to spare, I decided to check out the lounge. TAP uses Star Alliance partner SAS' lounge, the SAS Lounge, in Chicago located between gates D17 and D18, a short walk from our gate. Business class passengers and Star Alliance elites have complimentary access to the lounge and can also use United's Polaris Lounge in Terminal 1 if connecting from a United flight or having time to spare.
In accordance with SAS brand alignment, the lounge features a Scandinavian atmosphere with wooden floor and minimalistic decor. The lounge had good views of aircraft passing by with plenty of seats facing the ramp.
The food options were decent with cold cuts, salads and pasta being served. To drink, there was an average selection of spirits, wines and soft drinks. Fortunately for passengers traveling on TAP, the average wine selection in the lounge should not be a major problem as the carrier is known for having very good Portuguese wine offerings onboard.
Pre Departure Celebrations
After riding out the delay in the lounge, I proceeded straight to Gate D12, where the flight would depart from and the inaugural festivities would be held. Inaugural passengers were greeted with complimentary snacks and beverages to celebrate the occasion.
Until our aircraft arrived, there was an Emirates Boeing 777-300ER at our gate departing shortly for Dubai.
Members of TAP's U.S. team at the gate were very excited for the new flight ahead and its significance as part of a broader airline expansion. TAP seeks to position Lisbon as a gateway for travel between North America, Europe, North Africa and the Middle East, with the launch of 13 new international destinations in 2019 alone.
For many members of staff, this would be their first face-to-face encounter with the A330neo, adding an extra layer of excitement to the already festive atmosphere at the gate area. On the very same day, the airline was flying its brand new Airbus A321LR for the first time between Porto and Newark, becoming the second airline to cross the Atlantic with this new extended range Airbus variant behind Air Transat.
As the aircraft pulled into the gate, aviation enthusiasts and the general flying public alike lined up at the windows to have a look at the aircraft pull into the gate, creating a special moment of excitement that for the inaugural flight ahead. Slowly, our A330-900neo, registered CS-TUB, started making its appearance as seen from the gate area. The aircraft used for the flight was the very first A330neo delivered to its launch customer, TAP Air Portugal, in November 2018 with AirlineGeeks present at the delivery ceremony.
As is traditional when a new airline arrives at an airport, the aircraft was welcomed with a water cannon from O'Hare Airport's Aircraft Rescue and Firefighting department, with lots of clapping from all passengers lining the windows. As an aviation enthusiast, it was quite emotional to see people from a non-aviation background celebrate and enjoy taking part in an inaugural flight.
Shortly after the gate arrival, a celebratory cake was brought out into the gate area to commemorate TAP's arrival to Chicago with employees proactively offering it to passengers.
Pre-departure speeches began thirty minutes before boarding with authorities from O'Hare Airport delivering a few words along with TAP's chairman, Miguel Frasquilho, and the Consul General for Portugal in Chicago, Nelson de Castro. Consul General de Castro praised the addition of a nonstop link between Chicago and Portugal, creating a new bridge between the American Midwest and Europe's Atlantic Coast.
Finally, Consul General de Castro had the honor of leading the ribbon cutting ceremony along with Miguel Frasquilho, officially inaugurating the flight.
Boarding
With the delay, anxious passengers began lining up for boarding before it was announced creating some congestion in the gate area, as per usual. Meanwhile, boarding was held back by officials from the Federal Aviation Administration having to inspect the aircraft being TAP's first appearance at the airport on a revenue basis and the first A330-900neo appearance for commercial operations in Chicago.
There did seem to be a lack of communication in boarding, with limited updates being given on our boarding status. For example, passengers traveling with small children and those requiring special assistance were pre-boarded, only to be held back in the holding pen as we waited for the crew authorized boarding. Hopefully, as operations continue, these hiccups can be easily mitigated by experience.
Finally, boarding began first with those needing special assistance followed by business class passengers and Star Alliance Gold members, followed by economy class. TAP divides economy boarding into two sections from rear to front. Additionally, there is a third line for those traveling without carry-on luggage, which were allowed to board first.
Onboard TAP Air Portugal's Airbus A330-900neo
 The A330neo provides airlines with greater efficiencies and improved economics for medium and long-haul operations. Built from the standard A330 airframe base, the new aircraft is equipped with the Rolls Royce Trent 7000 engines used exclusively on the type and new longer composite wings that measure 64 meters long and feature sharklets, which aim to reduce air resistance and increase fuel consumption efficiency. Additionally, composite engine nacelles made of fully-faired titanium pylon help reduce weight and improve acoustics onboard the aircraft.
Inside, the A330neo offers significant seen and unseen improvements to the passenger experience. For starters, the aircraft features the Airbus Airspace cabin concept, also found on the A350 XWB, which provides a more spacious feel in the cabin while reducing air pressurization effects. Additionally, the use of mood lighting adjustable to the different flight stages helps passengers adapt to the time zone of their destination and can help reduce jet lag.
At the same time, the A330neo has wider and ampler overhead bins that can fit up to 80 additional bags than previous generations aircraft as the bins are slightly more inclined.
Finally, the jet's new Trent 7000 engines feature a higher bypass ratio. Not only reducing greenhouse gas emissions but also producing less engine noise and setting new standards for cabin quietness, reflected through its EASA Chapter 14 certification for noise reduction standard certifications. This can have significant impacts on flyers onboard experience as lower cabin noise levels are associated with lower levels of stress and irritation in passengers, helping them arrive better rested to their destinations.
The Seat
TAP's A330neos are configured with 298 seats in a two-class configuration consisting of business class and economy class. Business class features 34 Recaro CL6710 seats in a staggered 1-2-1 configuration with all seats offering direct aisle access.  For window seats, this means that seats in odd number rows are located next to the window with the seat console next to the aisle, while even numbered rows are placed the other way round with the seat being more exposed to the aisle.
While window seats are perfect for those traveling alone and seeking greater privacy, center aisle seats offer different configurations to suit different types of passengers. Rows 2,4,6 and 8 are aisle seats that have both seats separated by the seat consoles, creating a suitable division between both seats.
Seats in rows 1,3,5 and 7 are fitted in a honeymoon configuration with the seats placed directly next to each other and seat consoles facing the aisles. These pairs are perfect for couples traveling together as it enables passengers to interact easily with their seat neighbors while being secluded away from the aisles due to the position of the seat consoles. These seats also feature a privacy partition that can be raised from the floor, in case fliers look for some privacy from their seat companions.
The seats offer plenty of storage space, with a storage compartment right next to the seat large enough to store books or a small tablet and additional space in the seat console next to the seat.
There is additional storage on the side compartment beneath the seat console, ideal for storing items which you may constantly need during the flights such as glasses or phones. All seats feature universal and USB power ports located under the seat console along with the headphone jack, which can be tough to reach at some times.
Seat controls are conveniently embedded into the seat console at arm level, making them easy to reach. The controls offer a number of set positions, including fully lie-flat.
Finally, the business class seats have a 16-inch high-resolution inflight entertainment screen that folds outwards from the seat shell in front and aligns with the slight angle on the position of the seats.
The Service
For this flight, I was in seat 7K, one of the staggered seats next to the window on the right-hand side of the business class cabin. Business class passengers receive an amenity kit produced by Catelbel, along with a pair of noise-canceling headphones and a goodie bag containing an aromatic soap souvenir.
The amenity kit reflects Portuguese culture, as part of TAP's branding identity that seeks to bring a slice of Portugal into the onboard experience. Inside, the kit has the usual necessities including eyeshades, earplugs, a toothbrush with toothpaste, a brush, a pen, socks and moisturizing cream. The socks were illustrated with the colors of the Portuguese flag, a nice change from usual offerings.
Once seated, the crew came around welcoming passengers and distributing welcome drinks, with a choice of sparkling wine, water and orange juice along with packed nuts.
Following a quick announcement from the captain informing us that not only were we flying on the inaugural flight from Chicago to Lisbon, but also on TAP's newest widebody aircraft, it was time to push back from the gate and taxi towards the runway.
Due to standard evening traffic, we had a long taxi to Runway 22L and were held back for about 15 minutes, presumably due to having lost our take-off slot because of the delay. Finally taking off around an hour and a half after our scheduled departure time, we were en route to Lisbon.
Once in the air, the crew didn't take long to begin the service, distributing menus and taking meal orders.
The main service then began first with the cabin crew distributing the customary hot towels shortly followed by a pre-starter canape.
The meal consisted of a single starter option, three main choices and three options for a light dessert.  For the starter, I chose the veal tomato with radish and herb salad and mint pea soup.
Both the starter and the soup were very good in taste, with some passengers on the flight commenting on it being restaurant quality. The veal tasted fresh and marinated well with the tuna sauce and herbs. Despite not being a huge soup eater myself, the mint pea soup had a refreshing taste and was not too heavy, ideal for a long-haul flight.
On the menu for the main courses were three dishes: beef with Madeira sauce, baby carrots and potatoes au gratin; smoked salmon with cream sauce, rice and grilled vegetables and chicken breast topped with mushroom parsley cream, potatoes, wild mushrooms and broccoli.
Despite being tempted by the beef, I ended up going for the chicken option. The chicken was a bit dry and flavorless; however, the accompanying wild mushrooms and risotto helped make up for the lack of flavor in the meat. On the other hand, fellow passengers gave high marks on the beef, commenting on it being tender and marinating very well with the Madeira sauce.
TAP prides itself for bringing a taste of Portugal into the onboard experience. On flights out of Lisbon, the airline has partnered with six Michelin starred chefs to create different sets of menus that deliver different tastes of Portuguese cuisine, which alternate every month. This is also transmitted through wine, offering a selection of fine Portuguese wines that provide passengers with the best Portugal has to offer.
During my flights with the airline, I had the chance to try different Portuguese wines to pair my meal and can only say they are definitely amongst the better, if not the best selections I've sampled in business class. On this flight, I was particularly fond of the Alentejo white on offer, which, for me, was the perfect balance of fruit aromas, between not being too acidic but not too sweet.
For dessert, there was a choice between strawberry Ice cream, a cheese plate or fresh fruit. I chose the ice cream, which was delivered in a closed plastic bowl to maintain its consistency. The crew offered a port wine to go along with it.
To end off the meal service, there was a round of tea or coffee along with a selection of chocolates to choose from.
I was quite impressed with the meal as it was very generous in quantity and mostly good in quality, as well. However, it took more than three hours for the crew to deliver the meal service, taking about 40 percent of the time on our 7-hour redeye flight. On these flights, sleep is key and a quick meal service helps passengers to get the most sleep while still enjoying the service.
While I certainly appreciate the airline offers a full dinner service regardless of the timing of the flight, I do think it could be speeded up a bit in order to allow passengers to have more rest time. Additionally, TAP could benefit from an additional express dinner option to cater for those that are looking to maximize sleep on the flight. This could benefit business travelers, who need to arrive well rested to their destinations for the busy day ahead.
In-Flight Entertainment
As I enjoyed a leisurely dinner, I explored the in-flight entertainment system. TAP offers more than 100 movies aboard its A330neos ranging from latest Hollywood releases to Portuguese classics. Although there were more than a few movies that caught my eye, I decided against it in order to get some sleep.
Additionally, the airline offers a dozen television shows for passengers to enjoy. As an AvGeek, I enjoy leaving the movie map on while catching up with some work or rest. The system offered detail information about our flight and offered interactive commands, enabling passengers to fiddle with the map and adjust its position, as well as to click on TAP's destinations for more information.
TAPs A330neos and A321LRs are equipped with onboard WiFi. The system is provided by Panasonic and offers free messaging for all passengers. Additionally, it offers three paid packages including email access for €6.99, 100 megabytes for €14.99 and 200 megabytes for €24.99. I purchased 100 megabytes, which was enough to browse through social media; however, I was not able to upload any pictures online.
After dinner, I proceeded to get some shut-eye in the fully lie-flat seat position looking to maximize my day ahead in Portugal. Unlike other business class seat products in the market; I found the feet cubicle to be quite wide, in a way I had no problem changing positions throughout the night. Being five feet and eight inches tall, I had plenty of space to stretch out when laying flat and my feet were nowhere near to touching the seat in front. In this way, taller passengers should not any problem in finding a comfortable position to sleep.
Arrival into Lisbon
Having previously asked to be woken up for breakfast, I was gently awoken as the crew carts started rolling along the aisle for the second service one hour and a half before landing. Once again, the service again began with a hot towel from the crew.
For breakfast, there was a single option consisting of a plate of cold cuts and cheese, along with yogurt, fresh fruit and bread from the basket. The meal was tasty and fresh; however, a second, possibly hot option would definitely be appreciated and would par the airline with the offerings of other European carriers such as British Airways, KLM and Lufthansa.
After breakfast was cleared, it wasn't long before our descent, which logically created some congestion in the gallery as most passengers were in need to use the lavatory before landing. Although pushing back the second meal service could help mitigate this, I did appreciate it being delivered close to landing to allow passengers to maximize rest.
After a few minutes holding due to a priority aircraft landing, we were given the go and gently geared around the Atlantic Ocean towards the Portuguese coast and onwards into Lisbon. With the airport being in close proximity to the city, the views combining the seaside landscape with an urban environment were stunning, to the extent of being considered one of the most beautiful approaches in Europe.
We landed at 9:25 a.m., roughly an hour and a half after our scheduled landing time of 7:50 a.m. and parked at a remote stand next to CS-TUA, a fellow TAP A330neo used for flight testing and certifications.
All A330neo operations are handled remotely, as its wingspan of 64 meters makes the aircraft structure too wide to fit into the V-shaped stands at Lisbon Portela Airport. As we deplaned, we were greeted by a friendly TAP employee welcoming us to Lisbon and handing out our inaugural flight certificates.
Business class passengers were put into a separate bus for the ride to the arrivals hall. Being one of the first off the bus, I was able to quickly clear immigration; however, I could see a very long line behind me as there was a single immigration officer on duty in the non-European Union passport line.
This is one problem that needs to be addressed by the airport as it seems that long lines are common throughout the day. Finally, my bag was already coming out as I approached the luggage belt, about 20 minutes after having stepped out of the aircraft, the perfect end to the arrival experience.
Final Thoughts on TAP's Airbus A330-900neo
On this flight, TAP proved to offer a solid business class product onboard its flagship Airbus A330-900neo aircraft as a great option to cross the Atlantic.  The hard product is definitely a huge step up from its current generation A330/A340 fleet with a staggered layout offering a 1-2-1 configuration that offers a good deal of privacy. Service on this inaugural flight was very attentive and professional, taking the time to properly explain meal options, seat functionalities and address passenger concerns.
Although arguably service in inaugural flights could perhaps not reflect the standard onboard experience, the service I received was on par with the interactions I had with the crew on other flights, who were all very friendly and regularly took time to chat with passengers throughout the meal services.
With the basics covered; TAP could do with some tweaks to improve the passenger experience on this flight. For starters, the meal service could be slightly shortened in order to allow passengers to get a bit more rest. Additionally, an express dining option would benefit many flyers, as every minute gained can be of huge benefit for those looking to maximize sleep on the redeye flight. With this in mind, I'm sure TAP will easily be able to get around this minor things and continue offering a very good competitive product to cross the pond.
Finally, passengers crossing the Atlantic with TAP Air Portugal are able to conveniently transit to an onward 68 destinations throughout Europe, North Africa and the Middle East through the airline's hub in Lisbon. Additionally, TAP offers a Portugal Stopover program, enabling passengers to break their journey and enjoy the delights of Portugal on the way to their final destinations. For those visiting the old continent, the stopover program, only offered by a handful of carriers, is one way to discover more destinations in one trip.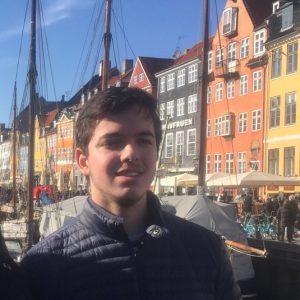 As a geography nerd, Jose has always been fascinated by the complexities of the airline industry and its ability to bring the world closer together. Born and raised in Peru, now studying in the UK. he has travelled around America, Europe and South East Asia. His favorite aircraft is the Boeing 767-300, which he has flown many times during his childhood; although now the A350 is slowly growing up on him.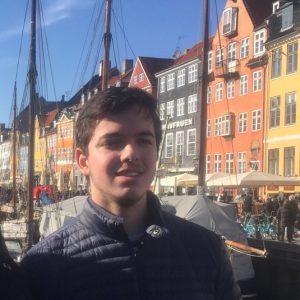 Latest posts by Jose Antonio Payet (see all)