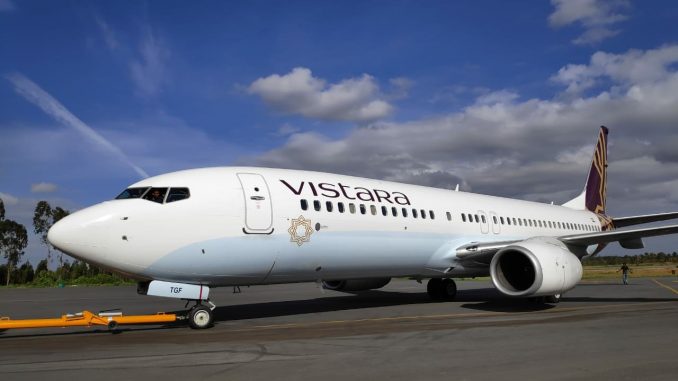 After finally receiving approval to begin international flights from the Indian government, Vistara has officially announced its first international destination. The airline will be launching two new routes to Singapore from both Delhi and Mumbai airports in India.
This comes after months of speculation and final approval in March where a special committee of cabinet ministers finally gave the Tata Group and Singapore Airlines joint venture permission to fly internationally.
Flights to Singapore
The flights to Singapore will commence from Delhi on August 6 and from Mumbai on August 7. The routes will be operated by Boeing 737-800NG aircraft that were recently part of the now-defunct Jet Airways fleet. The aircraft will feature a two-cabin configuration of business and economy class and will not feature premium economy which is found on the carrier's Airbus A320 aircraft.
Departures from India are timed to allow for a full day of work in India and a timely morning arrival in Singapore allowing business passengers to make use of a full day in Singapore.
This is a major step for the airline as it strengthens its footprint in India with continued expansion domestically in the wake of Jet Airways and now internationally with two routes to Singapore.
Codeshare with United Airlines
Recently Vistara has also stepped up its game with a codeshare agreement with United Airlines. United will be able to codeshare more than 20 Vistara operated flights providing United flyers greater access to destinations in India such as Ahmedabad, Hyderabad, Kolkata, and more. In addition, there will be reciprocal frequent flyer benefits with cross earning and redemptions through their respective frequent flyer programs.
Most importantly this will give Vistara passengers easier access to flights to the U.S. This agreement goes beyond just codeshare and frequent flyer benefits, both airlines operate out of the same terminals in Delhi and Mumbai airport, Terminal 3 in Delhi and Terminal 2 in Mumbai. This will allow for seamless connections for passengers going in both directions
Excellent Market Forces
The cards are aligning for Vistara. Initially, extreme downward pressure on pricing in the domestic market was creating trouble for the airline and others since they couldn't increase fares in the face of rising costs. However, with the collapse of Jet Airways, the Indian aviation market developed a huge hole that airlines stepped in to fill up. The overall drop in capacity resulted in a net increase in fares for Indian carriers that are allowing them to actually make money, or in some cases lose less money than before.
Before the only real option for Vistara to grow was internationally; however, not only does it have potential internationally but also in the domestic market which increasingly looks less bleak.
The airline is also expecting delivery of its Boeing 787-9 Dreamliners beginning in 2020. The aircraft will operate longer international routes and continue to be a key part of the airline's growth.

Hemal took his first flight at four years old and has been an avgeek since then. When he isn't working as an analyst he's frequently found outside watching planes fly overhead or flying in them. His favorite plane is the 747-8i which Lufthansa thankfully flies to EWR allowing for some great spotting. He firmly believes that the best way to fly between JFK and BOS is via DFW and is always willing to go for that extra elite qualifying mile.

Latest posts by Hemal Gosai (see all)