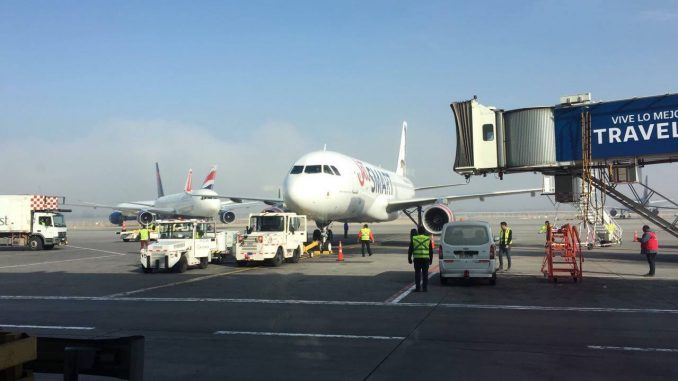 Chilean JetSmart announced earlier this week the details of its operation in Brazil, with nonstop flights between Santiago, Chile, and the cities of Sao Paulo, Salvador and Foz do Iguaçu.
The operation between Santiago and Salvador begins on Dec. 27 of this year, with three weekly flights during the high season. Flights from the Chilean capital to Foz and Sao Paulo begin on Jan. 5 and March 20, 2020, with two weekly flights to each destination. The airline announced promotional fares between $75 and $80 anticipating reaction by the competition.
JetSmart is the fourth low-cost airline authorized by ANAC (Brazilian Civil Aviation Authority) to operate in Brazil, in an attempt to bring more competition to the country and low airfares. Norwegian, Chile's Sky Airlines and Argentina's Flybondi are also authorized to fly to Brazil.
JetSmart is a Chilean ultra-low-cost airline created by U.S. investment group Indigo Partners, which also controls Frontier Airlines, Mexico's Volaris and Hungarian airline Wizz Air. Its primary base of operations is Comodoro Arturo Merino Benítez International Airport in Santiago, Chile.
The airline commenced scheduled operations on July 25, 2017, with a Santiago to Calama service. The airlines operate a fleet of Airbus A320-200s with orders for 56 Airbus A320neo aircraft, 14 Airbus A321neos, and 12 A321XLRs, which will be able to reach destinations in the U.S.
Peter Biondi has a degree in journalism and a master's degree in airline/airport management from Embry-Riddle Aeronautical University. He is a former professor of Airline Management, Airline Marketing, Airport Management, Aviation safety, and Introduction to the Aviation Industry. He is an IATA instructor in airline business foundation. He has worked as an aviation consultant, analyst, researcher, journalist and professor. His professional experience includes Varig – Brazilian Airlines, KLM, and British Airways. Before moving to the US, he lived in Europe and South America. He is fluent in English, Spanish, Portuguese, French and Italian.
Latest posts by Peter Biondi (see all)