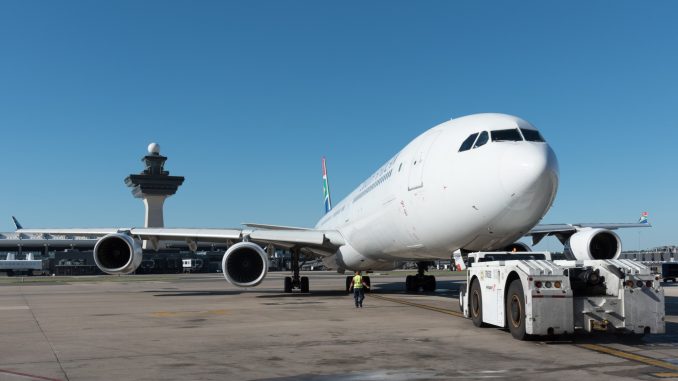 Financially riddled South African Airways has announced a restructuring plan that would cut one-fifth of its workforce.
Over the past few years, the airline has been reliant on government financial support to continue its operations but has now started working with its labor unions to develop a restructuring plan that would impact 900 or so of its 5,000 plus employees.
"We urgently need to address the ongoing loss-making position that has subsisted over the past years," said acting Chief Executive Officer Zuks Ramasia.
Plagued with mismanagement and allegations of corruption, the airline has faced losses of more than 28 billion rand ($1.9 billion USD) over the past decade. Additionally, the carrier missed the deadline to submit its earnings for the end of their fiscal year.
"That is why we are undergoing a restructuring process that seeks to ensure effective implementation of the accelerated long-term turnaround strategy amidst the present prevailing operational challenges," added Ramasia.
However, the carrier still has yet to settle a repayment plan with its creditors. Over 5.5 billion rand ($360 million USD) has been given to the carrier in order to assist with its existing debt.
The restructuring efforts will impact all of the carrier's divisions but will not impact Mango Airlines, Air Chefs, and its technical unit.
Many investors have expressed interest in purchasing a stake in the airline, however, none have come forward. Ethiopian Airlines did express interest in purchasing a stake if an offer was made.
Consultations on the restructuring effort will go through January 11 and the airline will work to minimize impact to operations in order to not impact customers.
An "AvGeek" for most of his life, Akhil has always been drawn to aviation. If there is an opportunity to read about an airline, fly on a new airplane, or talk to anyone about aviation, he is on it. Akhil has been on over 20 different kinds of aircraft, his favorite being the MD-80. Additionally, he has visited 5 continents and plans to knock out the remaining two (Africa and Antarctica) soon. Based in Dallas, Akhil graduated from Texas A&M University with a degree in Management Information Systems and currently works in consulting. His dream is to become an airline executive.
Latest posts by Akhil Dewan (see all)