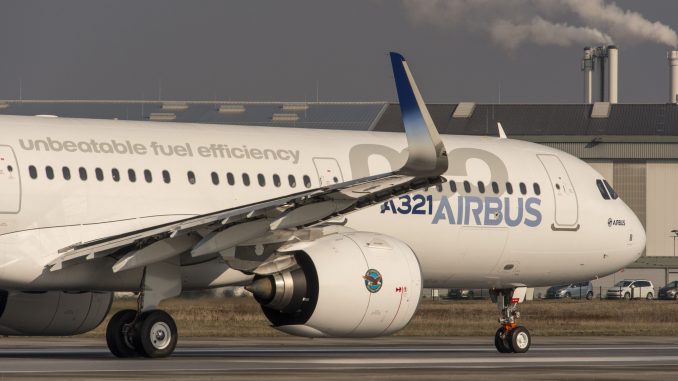 Brazilian airline Azul received the first Airbus A321neo of Brazil. Configured with 214 seats and powered by CFM International's LEAP-1A engines, the aircraft is the first of 13 units ordered. The company will operate the A321neo on high-density domestic routes promising its customers a distinctive product, including larger luggage compartments, mood lighting, more comfortable seating and a state-of-the-art entertainment system with individual touch screen displays.
According to John Rodgerson, president of Azul, the new Airbus jet will also soon have live TV on individual monitors with multiple channel options and Wi-Fi.
The aircraft arrived just ahead of the busy summer season in Brazil, following the recent delivery of Azul's second A330-900neo.
Following the new aircraft delivery, Azul announced new flights for the summer. New flights include nonstop links between Florianópolis and Montevideo, Uruguay; Cabo Frio and Buenos Aires in Argentina, Belo Horizonte and Fort Lauderdale in the United States and Campinas and Punta Del Este in Uruguay.
The domestic markets with high expectations for high demand are Guarulhos-Porto Seguro, Rio de Janeiro-Porto Seguro and Rio de Janeiro-Florianopolis, all unpublished markets in the company's network.
The economy in Brazil is slowly recovering but airlines expect a better 2020 once new laws and government reforms take place. Recently the states of São Paulo and Rio de Janeiro reduced the taxes for aviation fuel to attract more flights to their states.
Peter Biondi has a degree in journalism and a master's degree in airline/airport management from Embry-Riddle Aeronautical University. He is a former professor of Airline Management, Airline Marketing, Airport Management, Aviation safety, and Introduction to the Aviation Industry. He is an IATA instructor in airline business foundation. He has worked as an aviation consultant, analyst, researcher, journalist and professor. His professional experience includes Varig – Brazilian Airlines, KLM, and British Airways. Before moving to the US, he lived in Europe and South America. He is fluent in English, Spanish, Portuguese, French and Italian.
Latest posts by Peter Biondi (see all)