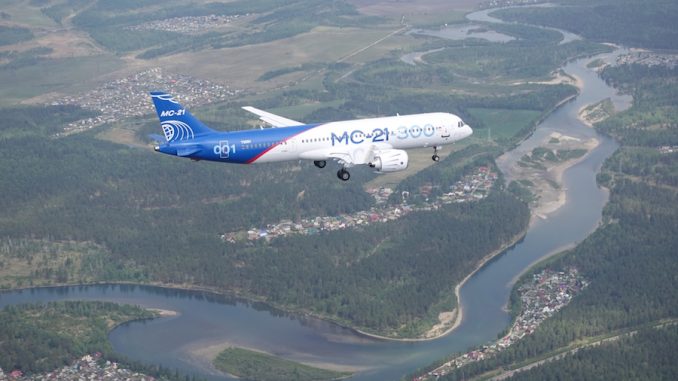 Russian aircraft manufacturer, Irkut Corporation, headquartered in Moscow, announced that it has completed systems diagnostics of the fourth MC-21-300 aircraft designed for flight tests. Three of the jets are already undergoing flight tests and two are currently on static tests. On November 28, the new aircraft was transferred from the final assembly shop to the plant's flight-test division.
The Irkut MC-21 is a Russian single-aisle twinjet airliner, developed by the Yakovlev Design Bureau. Irkut rolled out the first MC-21-300 in 2016 and it first flew the aircraft in 2017. It has a carbon fiber reinforced polymer wing and is powered by Pratt & Whitney PW1000G, the same engines used on the A220 and the Embraer E2 jets.
The fuselage of the MC-21 is mostly made of lightweight aluminum-lithium alloy, which accounts for 40 percent of the airframe's structural weight.
The MC-21-300 has a capacity of 132–163 passengers in a two-class configuration and 165–211 in a single-class, and a range up to 6,000–6,400 km (3,200–3,500 NM). By July 2018; it had received 175 firm orders, mostly from Russian airlines. In 2010, Aeroflot gave an important incentive to the program ordering 50 aircraft.
The aircraft is expected to enter service in 2020 and could compete with similar models from Airbus and Boeing, but sales outside Russia have been limited by concerns over maintenance and geopolitics. A report by the consulting firm Air Insight suggests that despite the challenges, Irkut could achieve its goals to produce and sell more than 1,000 aircraft over the next 20 years, with the majority sales in Russia and other former members of the USSR.
Peter Biondi has a degree in journalism and a master's degree in airline/airport management from Embry-Riddle Aeronautical University. He is a former professor of Airline Management, Airline Marketing, Airport Management, Aviation safety, and Introduction to the Aviation Industry. He is an IATA instructor in airline business foundation. He has worked as an aviation consultant, analyst, researcher, journalist and professor. His professional experience includes Varig – Brazilian Airlines, KLM, and British Airways. Before moving to the US, he lived in Europe and South America. He is fluent in English, Spanish, Portuguese, French and Italian.
Latest posts by Peter Biondi (see all)