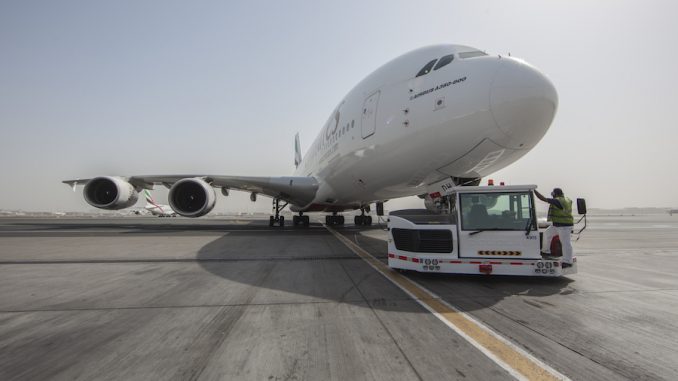 Emirates will launch the world's shortest A380 flight this December. The double-decker will be scheduled on one of the nine daily flights that make the 385km Doha flight.
From December 1, the flight will depart Dubai at 0745 arriving into Doha at 0805 as EK841. The return flight, EK 842, will depart Doha at 0950 arriving in Dubai at 1200.
Dubai airport saw 2.8million passengers travel between the two cities, operated by Emirates Qatar, and Flydubai, making it the busiest international route from Dubai. Emirates alone has carried 700,000 passengers to Doha since the start of the year.
Having nine daily flights between the two cities makes it the most served destination within the Emirates network. The decision to upgrade service to the A380 has come to meet the necessary demand for the capacity as well as popularity with customers.
The Emirates A380 that will be deployed to Doha will be set in a three-class configuration, with 429 seats in economy on the main deck, 76 flat-bed seats in business class and 14 first class private suites on the upper deck, enabling Emirates to serve increased premium demand to and from Doha.
In contrast, the longest A380 flight is currently between Auckland and Dubai, which is also flown by Emirates.
James was surrounded by aviation from an early age. At the age of 13 he enrolled in the RAF Air Cadets, a youth organization for aspiring young adults who wished to enter the armed forces or aerospace industry. At the same time, he started flying lessons in a C152 leading to his PPL. He left the Air Cadets to undergo his Commercial Pilot Training with a training school on a full time basis. He now flies the Airbus A319/320 series across Europe for one of the largest airlines in the area.
Latest posts by James Dinsdale (see all)