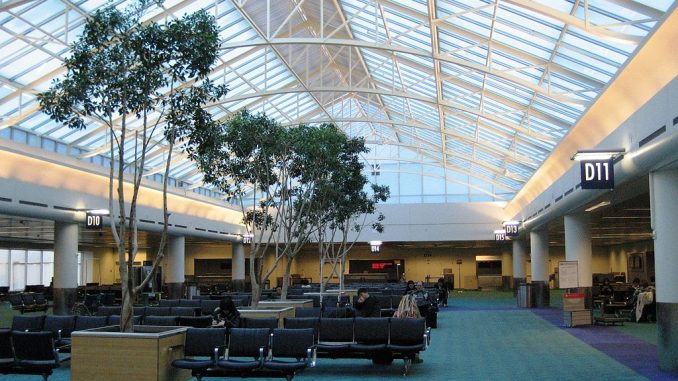 Since the creation of the first airport in 1909 by Wilbur Wright, cities in the United States have come together to create one of the most expansive airport systems in the world. Over the next few months, our writers have taken an in-depth look to see what airports each state has to offer, what its history entails, and what changes we can expect in the future that will continue to shape the airline industry.
The State of Oregon, also known by its nickname, "The Beaver State," became a part of the United States in 1859, joining as the 33rd state. Today, the state ranks 27th in the nation in terms of population, with just over 4 million people scattered throughout its land. The state's area measures almost 100,000 square miles, making it the 9th biggest in the States. On its northern border lies Washington, and Idaho site to the east. To the south are California and Nevada. The state also lies on the Pacific Ocean. The state has had a long, rich aviation history and is now home to one major airport and three minor airports.
MAJOR AIRPORTS
Portland International Airport – Portland, Oregon (PDX)
Portland International Airport today acts as a joint civil-military airport serving a large part of the northwest portion of the state. In 1936, construction on the airport began with the intention being to replace an older, smaller airport located on Swan Island. Construction was finished in 1940, and the airport was christened "Portland Columbia Airport." The airport currently has three runways, 10L/28R, with a length of 9,825 feet, 10R/28L, which measures 11,000 feet and runway 3/21, which measures a much shorter 6,000 feet. The grounds allowed for more than 218,000 aircraft operations in 2015 and for almost 17 million passengers to pass through. The airport accounts for 90 percent of all passenger travel and 95 percent of cargo travel in the entire state.
Currently, Alaska Airlines and Horizon Air, Alaska's regional partner, operate a minor hub in Portland, with more flights in and out of the airport than any other airline. Delta operates the highest number of transoceanic flights out of the airport, with flights to Amsterdam and Tokyo/Narita, on top of seasonal flights to London Heathrow. In addition to these routes, Condor operates seasonal flights to Frankfurt, Icelandair flies year-round to Reykjavik, and numerous airlines have scheduled routes to various Hawaiian airports. Passenger growth grew steadily from 1999-2008 before falling by nearly 2 million passengers the next year. Since then, however, the airport has clawed back lost growth to reach their current numbers.
MINOR AIRPORTS
Eugene Airport – Eugene, Oregon (EUG)
Also known as Mahlon Sweet Airport, Eugene Airport is located in western Oregon, a mere 100 miles south of Portland. The fifth-largest airport in the Pacific Northwest, the airport handles approximately 909,000 passengers on an annual basis. The current airfield was constructed in 1943, taking over for the outdated Eugene Air Park. Currently, Alaska Airlines, American Airlines, Allegiant Airlines, Delta Connection and United Airlines operate flights to Eugene, but the airport is home to quite a few general aviation aircraft. The airport has two runways, 16L/34R and 16R/34L, which measure 6,000 and 8,009 feet in length, respectively.
Rogue Valley International–Medford Airport – Medford, Oregon (MFR)
Rouge Valley International–Medford Airport is a civil airport located near the southwest corner of Oregon. The airport is three miles north of Medford, which has a population of nearly 78,000 as of 2013. The airport, however, had approximately 600,000 passengers travel through in 2015. Four airlines operate commercial passenger flights to Rogue Valley: Allegiant Air, Horizon Air, Delta Connection and United Express, the last three being regional carriers for their Alaska, Delta and United, respectively. The only airline to operate anything larger than a regional jet is Allegiant, which operates McDonnell Douglas MD-80s and the occasional Airbus A319. Additionally, the airport has one runway, 14/32, with a length of 8,800 feet.
Roberts Field – Redmond, Oregon (RDM)
Roberts Field, also known as Redmond Municipal Airport, is the main commercial airport in central Oregon. American Airlines, Delta Air Lines, United Airlines and Alaska Airlines operate flights to the airport using Canadair CRJ-700s, Canadair CRJ-200s and Bombardier Dash 8 Q400s. However, nearly 71 percent of all operations at the airport are general aviation, with only 10 percent being any of the four airlines. The airport has two runways, 4/22 and 10/28, both of which are around 7,000 feet in length. In 2015, 523,000 passengers passed through the airport, and there were nearly 50,000 aircraft operations during that same period, though the airport has grown steadily since 2009.

When he was just six months old, Parker took his first flight. From that point, he was destined to love aviation. His mom worked for Southwest Airlines much of his family have been frequent flyers on American Airlines for years, just as Parker is now. In 2015, Parker, inspired by aviation accounts on Instagram, decided to create an account of his own, and he hasn't stopped spotting since. On top of that, Parker has been writing for his school paper since his freshman year and has been writing and doing photography work for AirlineGeeks since August 2016.

Latest posts by Parker Davis (see all)