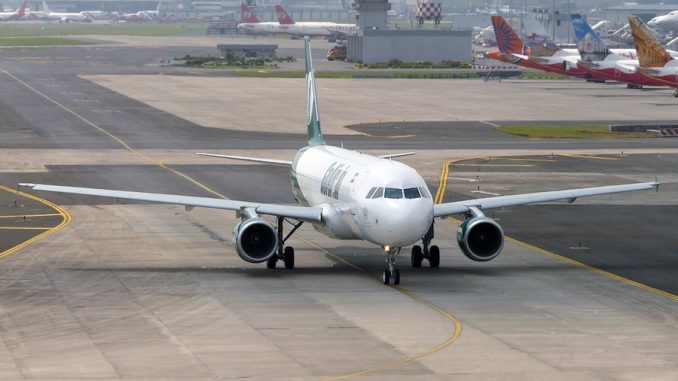 Mumbai airport has stolen the title of the busiest airport in the world to operate with a single runway. The airport now handles 837 flights a day, a significant amount than the previous title holder, London Gatwick, which handles 757 flights a day. While the airport has two crossing runways, only one is open at any given time, the other serves as a secondary runway if the primary needs to be closed.
Mumbai also knocked off Gatwick with for the total amount of passengers for 2017. According to a Mumbai airport spokeswomen, "From around 453 aircraft movements a day in 2006, we have grown to handle over 800 movements daily, handling over 45.2 million last financial year."
Mumbai is the only major cities in the world to be served by one airport. The airport handles one departing or arriving aircraft every 65 seconds. This is considered an fairly large accomplishment by the airport staff and controllers. One of the Mumbai controllers told the Times of India, "We broke Gatwick's record in such conditions. It shows the level of perfection air traffic controllers in Mumbai have achieved through rigorous training."
"Though Mumbai airport has two cross runways," the controller continued, "only one is in use at any given time, making Mumbai an accidental entrant into the group of airports around the world that operate with a lone runway. It's not an unjust inclusion, as other airports in the single runway league, like Gatwick, for instance, have similar arrangements. Gatwick has two parallel runways but uses only one at a time."
"Because of land constraints, Mumbai airport cannot have a parallel runway and simultaneous use of its cross runways is too complicated, which leaves the lone runway to handle all air traffic," added the Mumbai-based controller.
While this is good for the airport, the new title kind of looks bad for the government. While these numbers mean more tourism and business travel for Mumbai, it also means the government hasn't focused on air travel. London, Dallas, Dubai, and New York all have at least one other airport serving the city which helps lighten the load. The current Mumbai airport is out of space to expand and a secondary airport is only talk at the moment. However, a taxiway expansion is underway.
A Mumbai International Airport Limited representative was quoted as saying, "Currently, work on extension of an existing taxiway is on to connect the Terminal 2 aircraft parking apron to runway 27. It will provide the much-required additional holding area for aircraft ready to take off on the main runway 27."
Even with the large number of passengers that travel through the Mumbai airport, Chhatrapati Shivaji International accounted for only 18.6% of the total air traffic in country, falling behind Delhi which handled 21.6% of air travelers.
London's Gatwick has been in a battle with London's Heathrow for a runway expansion for some time now. In fact, the decision to expand a UK airport has been ongoing since the 1950's. The topic of expanding Heathrow or Gatwick was a rocky road until a decision was finally made to add a third runway at London's Heathrow.
Matthew Garcia became interested in aviation at the age of 12 when he installed Microsoft Flight Simulator X on his computer. He was instantly "bitten by the bug" and has been in love with aviation ever since. Matthew took his first introductory flight in 2013 and began normal flight training in February of 2015. Over the years, Matthew's love and knowledge for aviation has grown tremendously, mainly due to FSX. Garcia flies highly advanced aircraft in a professional manner on a highly complex virtual air traffic network simulating real world flying. In 2016 Matthew achieved his private pilot certificate from the FAA. Now he studies journalism at the University of Nebraska at Omaha.
Latest posts by Matthew Garcia (see all)