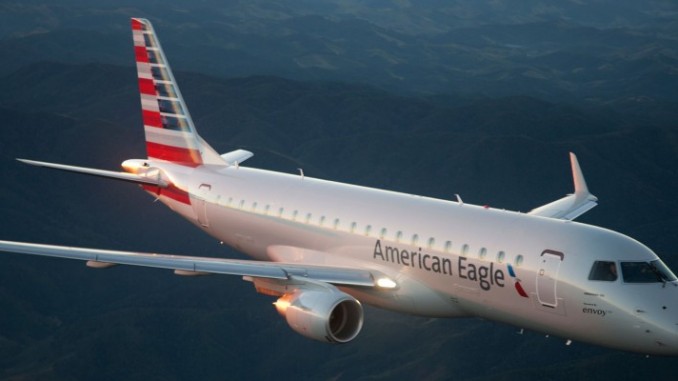 After a year-long process, Envoy received final approval from the Federal Aviation Administration to operate the Embraer 175 aircraft on Tuesday. The airline is expected to begin utilizing the aircraft in revenue service under the American Eagle brand beginning February 11.
"The E175 represents the future of Envoy, and everyone involved did a tremendous job ensuring a smooth addition to our fleet," says Pedro Fabregas, President and CEO of Envoy Air. "With two to three new aircraft arriving every month, it's an exciting time for all of us!"
American Airlines Group, Envoy's parent company, announced the E175 order as part of a new pilot contract ratified in late 2014. The announcement came as American slowly reshuffled contracts and flying between its three fully-owned and six additional regional partners operating as American Eagle. Envoy is currently slated to receive 40 E175 aircraft with options for an additional 90 frames. Meanwhile, Envoy's E140 fleet is set to be retired this year, and many of its E145 aircraft and all CRJ700 aircraft are being transferred to other regional carriers.
Envoy's E175s will be configured with 76 seats, consistent with a majority of the E175s already operating under the American Eagle name. The aircraft will feature 12 First Class, 20 Main Cabin Extra, and 44 Main Cabin seats in addition to WiFi.
Envoy received its first E175 in November 2014 and has been completing crew and employee familiarization and FAA-required runs since its first delivery. Four aircraft have been delivered, and the airline expects three additional aircraft in February, along with two additional frames per month thereafter. The aircraft will initially be deployed on routes from American's hub at Dallas Ft. Worth International Airport.
AirlineGeeks.com began in February, 2013 as a one-man (er… teenager, rather) show. Since then, we've grown to have 20 active team members, and yes, we're still growing. Some of us are looking to work in the aviation industry as professionals when we grow older. Some of us are still trying to decide what we want to do. That's okay though, because we're all here for the same reason: we love the airlines. We're the youngest team of airline industry journalists out there.
Latest posts by AirlineGeeks.com Staff (see all)