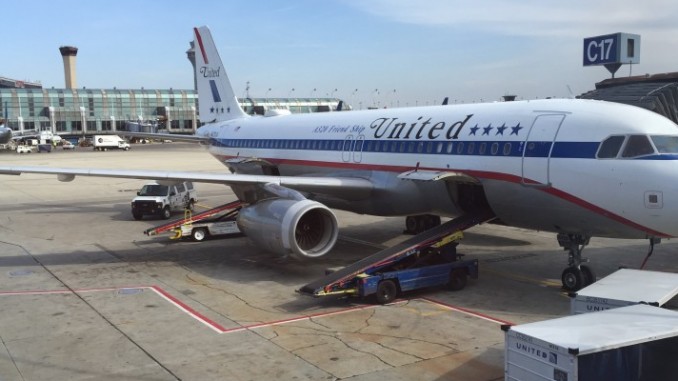 United Airlines turns 90 today. Here's a look back at some of the airline's history, some of its accomplishments, and what the future holds.
About United
United operates out of nine hubs located in Chicago-O'Hare, Denver, Guam, Houston-Bush, Los Angeles, New York/Newark, San Francisco, Tokyo-Narita, and Washington D.C-Dulles. The airline currently operates an average of 5,000 daily flights to 342 destinations around the world—more than any other airline. The airline operates a fleet of more than 700 modern aircraft, with orders for more than 200 additional airplanes.
History of United
First flight
United began as Varney Air Lines in 1926 and later became Varney Speed Lines in 1934. Varney Airlines first took flight from Pasco, Washington to Boise, Idaho on April 6, 1926.
Flight Attendants Take to the Skies
In 1930, United hired the first female flight attendant, Ellen Church. This created the flight attendant profession. United hired eight female flight attendants, all of which were nurses. In 1950, United began hiring male flight attendants to work flights between the U.S. Mainland and Hawaii.
Semi-big ol' Jetliners
In 1955, United became the first U.S. airline to order jet aircraft for its fleet. The airline ordered 30 DC-8 aircraft. In 1959, Continental Airlines became the first airline to introduce a progressive maintenance program. This allowed the airline to fly its new-at-the-time Boeing 707 fleet seven days a week 16 hours a day.
The Remainder of the Century
United merged with Capital Airlines in 1961, making it the largest U.S. airline at the time. In the late 1960's, Continental was granted a five-year contract to serve the trust territory of Micronesia. The inaugural flight took off from Saipan to Honolulu on May 16, 1968.The airline later created a hub in Guam and operated the Continental Micronesia Subsidiary, serving destinations in the Pacific Rim region.
The airline took over Pan Am's Pacific Division in 1985. This gave United a prime hub in Tokyo-Narita. Today, United operates more flights to Asia and the Pacific than any other U.S. airline.
United became the first airline to operate the Boeing 777 in 1995. Both United and Boeing collaborated extensively to develop an aircraft that would benefit the airline industry for decades to come.
In 1997, United formed the Star Alliance global airline partnership alongside Air Canada, Lufthansa, Scandinavian Airlines (SAS), and Thai Airways. Today, the Star Alliance has 28 member airlines and is the world's largest global airline alliance.
In 2010, United and Continental board members made an agreement to merge the two airlines' operations. It was decided that the new airline would use the United name with the Continental livery and branding. Both carriers began merging operations in 2011 and received a single operating certificate from the FAA on November 30, 2011.
Accomplishments
In 1936, United began the first Flight Kitchen in Oakland, California. This gave passengers the ability to enjoy hot meals. Today, United is the only U.S. airline to fully own and operate its own kitchens.
First airline to use electronic flight simulators and computers for flight planning.
1957- first airline to install radar onboard its aircraft
1960—Continental introduces first Live TV on Boeing 707 aircraft. Today, United operates over 200 aircraft with Live TV and operates nearly 700 aircraft with Wi-Fi onboard.
1963—Continental hires first African American pilot
1982—First airline to operate the Boeing 767
1984—First airline to fly to all 50 states after adding service to Mississippi and Wyoming
1995—United takes delivery of first Boeing 777
2010/2011—United becomes the largest airline after merging with Continental Airlines. American Airlines later took this title after merging with US Airways in 2013
2012—United became the first North American airline to operate the Boeing 787 'Dreamliner'
First U.S. airline to operate service to Chengdu, China and to connect the West Coast of the United States to Tel Aviv, Israel.
The Future of United
United continues to innovate in the aviation industry. The airline continues to upgrade its fleet. In 2016, United expects to take delivery of 20 new Boeing 737 Next Generation, Boeing 787, and Boeing 777 aircraft.
United recently became the first U.S. airline to operate commercial-scale volumes of sustainable biofuel flights. The airline says it will continue to invest in biofuel technologies and plans to operate more flights using biofuels across its network.
"On our 90th birthday, I couldn't be more proud of our rich heritage and the exciting future ahead of United. I want to thank our customers for your loyalty over the years, and we look forward to serving you for many more as we continue to elevate our customer experience today and into the future. I also want to express my deep gratitude to United's more than 84,000 aviation professionals for your unsurpassed teamwork, passion and dedication. You've helped make the world a smaller place by safely and comfortably uniting billions of people around the globe," said Oscar Munoz, President and CEO of United.
Happy 90th Birthday, United! Here's to 90 more!
Tyler has been an aviation enthusiast for as long as he can remember and is currently pursuing a Bachelor's degree in Aviation Administration with a minor in Social Media Marketing from Lewis University in Romeoville, IL. His preferred airline is United and his favorite aircraft is the Boeing 777 and 757. Tyler has his fourth-degree black belt in Taekwondo and is unlikely to be seen without Starbucks in his hand. He is also an avid plane spotter. Tyler always has a smile on his face and his eyes pointed skyward.
Latest posts by Tyler Tashji (see all)