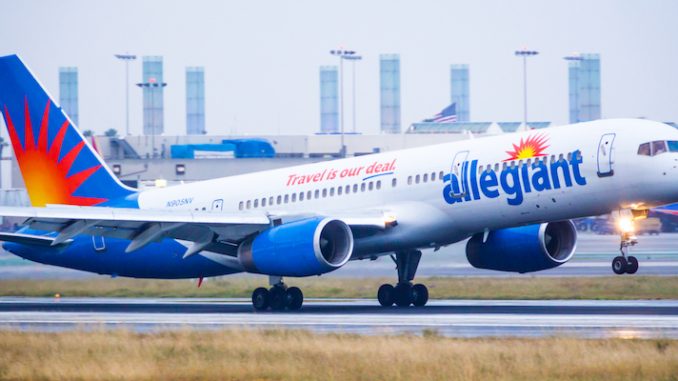 Allegiant Air launches its expansion into the Washington/Baltimore market today with inaugural flights to two of the eventual six cities to be served by the ultra-low-cost carrier.
Today, the Las Vegas-based airline's debut at Baltimore/Washington International Airport (BWI) includes year-round nonstop service to Cincinnati and Savannah, Ga. By June 3, Allegiant will begin seasonal nonstop flights from BWI to Asheville, N.C., Knoxville, Tenn., Lexington, Ky., and Tulsa, Okla.
Cincinnati is the only destination of the six that is currently served from BWI.
Allegiant's expansion at BWI indicates a change in the airline's network strategy of connecting small markets to leisure destinations.
In a statement, Jude Bricker, Allegiant's Chief Operating Officer, said the airline's flights will connect Baltimore/DC area residents with nonstop flights to leisure destinations not previously served from BWI. Bricker added,"We also know that travelers in Cincinnati and Savannah / Hilton Head will use these new flights to conveniently and affordably fly nonstop to our nation's capital. We look forward to more new travelers experiencing Allegiant and our unique brand of low-cost travel."
The new routes feature service that is less than daily, as is typical for the airline. Service on most Allegiant routes is two to four flights a week.
With this expansion, Allegiant is moving into Southwest's East Coast stronghold. Southwest currently has  70% of the market share at BWI. Allegiant's planned destinations are not currently served by Southwest.
The launch of Allegiant's BWI service comes one day after the Associated Press reported the Federal Aviation Administration is reviewing the airline's operations two years ahead of schedule. This move by federal officials is motivated by recent high-profile incidents such as an aborted takeoff due to a mechanical issue and an emergency landing after an Allegiant aircraft ran low on fuel.
AirlineGeeks.com began in February, 2013 as a one-man (er… teenager, rather) show. Since then, we've grown to have 20 active team members, and yes, we're still growing. Some of us are looking to work in the aviation industry as professionals when we grow older. Some of us are still trying to decide what we want to do. That's okay though, because we're all here for the same reason: we love the airlines. We're the youngest team of airline industry journalists out there.
Latest posts by AirlineGeeks.com Staff (see all)