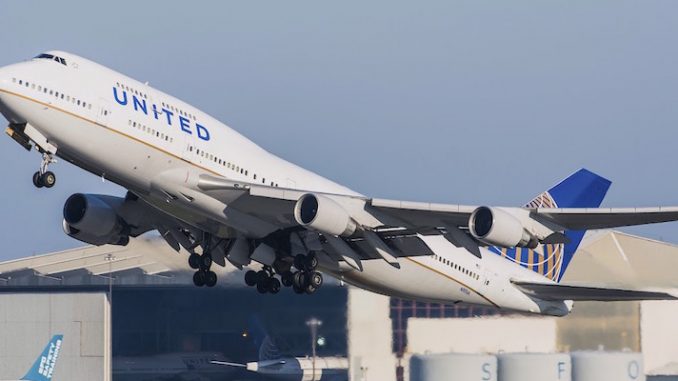 For the longest time, I have wanted to fly on the Boeing 747, commonly known as the 'Queen of the Skies.' When the opportunity came along to fly on this beauty on a domestic route, I jumped on it.
All AvGeeks have certain "weird" airlines, routes, and/or aircraft they want to fly on. For me, the Chicago to San Francisco route is one of these, especially on a 747. When my friend was looking for flights home to California, he stumbled across this one and I knew this was my chance. I had already had flights booked home and immediately called my parents to explain my point-of-view and beg them to let me rebook my ticket. Luckily, my parents were completely understanding, as they always are when it comes to my aviation obsessions.
I had a United travel certificate for $293 dollars from a previously cancelled reservation. With the $200 change fee, I ended up paying $252 round-trip—quite the steal.
| | |
| --- | --- |
| Flight Number | UA1213 |
| Date | March 23, 2016 |
| Departure | Chicago—O'Hare (ORD) |
| Scheduled Departure Time | 4:05pm CST |
| Actual Departure Time | 6:32pm CST |
| Arrival | San Francisco (SFO) |
| Scheduled Arrival Time | 6:33pm PST |
| Actual Arrival Time | 8:25pm PST |
| Aircraft | Boeing 747-400 (N107UA) |
| Seat | 40K |
Pre-Departure
Since I was beginning my trip at O'Hare and it was the week before Easter, I made sure to get to the airport with more than enough time. Good thing I did, as both economy lots were filled. I quickly scrambled to find acceptable parking accommodations, as $34/day was too much to pay.
At this point, the flight was delayed a mere thirty minutes. Our inbound aircraft was supposed to come in from San Francisco, but when we got to the check-in counters, I looked and our aircraft was changed to the one inbound from Tokyo. I checked my bag pretty quickly and made my way to the security lines. I hadn't received my TSA Pre-Check status yet, but I made it through the general security line in less than 15 minutes which is impressive for a holiday week and for O'Hare.
I had an ample amount of time to kill, so I decided to do what any AvGeek would: walk around the airport. I made my way to the underground tunnel and to Concourse C. I spotted a few United 757s and 737s, as well as the ANA 777-300ER parked at some of the gates and took a few photos.
Gate and Boarding
As I made my way to my boarding gate, a notification from the United app popped up informing me that the flight was now delayed for just over an hour. This was then changed to just under two-and-a-half hours.
The gate agents immediately began making announcements to inform the passengers in the gate area about the delay and other information. The crew had just boarded the aircraft and we were expected to begin boarding in approximately 30 minutes. Many people took "30 minutes" as "30 seconds" and began to line up.
We began boarding around 6PM local time. The amount of excitement that came over me when Group 3 was called cannot be put into words. I could not stop smiling as I approached the gate agent. I scanned my mobile boarding pass and made my way down the jet way, smile on my face. Of course, I took an obligatory selfie to commemorate this special moment: my first time onboard a 747.
The first thing I thought when I stepped onboard the aircraft was "WOW! THIS PLANE IS HUGE!" I knew the 747 was massive and in the weeks leading up to this flight, I had watched every YouTube video and looked at every cabin picture of "The Queen of the Skies" that I could. Pictures just don't do justice.
I was warmly welcomed onboard with smiles from the flight attendants stationed at door 2L. I made my way across the galley to the right side of the aircraft and began to head towards my seat: 40K.
I sat down in my seat and immediately looked out of the window to look in awe at the massive 747 wing, taking pictures even though a clear view was hindered by the raindrops on the window.
The boarding process was a bit chaotic with so many passengers trying to stow their bags and make their way to their seats.
The door was closed sometime around 6:30PM CST and we were welcomed onboard by the captain.
Taxi and Takeoff
As we pushed back from the gate, we were shown United's "Safety is Global II" safety video. We taxied to runway and waited in line with other aircraft to take off.
As we lined up on the runway, I began to get even more excited than I already was. I had lived this moment from behind a screen hundreds of times watching YouTube videos, but nothing compares to real life.

After a slightly turbulent takeoff, we reached our initial cruising altitude of 28,000 feet. The captain informed us that we would gradually be climbing to 34,000 feet and then to 38,000 feet once the aircraft became lighter from burning fuel. Our flight was expected to encounter "light turbulence," the captain said.

I opened the United app on my iPad and began streaming a movie using United's Personal Device Entertainment option. The speed was pretty good for such a large aircraft and I was able to finish my movie without any significant delays from the Wi-Fi.
Flight attendants began the first drink and snack service approximately 30 minutes after takeoff. The crew began by passing out snacks. While we were over Nebraska, we encountered a squall line and encountered moderate to severe turbulence. Flight attendants were immediately ordered to sit down as it was becoming impossible to serve drinks and walk in the cabin. Most of the crew was unable to stow the carts in the galleys and instead pulled them to the jumpseats with them, where they held on to them while sitting down.
The turbulence lasted around 15 minutes or so and was the worst I had ever experienced. The gentleman next to me looked at me with a scared expression as we were going through it. Looking around the cabin, I could see my fellow passengers—and feel myself—bouncing up and down in our seats. Suddenly, the aircraft turned to the left and it felt like the plane dropped. A few passengers screamed, however my friend who was sitting in front of me looked back and we began laughing, enjoying the ride.
During this, flight attendant call bells were going off repeatedly. It wasn't until about 15 minutes later, when the turbulence had ended, that we found out there was a passenger with a medical emergency onboard. The crew immediately paged for a medical professional onboard and shortly after, two passengers stood up and headed toward the passenger. A few minutes later, an announcement was made asking if anybody had a glucose monitor and test strips. About four passengers in the immediate area stood up for the crew. All seemed to be going well until approximately ten minutes later when the same medical professionals were paged and headed back to the same passenger. A few minutes later, an announcement was made asking for anybody who spoke Mandarin Chinese to come to row 47 on the right side of the aircraft. The flight attendants handled the situation exceptionally well. They were professional and prompt with their actions and those members of the crew who were not immediately assisting the sick passenger continued to provide an excellent service. The crew apologized profusely for the delay in the service due to the turbulence.
On our flight, the free snack offered was the Zesty Ranch Snack Mix. I was excited for this one, as I had heard many things from Twitter and my flight attendant friends. I was not disappointed at all as the snack mix was delicious. I like that United choose to do something other than peanuts, pretzels, and/or cookies.
As we continued on our flight plan, we got some nice views of the Rocky Mountains, Salt Lake City, and more places.
Approximately three-and-a-half hours after we left O'Hare, the captain came on to tell us we were beginning our descent into San Francisco. The flight attendants made announcements and began to prepare our jumbo jet for landing. As it was night, there wasn't a great view. We landed on runway 28R at San Francisco International Airport around 8:25pm PST.

After about a 15 to 20-minute wait to deplane, I stepped foot into San Francisco International Airport. This was my first time to SFO and was the last United hub I had to visit (minus Guam).
As I had around two hours before my next flight took off, I decided to walk to the international terminal where I saw a Singapore Boeing 777-300ER parked at a gate and a United 777-200 getting ready to depart for Sydney. A Lufthansa flight to Munich was also in the final stages of boarding. I snapped a few pictures and headed back to board my next flight.
Review
Despite the delay, the gate agents were very polite and made announcements to inform us of what was going on. Even with the turbulence and medical emergencies, the flight attendants were awesome. They were polite, welcoming, and you could tell that they like their job. They handled the situation professionally and were definitely #Flyer_Friendly.
My seat, 40K, was very comfortable for a standard economy seat. As I am only 5'6", I had plenty of legroom and the wing view was great. The United Wi-Fi worked fine and I was able to use the Personal Device Entertainment service without any major hiccups or issues and the regular Wi-Fi seemed to be working overtime, as it was slow at certain times, but overall worth the $8.99 I paid for it.
Overall, this was a pretty eventful flight and United met my expectations once again. I feel incredibly honored to have been able to fly on the United 747 before they are retired. The 747 is an amazing aircraft which compares to no other. It will be sad to see them go.
Tyler has been an aviation enthusiast for as long as he can remember and is currently pursuing a Bachelor's degree in Aviation Administration with a minor in Social Media Marketing from Lewis University in Romeoville, IL. His preferred airline is United and his favorite aircraft is the Boeing 777 and 757. Tyler has his fourth-degree black belt in Taekwondo and is unlikely to be seen without Starbucks in his hand. He is also an avid plane spotter. Tyler always has a smile on his face and his eyes pointed skyward.
Latest posts by Tyler Tashji (see all)